This Week in Sports Betting, A-Z
by Ricky Dimon - 8/28/2013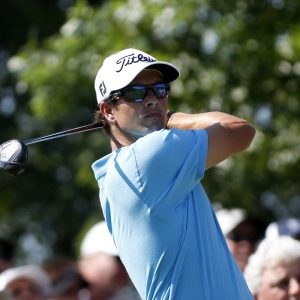 A. Adam Scott. Scott was no stranger to the epic collapse prior to 2013. This season, though, all he does is win. The Masters champion benefited from several monumental meltdowns at The Barclays on Sunday, namely by Matt Kuchar and Kevin Chappell. As such, Scott's final-round 66 was good enough for a come-from-behind win in the first event of the FedEx Cup Playoffs. Scott is +1600 at Bovada Sportsbook to win this week's Deutsche Bank Championship.

B. Buffalo Bills. You probably think you're trippin' when you hear this, but you're not. Someone named Jeff Tuel is about to become the first undrafted rookie since 1970 to start a Week 1 regular-season game of an NFL season. Buffalo's E.J. Manuel is questionable at best after minor knee surgery, and Kevin Kolb's career may be in jeopardy due to concussions. The Bills are +11 home underdogs in their opener against New England, according to Sportsbook.ag.

C. Central. No race is going to be better than that of the NL Central. Pittsburgh is just 1.5 games back of St. Louis, and Cincinnati is within 4.5 of first place. Only two other divisions (both in the AL) are closer between first and second than this one is between first and third.

D. Dealt. That's what Marlon Byrd was on Tuesday as he now finds himself in the aforementioned NL Central. It's hard to overshadow "cash considerations" and "a player to be named later" when those two items are involved in a trade as they were in this one between the Pirates and Mets. But Byrd managed to do it, because he has 21 homers and 71 RBI this season to go along with a .285 batting average. Rough week in New York, but the Big Apple's loss may be Pittsburgh's gain. Sportsbook.ag has the Pirates (Morton) as -165 home favorites over the Brewers (Gorzelanny) on Wednesday.

E. Dale Earnhardt Jr. It's fantasy football draft season, and the Redskins' opener is just a week away, so Little E may not be able to focus on driving over the next two weeks. But he may not have to in order to make The Chase. A solid 10th-place showing last Saturday at Bristol Motor Speedway has Earnhardt in seventh place with two races remaining before NASCAR's version of playoffs. He has a 33-point cushion over the dreaded 11th spot. For those who aren't NASCAR aficionados, that's a relatively safe cushion but not quite a clincher.

F. FedEx Cup. Tiger Woods birdied 16 and 17 at The Barclays before missing out on a playoff with Scott by two inches on his 18th-hole birdie attempt. His tie for second was good enough to keep him in the No. 1 spot in the FedEx Cup, just ahead of Scott—who climbed to No. 2 from 11th. Kuchar fell from second in the race to fourth. Tiger is a +650 favorite at Bovada Sportsbook to win the Deutsche Bank Championship.

G. Girls Gone Wild. Joe Francis, best known for creating "Girls Gone Wild," was sentenced on Tuesday to 270 days in jail for choking a woman and repeatedly slamming her had against the ground at his Los Angeles mansion in 2011. Francis being in jail would normally be bad news for the rest of us, but GGW filed for Chapter 11 bankruptcy in February in 2013…. So we're not missing out on anything, anyway.

H. DuJuan Harris. Harris, who was Green Bay's starting running back by the end of last season, was placed on injured reserve after suffering a patellar tendon injury in last Friday's rematch of the "Fail Mary" game against Seattle. The Packers have not yet decided if they will designate Harrison for a possible return later in the season.

I. Investigation. NCAA officials met with Johnny Manziel for six hours on Sunday to discuss allegations that he accepted payments in exchange for signing autographs. Make all this Maziel stuff stop. Just make it stop. Let the season begin and MAKE. IT. STOP.

J. James Blake. One year after Andy Roddick played the last tournament of his career at the U.S. Open, Blake is doing the same. The 33-year-old American announced his impending retirement on Monday, and he has a tough task to keep it going after Wednesday's action due to a tough first-rounder against monster server Ivo Karlovic. BookMaker Sportsbook has Blake as a slight -115 favorite over Karlovic.

K. Kevin Williams. It has not been a great week for the Minnesota Vikings. Williams, a defensive tackle, sustained a hyperextended knee on Sunday night in a preseason contest against San Francisco, and fullback Jerome Felton was suspended on Monday for three games as a result of violating the league's substance-abuse policy.

L. Lamar Odom. Keeping up with the Kardashians is hard enough. Keeping up with Lamar Odom is downright impossible. Last weekend he was reportedly missing. He surfaced on Tuesday in Los Angeles, trying to deal with a reported drug problem. He's apparently separated from or just having marital problems with Khloe Kardashian. And only God knows what basketball team he is on right now or if he is even playing basketball anymore.

M. Manchester City. What on Earth was Man City doing last Sunday in its English Premier League season opener? The Blues lost 3-2 to Cardiff, which is playing in the EPL for the first time in the club's existence after being promoted from something called the Football League Championship. City is +220 at BookMaker Sportsbook to win the EPL title.

N. North vs. South. The battle of the Carolinas helps kicks off the college football season on Thursday night. BetOnline Sportsbook has South Carolina as a -12 home favorite over North Carolina.

O. Overseas. That's where Tracy McGrady may be taking his talents for the remainder of his basketball career. T-Mac announced his retirement from the NBA but left open the possibility of balling across the pond.

P. Pippi Longstocking. The star of the 1998 children's film is not so innocent anymore. Actress Tami Erin, now 39, has a sex tape that is being shopped around town by her ex-boyfriend. She claims to be irate at her ex and whole bunch of other adjectives, but that's doubtful. This has cash cow written all over it.

Q. Quarterback carousel. Two starting quarterback jobs in the Big 12 were decided earlier this week. Redshirt freshman Trevor Knight will get the nod over junior Blake Bell at Oklahoma. Following Collin Klein's departure from Kansas State, head coach Bill Snyder on Tuesday named JUCO transfer Jake Waters as the successor. The Wildcats are -13 home favorites over North Dakota State on Friday, according to BetOnline Sportsbook.

R. Rex Ryan. You can't make up what happened on Saturday night, both during the Jets-Giants game and after. Unless you've been living under a rock, you know the drill. Nothing more needs to be said.

S. Seattle Sounders. The most popular sport in the world does not resonate in the USA like it does elsewhere, but don't tell that to the Seattle faithful. A raucous 67,385 showed up at CenturyLink Field for the Sounders' 1-0 win over Portland on Sunday night. Clint Dempsey scored the game's only goal in his home debut with Seattle. Bovada Sportsbook has Seattle as a slight -110 underdog at home vs. Columbus on Saturday.

T. Tommy John. The two most feared names in sports are "Tommy John" and "Dr. James Andrew". Mets' ace Matt Harvey will unfortunately be hearing a lot of both in the coming weeks. The NL's starting pitcher of this year's All-Star Game was diagnosed with a partial tear in his ulnar collateral ligament on Monday. Harvey's breakout 2013 campaign is over, and he may not be back until 2015 if he has to go under Andrews' knife for Tommy John surgery. That will be determined when swelling subsides.

U. Urszula Radwanska. The "other" Radwanksa sister has a U.S. Open showdown with Sloane Stephens on her hands for Wednesday. Stephens, one of America's darlings and perhaps biggest hope to eventually receive the torch from the Williams sisters, needed a third-set tiebreaker to get past Mandy Minella (a Google image search for her is encouraged) during first-round action on Monday. Bovada Sportsbook has Radwanksa as a +155 underdog against against Stephens.

V. VMAs. WHAT WAS THAT? #Miley.

W. Will Smith. No, not that one. The other one. The Saints' outside linebacker suffered a torn ACL in Sunday's preseason game against Houston, and he will miss the entire season. Smith had six sacks last year. He has made at least 5.5 sacks in seven of eight campaigns with New Orleans, and he has twice reached double-digits in that category (in 2006 and 2009). Sportsbook.ag has the Saints at +240 to win the NFC South.

X. X-Man. Less noteworthy than Blake, Xavier "X-Man" Malisse also announced his retirement from tennis earlier this week. His will be effective after the 2014 Australian Open. The 33-year-old Belgian, who won three titles and peaked as high as No. 19 in the world way back in 2002, will face Andreas Seppi in the U.S. Open first round on Wednesday. Malisse is a +195 underdog against Seppi at BookMaker Sportsbook.

Y. Chris Young. Young isn't doing much to help Oakland's chances in the AL West race. The center fielder is batting .192 this season, and he has no hits in his last four games. Young has not recorded a base hit since Aug. 18.

Z. Zero. That's how many games Serena Williams lost to 2010 French Open champion Francesca Schiavone in the first round of the U.S. Open on Monday night. Serena got her title defense started by storming through Schiavone 6-0, 6-1 in exactly one hour. Next up for Serena on Wednesday is someone called Galina Voskoboeva. Sounds like another blowout. Serena is a -150 favorite at Bovada Sportsboook to win the title.
Read more articles by Ricky Dimon