Weekly Q&A with Doc's Sports Expert Handicapper Raphael Esparza
by Doc's Sports - 11/5/2013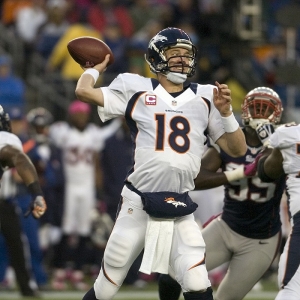 Doc's Sports Service has spent the past four decades at the top of the sports selection industry through the ability to consistently provide our loyal customers with winning picks for all the major sports. This has especially been the case when it comes to our winning selections for both college football and the NFL. One of the biggest reasons for our ongoing success is a commitment to building and maintaining relationships with some of the best handicappers in the business. A shining example of this commitment is an ongoing seven-year relationship with Raphael Esparza. The former Vegas Sports Informer honed his craft during a long and illustrious career working behind the counter of some of the biggest sportsbooks in Las Vegas, including a successful stint as Director of the Race and Sports Book for MGM Grand's Aria. Raphael has since retired from the sportsbook industry, but he still goes to work every day by tapping into a vast network of contacts in Las Vegas to maintain his 'insider's edge'. This edge has been and continues to be the primary reason he can deliver a steady stream of winning selections for a wide array of sports.
Doc's Sports fully understands the value of this 'insider's edge,' and through a series of weekly discussions with Raphael we have been able to gain some valuable insight into the hottest trending topics in the sports gaming industry today. He is living proof that handicapping in the undisputed sports gambling capital of the world has helped to move him to the top of the ranks in his field. The following is this week's discussion.
Doc's Sports: The NFL regular season really begins to heat up with the start of the stretch run to the postseason. If you had to pick this year's matchup for Super Bowl XLVIII right now, what would it be?
RE: If I had to pick two teams based on current form, I would go with San Francisco in the NFC and Denver in the AFC. Both Seattle and New Orleans have had its issues the past few weeks, and right now I do not see any other team in the AFC hanging with the Broncos' offense over the course of four quarters.
Doc's Sports: There are two huge matchups this week in college football that could have a major impact on the BCS National Championship Game, but in reality, does Stanford have any shot at upending Oregon at home, and does LSU have a chance to beat Alabama on the road?
RE: Stanford's defense will always keep it in the game, so of the two, I would say that the Cardinal have the best shot at pulling off a straight up upset. LSU's offense is not what it used to be earlier in the year, and Alabama's defense has really tightened things up since the Texas A&M game.
Doc's Sports: The new NBA season is underway, and we have already seen some shocking wins from upstarts like Philadelphia and Detroit in the East and Minnesota in the West. Do you normally bet on teams like this to continue winning or go against them figuring the fast start is just a fluke?
RE: When handicapping teams such as this you still have to take each of their games at face value. Philadelphia is a wait-and-see team for me right now, but I do think that both Detroit and Minnesota are undervalued, and they will remain solid plays until the oddsmakers adjust.
Doc's Sports: The NHL regular season enters its second month of action, so we have a pretty good feel for all 30 teams. Can you give us a few of your go-to teams in terms of wagering on the sport?
RE: I love San Jose, Anaheim and Phoenix in the Pacific Division and Pittsburgh in the East given that all four have been solid performers so far. You have to pick and choose your spots with such high money lines, but do not forget about a play on the puck line when it comes to these four.
Doc's Sports: A brand new college basketball season tips off this Friday with Kentucky, Michigan State and Louisville at the top of both major preseason polls. Would you agree that these are the top three teams in the nation heading into the 2013-14 season?
RE: I am good with Kentucky and Michigan State holding down the top two spots, but I am definitely not sold on Louisville as the No. 3 team. I would go with Arizona and possibly even Duke over the Cardinals. Another team that I think is a bit overrated heading into the season is Kansas. I would like to see Andrew Wiggins play a few games at the collegiate level before anointing him the next LeBron James.