Weekly Q&A with Doc's Sports Expert Handicapper Raphael Esparza
by Doc's Sports - 10/8/2013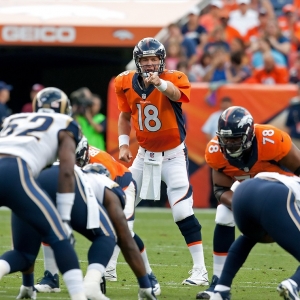 Doc's Sports Service continues to maintain its place atop the sports selection industry with a number of weekly winning picks for our loyal customers, especially during football season. We have been able to maintain this lofty status for well over 40 years due in part to a long-standing relationship with some of the best handicappers in the business. One of our top performers for the past seven years has been Raphael Esparza. He was previously known as the Vegas Sports Informer during a long and illustrious career working behind the counter for some of the biggest sportsbooks in Las Vegas. Raphael retired from the sportsbook industry earlier this year, but he is still hard at work tapping into a vast network of contacts in Las Vegas to maintain his insider's edge. This edge has played a major role in his ongoing success at delivering winning selections for a wide array of sports.
Doc's Sports decided to tap into this insider's edge as well through a weekly series of discussions with Raphael covering some of the hottest trending topics in the sports gaming industry today. He continues to prove that living in the undisputed sports gambling capital of the world has helped him become one of the best handicappers in the business. The following is this week's discussion.
Doc's Sports: The NFL season is really starting to heat up as we enter Week 6. Are there any matchups on this week's slate that have really piqued your interest?
RE: The game at the top of my list is New Orleans on the road against New England. This should be a great test to see if the Saints are for real as well as a good indication to see just how legitimate the Patriots' 4-1 start really is after last week's loss to Cincinnati. The two other games would be Green Bay vs. Baltimore and Washington against Dallas. I am really interested to see how the Cowboys respond after last week's loss to Denver.
Doc's Sports: Speaking of Denver, nobody has been able to slow down Peyton Manning and a Broncos' offense that has averaged 46 points a game through the first five weeks of the NFL season. How many points to you think they can score this week as 27-point home favorites against 0-5 Jacksonville?
RE: I think they can score as many points as they want, but I am a bit leery that it will be a really big number given that the total for this game has been hovering around 53 points. I read that a recent computer simulation had Denver winning, 38-10. This could be very close to the actual outcome given the toll that last week's track meet against the Cowboys may have taken on this team.
Doc's Sports: There is a pair of big conference showdowns on this Saturday's college football slate with No. 17 Florida at No. 10 LSU in the SEC followed by No. 2 Oregon on the road against No. 16 Washington in an important Pac-12 clash. What is your take on both of these matchups?
RE: I think that Florida is actually better off with Tyler Murphy at quarterback, but the Gators will struggle to keep up with LSU on the scoreboard. I am officially putting the Ducks on upset alert, but I am not going as far as making Washington +14 one of my official selections. The Huskies played well enough on the road last week to almost beat Stanford, and that could serve them well this Saturday playing at home.
Doc's Sports: The Pittsburgh Pirates had some of the longest odds on the board to win this year's World Series before the MLB Playoffs began, but a victory against St. Louis on Wednesday night would put them in the NLCS against Los Angeles. With Gerrit Cole on the mound for Pittsburgh and Adam Wainwright pitching for St. Louis, do the Pirates have any shot at pulling off the upset in a deciding Game 5?
RE: My heart tells me that there is always a chance, especially after watching Cole pitch earlier in this series. If the Pirates can find a way to get a few runs on the board in the first couple innings, they actually have a great chance to win this game, but that is a lot easier said than done against Wainwright at home.
Doc's Sports: We already know what a huge boxing fan you are, so can you give us your prediction for this Saturday night's Timothy Bradley Jr. vs. Juan Manuel Marquez welterweight bout at the Thomas & Mack Center in Las Vegas?
RE: This fight is about six months too late. If these two would have met in the spring with Bradley Jr. getting the win, he would have probably been in line for a shot at Floyd Mayweather Jr. I still like him to win on Saturday night as a slight underdog, but the electricity in town for this fight just isn't there.