Betting with The Prop Machine
by Doc's Sports - 4/16/2014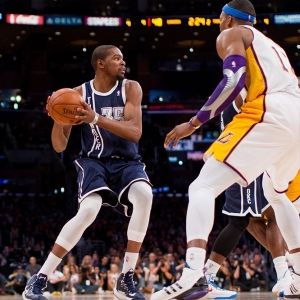 There is just one more night left in the NBA's regular season as 16 teams continue to prepare to start their quest for this year's NBA title. It gets extremely hard to handicap actual games this time of the season since you are not sure which players will play and which ones might rest. The sportsbooks will also be leery about releasing any individual player props for this final round of regular season games for the very same reason.
That being said, The Prop Machine has been making a killing all season long with the correct pick in over 60 percent of the NBA prop bet selections it has released and it is not about to stop now as it tries to add to build on this success with the start of the playoffs. Once the postseason games do get underway later this week, you can rest assured that The Prop Machine will have a fresh batch of picks for some of the players in the opening round of games.
The inside secret to The Prop Machine being up an incredible $15,500 this NBA season is the ability to spot the discrepancies in the value of certain players. Sometimes they can be undervalued, but given that the oddsmakers tend to rely heavily on season averages as well as the overall influence of the betting public when releasing prop bet lines, The Prop Machine has really cleaned up on players being highly overvalued at certain times of the year.
Last Week's Results
It was another banner week for The Prop Machine. After going 9-3 for a profit of $2,220 for $100 bettors using Doc's Sports Unit Betting System, it stayed hot with an 8-5 record last week that returned $840 to $100 bettors. The Prop Machine has now posted a profit in eight of the last 11 days it has released NBA prop bet picks to generate a winning percentage of 71 percent and a total profit of $3,060.
With no games on last Monday's NBA schedule, The Prop Machine came out of the gate on Tuesday and Wednesday with 4-1 record that netted a profit of $1140. It continued to ride the "under" on players such as Kevin Durant and Serge Ibaka from Oklahoma City, who both underperformed on their props on both of those nights.
The end of the week cooled a bit with a 4-4 record over the last three days of games, but The Prop Machine still returned a healthy profit for all 13 selections it released.
Future Trends
The Prop Machine has actually made a fairly regular habit of looking for under plays on league MVP candidate Kevin Durant. He is having an incredible season, and the net result of all this production tends to be an inflated value on his individual game numbers. He has stayed under in his points per game in five of his last seven outings, and his average assists have stayed under in six of his last seven games. It is not a case of him wearing down as the regular season comes to a close; it is a matter of the oddsmakers setting the prop betting lines too high.
Playoff basketball is a whole other story so everything will be reevaluated once the pairings are finalized and the games begin. The numbers on Durant and some of the other high-profile stars in the league could actually go up this time of the year, creating even more opportunities to cash in on the under.
The Prop Machine Free Picks
Each week The Prop Machine releases a free weekly pick, and last Tuesday it cashed in for the third straight time when Brooklyn's Paul Pierce posted 14 points, four rebounds and one assist in the Nets' game against Miami. This was well below Sportsbook.ag's "under 25" prop betting line for Pierce in that game. That adds up to a profit of $1200 for a $100 bettor using Doc's Unit Betting System and The Prop Machine's free picks for the past three weeks.
There are no props listed for this week's final regular season games, but it will be a whole new ballgame once the NBA's postseason actually gets underway. The Prop Machine is already off to a 19-2 start in its MLB prop bet selections, so it a perfect time to get on board with a special package for this year's NBA Playoffs as well as daily picks for MLB games as well.
Be sure to check out The Prop Machine Insider's Page here on Doc's Sports website for a complete recap of their track record at picking props and making their clients profit.
For a free trial of The Prop Machine, simply email your Doc's username to service@docsports.com. If you do not have an existing account with Doc's Sports, you can set up a free one that comes with a $60 credit HERE.