Betting with The Prop Machine and Free Monday Pick
by Doc's Sports - 3/17/2014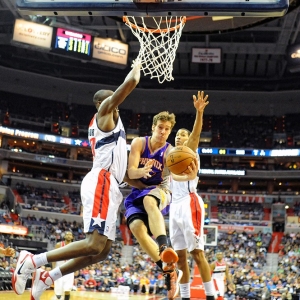 Most people who are serious about betting on sports rely on a selection service such as Doc's Sports because of the company's long-standing history in the industry for having the ability to provide consistent winners over the long haul. Anyone out there that has been doing this for any length of time is also well aware that each and every handicapper that releases selections on a regular basis has winning streaks and losing streaks throughout the course of any season. The main goal is to end up with a solid winning percentage when it is all said and done.
Three weeks ago with its daily selections for individual NBA player prop bets, The Prop Machine stumbled to a losing week with an overall record of 13-15, which resulted in a -$1,820 loss for $100 bettors using Doc's Unit Betting System. Never being one to dwell too long over a bad week, The Prop Machine bounced back with a profit of $2,160 on a record of 17-10 the following week to get bettors back in the black to a tune of $340 over this two week time frame.
This is the nature of the beast when it comes to betting on individual player props, but over the long haul, The Prop Machine continues to capitalize on the edge that these types of betting lines provide to deliver a solid return on investment.
Last Week's Results
There is a reason why The Prop Machine has developed a very loyal customer base over the years, and last week hammered that point home by delivering a return of $3,740 on a sterling record of 14-4.
It jumped out of the gate with a 4-0 record in Monday and Tuesday's picks by riding the "under" on overvalued lines in all four selections. The oddsmakers prop bet lines are weighed heavily on a player's season average. However, The Prop Machine makes its living by using current form and player trends to uncover the inconsistencies that often time leads to bad lines.
The hot streak continued into Wednesday and Thursday with a 5-3 mark that was once again weighed heavily on finding NBA players that are currently overvalued based on recent results. The Prop Machine closed out the week with a 5-1 run that returned a profit of $1540 on a 4-unit play on each selection. Once again, the majority of the picks took advantage of some inflated lines with a play on the under.
Future Trends
The Phoenix Suns, as a team, have cooled off over the past few weeks with a 5-5 record in their last 10 games. As a result, point guard Goran Dragic's 6.1 assists per game average has stayed under in six of his last seven contests, and his scoring average of 20.5 points has stayed under in his last three games.
The Suns should be able to turn things around this week with games against Brooklyn, Orlando and Detroit, but that in turn could work to limit Dragic's overall minutes if these games do not remain close. Either way, The Prop Machine believes his future results will continue trend under his season averages at the very least through this week.
Free Monday Pick
Anyone who was smart enough to jump on last Monday's free pick from The Prop Machine walked away with $400 in their pocket after Utah's Derrick Favor's total points and rebounds stayed is the "under 23.5" (-115 at Bovada) line in the Jazz's 112-110 loss to Atlanta. It was a close but correct call after he ended the game with 14 points and nine rebounds.
The Prop Machine is looking for a bit of the luck of the Irish for this St. Patty Day's free pick by going with the "under 18.5" (-115 Sportsbook) on Atlanta's Paul Millsap's total points in Monday night's game against Charlotte. He is averaging 17.7 points per game this season.
Click here for more information on The Prop Machine and to try their service for free .