Case of the Mondays: Jerry World in a World of Hurt
by Ricky Dimon - 9/8/2014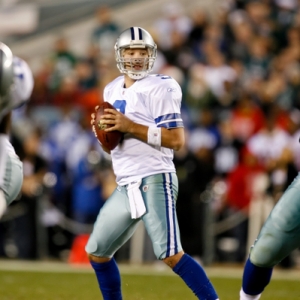 Everyone except the Green Bay Packers was undefeated heading into Sunday. But misery loves company, and the Packers now have plenty of it-including from teams like Dallas and Kansas City. Week 1 was especially cruel for the Cowboys and Chiefs, either due to poor performances or injuries…or both. On the college gridiron, meanwhile, rivals Michigan and Ohio State both must be laughing at each other in the wake of Saturday's developments.

All odds provided by Sportsbook.ag unless otherwise indicated .

Dallas Cowboys . You know an NFL season cannot officially begin until Tony Romo passes the ball to the other team and Jerry Jones sticks his face in front of a microphone. Well, in that case the 2014 campaign wasted no time getting underway in Week 1. Romo threw three interceptions, and the Cowboys lost the turnover battle 4-0 in a 28-17 home loss to San Francisco that was hardly as close as the final score suggests. Dallas trailed 28-3 at halftime before a pair of relatively meaningless second-half touchdowns. Jones, of course, was not happy with the performance afterward-nor was he enthused about the plethora of 49ers' fans who had infested Jerry World. The Cowboys are +800 to win the NFC East.

Derrick Johnson . The Chiefs' linebacker suffered a ruptured Achilles' tendon on Sunday and will miss the remainder of the season. Johnson had recorded 484 total tackles in the past four years, and in 2013 the three-time Pro Bowler had 4.5 sacks. He will be joined on injured reserve by Kansas City defensive tackle Mike DeVito, who sustained the same injury just a few minutes of game time after Johnson had gone down. It was an all-around disastrous day for the Chiefs, who got blown out 26-10 at home by Tennessee. Kansas City is a +11.5 underdog at Denver in Week 2.

Ohio State . That was quite literally adding insult to injury. Ohio State's preseason consisted of another shoulder injury for quarterback Braxton Miller, who is out for the year. If Buckeyes' fans wanted faith in their team to be restored with an encouraging performance against a credible opponent, they were thoroughly disappointed on Saturday. Backup-turned-starter J.T. Barrett completed a horrendous 9-of-29 attempts for 219 yards while throwing three interceptions in a 35-21 home loss to a respected Virginia Tech program-but one that entered the contest unranked. Ohio State is a -30 home favorite over Kent State at BookMaker this upcoming weekend.

Michigan . If there is any good news for Ohio State, it's that its arch rival was even worse. Saturday's result at Notre Dame could not have been what Michigan had in mind for the last installment of the series between the Wolverines and the Golden Domers. Michigan went into South Bend and lost 31-0 to end its record streak of consecutive games without being shut out at 365. The last time the Wolverines put up a goose-egg on the scoreboard was on Oct. 20, 1984 in a 26-0 setback against Iowa. This was also the most lopsided defeat for UM in its history with Notre Dame. Everett Golson is +1800 to win the Heisman Trophy.

Portugal . Losing out to the United States on a place in the World Cup knockout stages is bad. Losing a match to Albania may be even worse. Portugal's woes were extended over the weekend with a 1-0 setback against Albania during Euro 2016 qualifying action. Playing at home, the Portuguese could not answer an early second-half goal by the visitors. Ronaldo and company will look to get back on track next month against Denmark. Germany is a +400 favorite to win Euro 2016 and also a +500 favorite to win the 2018 World Cup.

Clint Bowyer . Bowyer always seems to be in the news this time of year. In the 2013 event at Richmond International Speedway, a controversial late spin-out helped then-teammate Martin Truex Jr. earn a spot in the Chase for the Sprint Cup. This time around, it was Bowyer attempting to snag a last-second spot. The No. 15 car needed a victory and it contended the whole way before finishing in third.

Roger Federer . It was all right there for Federer to capture his 18th Grand Slam title and first since Wimbledon in 2012. The 33-year-old Swiss found himself in a surprising U.S. Open semifinal lineup along with Novak Djokovic, Kei Nishikori, and Marin Cilic. When Djokovic went down to Nishikori in Saturday's opening match, Federer suddenly became the heavy favorite for the title. Instead, the No. 2 seed followed Djokovic straight out of New York with a straight-set defeat at the hands of an on-fire Cilic. For Cilic and Nishikori, it's on to one of the most surprising major finals of the Open Era. For the top players in the world, it's back to the drawing board. Nishikori is a -115 favorite on Monday.

Keegan Bradley . A potential rules infraction last week cost Bradley not one tournament, but two. Despite being absolved by officials, Bradley eventually withdrew on Saturday from the BMW Championship after taking relief from a pitch mark on Thursday when he believed his ball was embedded. As a result, Bradley's hopes for snagging a top-30 spot in the FedEx Cup standings, and playing in this week's Tour Championship, ended. He finished 33rd and will now gear up for the Ryder Cup later this month as one of the United States' captain's picks. Europe is a -200 favorite to win the Ryder Cup.
Read more articles by Ricky Dimon