Case of the Mondays: Bradford Suffers Torn ACL-Again
by Ricky Dimon - 8/25/2014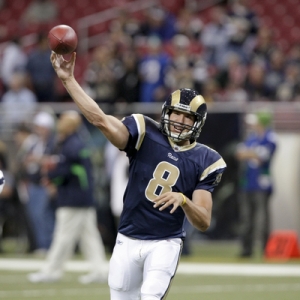 The NFL preseason is awesome…if you're a fan of players going down with injuries and all but ending teams' hopes before meaningful action even begins. That's what happened in the case of the St. Louis Rams, who in between a few Michael Sam sacks of Johnny Manziel experienced some awful luck in their third preseason contest. Meanwhile, Team USA has finalized its roster for the upcoming FIBA World Cup.

All odds provided by Sportsbook.ag

Sam Bradford . The St. Louis Rams were hoping that this time around it was nothing more than a hyperextension. As it turns out, though, that was just wishful thinking. Their quarterback suffered another torn ACL in his left knee during last Saturday's preseason game against Cleveland. It is the exact same injury that sidelined Bradford starting in the middle of the 2013 campaign. Bradford, of course, is out for the season. Shaun Hill replaced the former Oklahoma Sooner on Saturday and is now the No. 1 QB on St. Louis' depth chart. The Rams are -3.5 home favorites over Minnesota in Week 1.

Boston Red Sox . No matter that the Red Sox were not going anywhere this season in the first place; eight losses in a row are eight losses in a row. That's brutal for any team regardless of its situation. All eight have come at home, too. The Sox dropped their series finale against Houston, got swept in four straight outings by the Angels, and lost three in succession to the Mariners. One year after winning the World Series, Boston is the fourth-worst team in all of Major League Baseball (better than only Houston, Texas, and Colorado). The Red Sox (Buchholz) are +106 underdogs at Toronto (Happ) on Monday night.

Damian Lillard . The United States' team made its final cuts in advance of the World Cup, which begins this weekend. Lillard was among the casualties, joining Chandler Parsons, Kyle Korver, and Gordon Hayward. Team USA went with more size than usual, as guys like Andre Drummond and Mason Plumlee are assumed to be the last guys who made the cut. They give the Americans four centers on the roster. Really, was head coach Mike Kyrzyzewski ever going to leave Plumlee-his former Duke Blue Devil-off? The United States is a -240 favorite to win the World Cup.

Jake Heaps . Miami's quarterback competition has come to an end, and it did not go the way of Heaps, a transfer from Kansas who is heading into his senior season. Instead, the starting job in South Beach will go to Brad Kaaya, a true freshman. Kaaya, a 6-foot-4, 206-pounder, went 23-3 during a high-school career in West Hills, Calif. Heaps, meanwhile, disappointed as a junior with the Jayhawks, throwing eight touchdowns and 10 interceptions. Kaaya replaces Stephen Morris, whom the Hurricanes lost to graduation. Ryan Williams had been the favorite to get the job but sustained a knee injury in spring practice. Miami is +2000 to win the ACC title.

Manchester United . You could say that Manchester United is trending in the wrong direction given that it lost its 2014-15 English Premier League opener and tied its second match. But it's safe to say that is not how new manager Louis van Gaal or any of his players will interpret the situation. After all, it's not like those two results came against the Manchester Citys and Chelseas of the world. Man United lost to Swansea City 2-1 then drew with Sunderland 1-1 on Sunday. A seventh-place finish on last year's table resulted in David Moyes' ouster. Man U is currently 13th through two matches. The Red Devils are +800 to win the EPL title; Chelsea is a +150 favorite.

Aric Almirola . Who? Well, you may start hearing his name with a little bit more frequency because Almirola is going to be in the Chase for the Sprint Cup. That is by virtue of his surprising win in Daytona on July 5. Since then, however, Almirola has been a disaster. His six finishes since the victory are 23 rd, 21st, 35th, 18th, 20th, and 41st. For those counting, 41st means third to last-which is where Almirola placed on Saturday night at Bristol Motor Speedway. Joey Logano captured a checkered flag for the third time this season. Jimmie Johnson is a +350 favorite to win the Sprint Cup.

Jim Furyk . Furyk is 18 for 18 in cuts made this season and has nine Top-10 finishes (including two in majors), but he has still not yet found the winner's circle in 2014. The veteran with the funky swing came close again last week at the Barclays, the first stop on the FedEx Cup playoffs. Furyk and Jason Day were tied for the lead heading into Sunday, but Furyk carded an uneventful one-under 70 while other contenders went low amidst good scoring conditions. Hunter Mahan stormed from behind to victory with a final-round 65. Furyk, who stumbled to eighth, has four top-eight performances in his last five tournaments and three runner-up showings this year. Mahan is now in the mix to join Furyk on the Americans' Ryder Cup roster. They are +190 underdogs.
Read more articles by Ricky Dimon