Case of the Mondays: Niners, 'Skins Lose Tough Divisional Games
by Ricky Dimon - 9/22/2014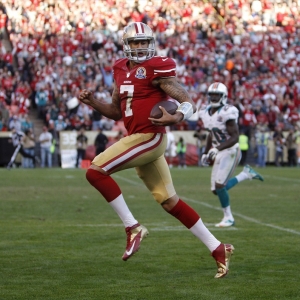 The only thing worse than losing is losing to a division rival, which is exactly what San Francisco and Washington did in Week 3 on the NFL schedule. It sets you just one game back in the standings, but it can potentially have more of a lasting impact. Speaking of a lasting impact, Tony Stewart is still reeling both on and off the track, Manchester United is still slumping, and it remains to be seen if-and how-Clemson can recover from wasting a golden opportunity at Florida State.

All odds provided by Sportsbook.ag unless otherwise indicated .

San Francisco 49ers . In two losses this season, the 49ers have had a serious problem closing games. Last Sunday night at home against Chicago, they led 20-7 going into the fourth quarter and promptly gave up three unanswered touchdowns to fall 28-20. Fast forward seven days and you see that San Francisco had built a 14-6 halftime advantage at Arizona. The team did not score another point in its 23-14 setback against the Cardinals. San Fran rushed for a grand total of 82 yards, including a mere 28 from players not named Colin Kaepernick. At 1-2, the Niners are one game back of Seattle (2-1), which added insult to its rival's injury by outlasting Denver in overtime, and two games south of Arizona (3-0). San Francisco is +800 to win the NFC Championship and +2000 to win the Super Bowl.

DeAngelo Hall . The Redskins already went into Sunday's game at Philadelphia without quarterback Robert Griffin III and tight end Jordan Reed. They are now likely to be missing a key defensive player in safety in DeAngelo Hall. The veteran had to be helped off the field early in the second quarter, and initial reports are that he has a torn Achilles' tendon and will be out for the season. To make matters worse, Washington dropped a thriller to the Eagles 37-34. At 1-2, it is tied for last with the Giants in the NFC East-one game behind 2-1 Dallas and two games back of undefeated Philadelphia. The 'Skins are -4 home favorites over the Giants on Thursday night.

Clemson . You can't ask for a much better opportunity to avenge a 51-14 home loss to one your biggest rival. That's what happened to Clemson at home against Florida State in 2013. This time around, host FSU was without Heisman Trophy winner Jameis Winston. The Tigers befuddled inexperienced backup quarterback Sean Maguire en route to a 17-10 fourth-quarter lead, but a defensive back fell down to let the Seminoles score a tying touchdown, they fumbled away a chance at a chip-shot field goal to win the game, and they were stuffed on fourth-and-one in overtime. Final score: Florida State 23, Clemson 17. On the bright side for Clemson, freshman QB Deshaun Watson looks like the real deal. BookMaker has the Tigers as -13.5 home favorites over North Carolina this week.

San Francisco Giants . The Giants have lost six of their last eight games, a stretch that includes two setbacks against NL-West leading Los Angeles and a three-game sweep this past weekend at the hands of a San Diego squad that is 74-81. They are now 4.5 games behind the Dodgers, whose magic number to clinch the division stands at just three. San Francisco must turn its attention to the wild-card race, in which it looks like a lock for at least one of the two spots (4.5 games ahead of third-place Milwaukee). But the Giants would like to play the wild-card game at home, and they are currently tied with red-hot Pittsburgh at 84-71. San Fran is +600 to win the NL Pennant.

Manchester United . Man United seemed to be on the right track, having routed Queens Park Rangers in its previous English Premier League match and leading Leicester City by two goals on Sunday (2-0 after a goal in the 16th minute and 3-1 after scoring in the 57th minute). Instead, the Red Devils reach a new low. They gave up three goals in a 21-minute span, losing to Leicester-which was not even in the Premier League last year-by an embarrassing 5-3 score. Man U is 12th on the EPL table through five games with five points, leaving it in the bottom half of the 20-team league and eight points back of first-place Chelsea. Chelsea is +600 to win the Champions League.

Tony Stewart . It has been a rough last few months in every way for Stewart, who struck and killed Kevin Ward Jr. in a sprint-car race on Aug. 9. It was announced last Tuesday that the case will be sent to a grand jury, which will decide if Stewart is to be charged. In four races since returning to the track, the No. 14 car has not finished better than 15th. Stewart stumbled to 30th in New Hampshire over the weekend as Joey Logano snagged the checkered flag. Brad Keselowski, who won the first Chase race two weeks ago, is a +300 favorite to win the Sprint Cup.

Tom Watson . The American captain must actually be feeling good, because Ryder Cup week is finally here and his team has a chance to make amends for its 2012 collapse. Another glance at the rosters, though, cannot be reassuring for Watson-who watched Billy Horschel win the FedEx Cup after being passed over in the captain's picks. The Americans have an in-form Rickie Fowler at their disposal, but the Europeans are countering with guys like Rory McIlory, Sergio Garcia, Justin Rose, Graeme McDowell, and Henrik Stenson. Europe is a -180 favorite to win the Ryder Cup; the United States is a +160 underdog. McIlory is +350 to be the event's top point-scorer.
Read more articles by Ricky Dimon