Case of the Mondays: Steelers Catch Whatever Ails Panthers
by Ricky Dimon - 9/29/2014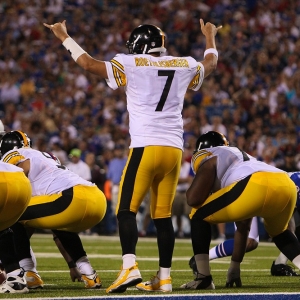 The Steelers and Panthers squared off in Week 3, and the result was pure embarrassment for the latter team. Unfortunately for Pittsburgh, it apparently caught whatever disease Carolina had. Mike Tomlin's squad came back out in Week 4 and lost at home to the Bucs-who had been humiliated by Atlanta 56-14 one week earlier. As for the Panthers, their doldrums continued with a 38-10 blowout loss at Baltimore.

All odds provided by Sportsbook.ag

Pittsburgh Steelers . Losing to the Oakland Raiders at home would probably be rock-bottom, but it cannot get much worse than a loss in your own building to Tampa Bay. Factor in the fashion in which said setback took place, and this is one the Steelers certainly will not be getting over anytime soon. In part thanks to a run of 17 unanswered points, they led 24-17 and got the ball back with fewer than two minutes remaining after stopping the Bucs on downs. But it wasn't over. Instead, Tampa forced a punt, took over at Pitt's 46-yard line, and needed just four plays before Mike Glennon hit Vincent Jackson for a game-winning touchdown pass with seven seconds remaining. Pittsburgh is +600 to win the AFC North; Cincinnati is a -160 favorite.

Cam Newton . The Panthers are banged up, losing, dealing with off-the-field controversy, and watching former teammates torch them. But hey, other than that everything is perfect in Carolina! Still without beleaguered defensive end Greg Hardy, the Panthers allowed five TDs and a field goal to Baltimore while finding the endzone just once themselves. Steve Smith, who spent 13 seasons in Carolina, went wild with seven catches for 139 yards and two touchdowns. Newton, who has been dealing with an ankle injury, completed just 14-of-25 passes for 197 yards and a score. The Panthers are now 2-2, and they have lost their past two games by a combined score of 75-29. They are -2.5 home favorites over Chicago in Week 5.

South Carolina . All is not well in either Carolina after last weekend. The southern state's two best football teams have now suffered heartbreakers in consecutive weeks. Clemson blew a late lead against Jameis Winston-less Florida State and lost in overtime on Sept. 20. Two days ago, South Carolina had an even bigger lead-20-7-against Missouri with fewer than seven minutes left in the game. Out of nowhere, Mizzou erupted for two late touchdowns to stun the Gamecocks in front of their home fans by seizing a 21-20 win. South Carolina has plunged to +2500 to win the SEC Championship.

Seattle Mariners . Felix Hernandez clinched the American League ERA title on the final day of the regular season, but that is all Seattle will be clinching this year. The Mariners needed a win over the Angels on Sunday combined with an Oakland loss at Texas to force a one-game playoff for the AL's second wild card. King Felix pitched the M's to a 4-1 victory, but the A's took care of business 4-0 against the lowly Rangers to eliminate their division rivals. Hernandez, who went 5.1 innings while allowing just one hit and striking out seven, finished with a 15-6 record and a 2.14 ERA.Oakland is +1400 to win the World Series; the Washington Nationals are +450 favorites.

Arsenal . Arsenal's most recent English Premier League match literally added insult to injury. Captain Mikel Arteta and fellow midfielder Aaron Ramsey sustained injuries in a 1-1 draw versus Tottenham Hotspur on Saturday. Midfielder Jack Wilshire came out of the match with an ankle problem but could be ready for the Gunners' Champions League showdown against Galatasary on Wednesday. Arteta and Ramsey are expected to miss that match in addition to Arsenal's next Premier League contest vs. Chelsea on Sunday. As for the game against Tottenham, Arsenal scored an equalizer in the 74th minute but was disappointed to earn just one point after outshooting the Spurs 16-6. Arsenal is +200 to win its Champions League group and +1800 to capture the title.

A.J. Allmendinger . In the reformatted Chase for the Sprint Cup, four drivers were eliminated from title contention after the third playoff race-narrowing the field from 16 to 12. Only one, Allmendinger, dropped from inside the top 12 to outside based on Sunday's results in Dover. The No. 47 car, which does not have a top-10 finish since winning at Watkins Glen on Aug.10, stumbled to 23rd on Sunday to seal its 2014 fate. Denny Hamlin moved into the top 12 despite a modest 12th-place showing in Dover.

United States . How bad was the Ryder Cup? Well, it was bad before (captain Tom Watson did not even select the eventual FedEx Cup champion, Billy Horschel), during (the Europeans won all three days en route to a 16.5-11.5 victory), and after (Watson and Phil Mickelson got into a war of words in their post-match press conferences). And it really was not as close as the score suggests. Heck, it felt more like 28-0 than what the final scoreboard actually read. Europe won the two foursomes (alternate shot) sessions by a hard-to-believe combined tally of 7-1. The Americans have now lost three straight Ryder Cups and six of the last seven. Rory McIlory, who went 2-1-2 over the weekend, is a +600 favorite to win the 2015 Masters and also a +600 favorite to win the 2015 FedEx Cup.
Read more articles by Ricky Dimon