NCAA Tournament Picks and Field Predictions, Jan. 8
by Robert Ferringo - 1/8/2014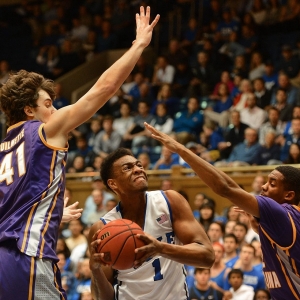 For most college basketball programs in the country, a successful season comes down to just one thing: making it to the NCAA Tournament. Every team starts the season hoping for an invite to The Big Dance, and while there can be only one National Champion, most schools consider a slot in the Field of 68 and a chance at cutting down the nets as a victory in and of itself.
The nonconference portion of the college basketball season has come to a close, and now it's time for some good old-fashioned backyard brawling as the teams descend into league play. For the next nine weeks it will be rivalry games and revenge situations as teams battle for conference supremacy. But the nonconference schedule is where teams write the opening lines on their NCAA Tournament resumes. And how teams have played up to this point give a strong indication of whether or not they're worthy of consideration for one of those 68 coveted spots.
Below are my initial NCAA Tournament predictions and projections for the Field of 68. Things are going to change pretty drastically over the next two months. But within the next few weeks the majority of this year's tournament field will start to crystalize, leaving just a couple dozen teams in major conferences scrambling for the last half-dozen at-large bids and a handful of small conference teams positioning themselves for a run in the conference tournament.
Here are my NCAA Tournament picks and field predictions:
American (Projected Teams: 4)
In: Louisville*, Connecticut*
Bubble: SMU, Memphis*, Cincinnati*
Skinny: College basketball's newest conference offers up several tournament-worthy teams. Louisville and Connecticut are locks (although the Huskies are on tilt at the moment). But the bubble teams are going to be incredibly interesting to watch. How much will the committee weigh the league's relative conference strength when considering bids? The American is currently the No. 7 league in the country. In 2008 (Missouri Valley) and 2009 (Mountain West) the No. 7 league in the country received one and two bids, respectively. However, in the five years since, the No. 7 conference has earned between three and five bids to the NCAA Tournament. SMU is definitely a team to watch closely over the next month.
Atlantic-10 (Projected Teams: 3)
In: None
Bubble: St. Louis*, Massachusetts*, George Washington, Dayton*, VCU
Skinny: This is going to be another interesting year for the A-10. I think that St. Louis and Massachusetts, two teams that have flirted with and run in the Top 25 all year, are both safe bets. The rest of the field is dicey. VCU has a true road win over Virginia and name recognition but not much else. George Washington beat Creighton and Maryland, and they are a solid team. But their strength of schedule is just No. 219 overall. Dayton has beaten Gonzaga, Cal and Ole Miss. But they lost to Illinois State and USC, and I don't know what happens if they finish fifth in the A-10 during the regular season. I am projecting three teams for this league, which would essentially steal a bid, but I honestly have no idea who the third team would be.
ACC (Projected Teams: 7)
In: Syracuse*, Duke*, North Carolina*
Bubble: Pittsburgh*, Maryland, Wake Forest*, Clemson, Notre Dame*, Virginia*, Florida State
Skinny: This bloated mega-conference is jam-packed with tournament wannabes. But just because the ACC is the same size as the old Big East doesn't make it as good as the old Big East. So while it is easy to expect eight or nine bids for the ACC this year, I don't think it is going to happen. Rather than parse through everyone's resumes, I say we just give it a couple weeks and let these teams blow it on their own.
Big 12 (Projected Teams: 6)
In: Iowa State*, Oklahoma State*, Kansas*, Baylor*
Bubble: Kansas State*, Oklahoma*, Texas
Skinny: The Big 12 remains one of the best basketball conferences in the country even without Missouri and Texas A&M. Baylor may seem like a surprise on the "In" line. But they have wins over Colorado, Kentucky and Dayton and their best nonconference schedule rating in a decade. Kansas State is another win or two away from locking up a bid for themselves thanks to wins over Gonzaga and Oklahoma State. And while Oklahoma doesn't have a marquee win – yet – I think that they are good enough to play their way into the Big 12's top tier. Texas is more competitive than I expected. And they have that win over North Carolina. But they are a team that I see sagging in league play, and I think they'll be one of the final teams cut on Decision Day.
Big East (Projected Teams:4)
In: Villanova*, Creighton*
Bubble: Xavier*, Georgetown*, Butler
Skinny: Georgetown is going to find its way into the Big Dance. I have no doubt about that. And Xavier is 12-3 with an excellent nonconference resume (though a better showing in the Bahamas would've already locked up their bid). They will get in. What do we do with the rest of the league? Marquette, Butler, Seton Hall, St. John's and Providence will all play in the postseason. The question will be whether they are headed for The Big Dance or one of the smaller dances. For now only four teams have earned a bid, so I will stick with that and see how everyone else navigates January.
Big Ten (Projected Teams: 6)
In: Ohio State*, Wisconsin*, Michigan State*
Bubble: Illinois*, Michigan*, Iowa*, Minnesota, Indiana
Skinny: Everyone has the Big Ten listed as the top conference in the country. I don't know if that is true. And they only get six bids because only six teams have earned consideration at this point. Indiana is a fringe candidate at best. Their nonconference schedule rated No. 327, and they didn't score a single win over a Top-110 team. Minnesota will be an interesting case, but right now they are more potential than production.
Conference USA (Projected Teams: 1)
In: None
Bubble: Southern Mississippi, Louisiana Tech*, UAB
Skinny: This bloated conference has 16 teams – 16! – fighting for what will likely be a lone bid. This conference was a one-bid league when Memphis was dominating. They likely won't get a second thought now that the Tigers are carrying the flag in the American. Louisiana Tech is a very good team with an OT win at Oklahoma. But they have two bad losses – at St. Mary's and versus in-state rival Lafayette – that will drag them down. UAB beat North Carolina and took New Mexico to double overtime. That earns them a token mention.
Missouri Valley (Projected Teams: 1)
In: Wichita State*
Bubble: Indiana State
Skinny: Wichita State is a Top-10 team, and they are a lock for the NCAA Tournament, where they will attempt to make it back-to-back Final Four runs. They are playing for seeding the next two months. Indiana State has a road win over Notre Dame, and they have a lot of talent. If they can avoid more than two league losses and make a convincing run in Arch Madness then they will be firmly on the bubble in March. The problem is that this team is prone to dumbfounding losses and already dumped games to middling Belmont and Tulsa. I can't see the Sycamore's toeing the line throughout league play and avoiding upsets. But they will still be a threat in St. Louis for the league's auto bid.
Mountain West (Projected Teams: 3)
In: San Diego State*
Bubble: Boise State*, New Mexico*, UNLV, Utah State
Skinny: The Mountain West has another excellent crop of teams to offer to the selection committee and should easily earn multiple bids for this league. San Diego State is already in thanks to that true road win at Kansas. New Mexico and Boise State really just need to avoid melting down in league play and will be solid tournament teams as well. UNLV was a mess early in the season during their most important nonleague games. They lost all of them, though, and the momentum of a seven-game winning streak was blunted by a horrible home loss to Air Force over the weekend. The Rebels have an uphill climb. WAC-refugee Utah State does as well. The Aggies made the NCAA Tournament three straight times from 2009-2011. But Stew Morrill's program has been sagging. Their nonconference resume is weak. But this team – now that Jarred Shaw is back in the fold – is good enough to finish in the top two or three in the conference. Would that be enough? Probably not. But they have a shot.
Pac-12 (Projected Teams: 6)
In: Arizona*, Colorado*, UCLA*, Oregon*
Bubble: California*, Utah, Arizona State*
Skinny: After a spotty few seasons, the Pac-12 is back in full force. Arizona is the top team in the country, and Oregon and UCLA are Top 25 staples. Colorado can play with anyone as proven by their win over Kansas and tight showing with Oklahoma State. Cal has the core of last year's tournament team back (though injuries are taking a toll). Arizona State has one of the best players in the country, Jahii Carson, and a solid squad. And Utah is an emerging dark horse. Their only two losses this year have come by a combined four points to Boise State and Oregon. Larry Krystkowiak is doing a fantastic job, and I think this team is capable of stealing some wins in league play. I didn't include Stanford on this list, despite its win over Connecticut in December, because I don't trust them not to flop in league play.
SEC (Projected Teams: 6)
In: Florida*, Kentucky*, Missouri*
Bubble: Arkansas*, LSU, Mississippi*, Tennessee*
Skinny: There is increasing parity in this improving conference. The three "in" team members are obvious. But the bubble teams are going to make for very interesting cases on Selection Sunday. Tennessee has the best resume, with wins over fellow bubblers Xavier, Virginia and Wake Forest. Arkansas has beaten SMU, Minnesota and Clemson, three other bubble teams. But LSU and Ole Miss haven't beaten anyone of note, and both have bad losses. I think both squads are good enough to belong in the Field of 68. But they need strong showings in the rebuilt SEC to prove it.
WCC (Projected Teams: 1)
In: Gonzaga*
Bubble: None
Skinny: St Mary's would have to win the league title in order to get a bid. But they have missed the tournament with better teams than the one they have this year. BYU played a great nonconference schedule. They almost earned wins against Iowa State, Oregon and Massachusetts. But the fact is that they didn't win those games and their victory over Texas isn't enough to earn a spot on the bubble. Sweeping Gonzaga, winning the regular season title, and at least a trip to the WCC title game is BYU's only ticket at this point, and that's a long shot.
Automatic Bid Leagues (Projected Teams: 20):
America East – Stony Brook
Atlantic Sun – Mercer
Big Sky – Northern Colorado
Big South – Charleston Southern
Big West – Long Beach State
Colonial – Drexel
Horizon – Wisconsin-Green Bay
Ivy League – Harvard (Potential at-large team)
Metro – Manhattan
Mid-American – Toledo
MEAC – Norfolk State
Northeast – Bryant
Ohio Valley – Eastern Kentucky
Patriot League – Boston University
Southern – Western Carolina
Southland – Stephen F. Austin
SWAC – Texas Southern
Summit – North Dakota State
Sun Belt – Western Kentucky
WAC – New Mexico State
*Denotes team projected for the NCAA Tournament.
Robert Ferringo is one of the premier college basketball handicappers in the country right now. He has banked $6,200 in profit for his clients with his college basketball sides and he is working on his sixth consecutive winning season, the top streak in the country. You can sign up for his college basketball picks and get more information here.
Read more articles by Robert Ferringo