Sports Betting Tips and Advice: No Room for Emotion in Wagering
by Jeremy Martin - 9/3/2014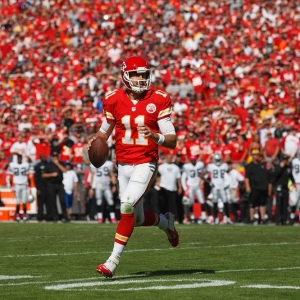 I have been covering the sports betting industry as a journalist for almost 20 years. One of my first assignments involving the industry saw me interviewing a Las Vegas oddsmaker to find out the factors that went into setting lines. One of the most interesting aspects of this interview was the fact that this oddsmaker told me, when I asked him about his favorite sports franchises, that he gave up following teams years ago and that he did not even like sports anymore. To him it was just a job.
This both fascinated and confounded me. How could someone that made his living in the sports betting industry not even like sports? How could someone that got to watch sports every day, and get paid for it, not have a favorite team? When I thought about his statement more, however, it started to make perfect sense. When sports betting is your business, there's no room for bias. This was a real eye-opener for me, and I have been applying it to my sports betting strategy ever since.
"It's business, nothing personal". The philosophy is simple and has been a hallmark of nearly every successful person since caveman times. Taking emotion out of business transactions is undoubtedly an important facet of financial success. And sports betting is no different. One of the first keys to becoming a successful bettor is to take all emotion out of your wagering.
Employing this strategy is easier said than done. Who doesn't like to bet on their favorite team to succeed? Who doesn't like to bet against that team's most hated rival? Ever since the sportsbooks rose from the desert in Las Vegas, customers have been lining up to throw down money on their local teams. There is a reason the Las Vegas bookmakers often shade the odds (add points to the line for the more popular team) for teams like the Chargers, 49ers, Lakers, Clippers, and Dodgers when they have an "event" weekend with lots of visitors from California. Bookies know that foolish bettors will drop dollars on their hometown team no matter what the odds are. The most well-liked teams often face shaded lines every week in the NFL. Even when popular teams like the Lakers and Yankees have successful seasons, they often have losing years at the window because of these skewed and shaded odds.
Sports betting is different for everyone. Of course, everyone wants to win his or her wager every time a bet is placed. But some bettors just like to have action on the game and will normally take the team that they like and know better or the one that is on TV the most. The goal is less about winning money and more about the excitement of the wager. That type of bettor is not my intended audience for this article. My target audience is a bettor that is serious about sports betting and determined to profit long-term.
I bet against my favorite teams all the time. I am not averse to betting ON my favorite teams, but I am more likely to bet against them. It does not hurt this philosophy that my two favorite professional teams are the Kansas City Chiefs in the NFL and Los Angeles Clippers from the NBA. These teams have not exactly had a long history of success (I started following them because I always had a soft spot for the underdog). But I feel as if I know these teams better than any others I bet on and if I feel that they are getting too much credit with the point spread I can often find value by going against them. Once the bet is made, the end result is out of my hands. It does not matter who I root for since it won't affect the result of the wager. I don't believe in jinxes.
I still root for my team even when I bet against them. I try not to even think about the bet during the game. And if my team loses and I win the bet (I have hit close to 63 percent betting against my own team the last few years, according to spreadsheets I use to track my wagers) then that really helps soften the blow of losing the game as a fan.

Some of my friends just don't understand this concept and think it is ludicrous. "You are not a true fan if you bet against your own team!" they tell me. For me, sports betting is just business. It doesn't make me any less of a fan (I went one stretch where I didn't miss a Chiefs game on TV for more than 20 years). My biggest bet ever for pro football was the 2011 Baltimore Ravens at Kansas City NFL playoff game. The Ravens were favored by a mere three points in that one, and I could not believe the value that was on the visitors. I thought the Ravens would be seven-point favorites and that they should be laying nine points, so I jumped all over Baltimore, and of course they won by 23 and helped make my very profitable NFL season even better. As a fan it sucked to lose that game. But as a bettor that was very knowledgeable about the Chiefs and their strengths and weaknesses it was a line I could not pass up.
Taking the emotion out of sports betting is a no-brainer. Successful CEOs don't let emotional decisions cloud their judgment. Top stock traders don't make money by investing in their favorite companies they do business with in their personal lives. This philosophy translates to almost every successful business, so why wouldn't it translate to sports betting?
All successful handicappers have mastered the art of separating emotion from their sports betting. I moved to Las Vegas in 1994 to pursue a sports writing degree at UNLV. I would bet on the Chiefs all the time, and I would lose quite a bit. I normally put a $100 futures bet on Kansas City every year, and it probably would have been more entertaining to put a lit match to that big bill. Heck, it's probably a good thing the Nevada sportsbooks didn't take wagers on Nevada university athletics when I lived there or I would have probably lost a mint betting on the Runnin' Rebels during their futile years in the mid-to-late 90s. It didn't take long to realize that I was a more serious sports bettor than most of the weekend warriors who visited my city, and I slowly became more open to treating every bet like a business transaction.
Becoming successful sports bettor doesn't mean you have to bet against your favorite team. But for those new to sports betting, it can be hard to look at a point spread with neutrality. In every sports fan's mind this is the year his or her team is going to go all the way. It really takes some work to handicap a game involving one's favorite team with an unbiased mind. If a new bettor can't do this then he or she is better off just avoiding betting on any games involving that team. I know some savvy bettors who have a rule not to bet on games involving their favorite team. That works for some, but I am serious about making a profit and know the teams I follow as well as anyone.
And for me it's just business, nothing personal.
Great offer! Doc's Sports has been a leader in NFL handicapping for more than four decades, and we are offering new clients $60 in free picks for any NFL handicapper on Doc's Sports Web site. You cannot afford to miss out on this great offer - click here. Also, get three handicappers for the price of one when you sign up for a full-season football package! Click Here for details.