Thank God it's Friday: Heat-Spurs? Not Quite Yet
by Ricky Dimon - 5/30/2014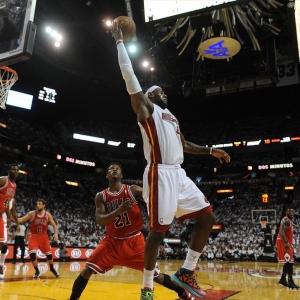 Has home-court advantage ever played a bigger role in an NBA playoff series? The Thunder trail San Antonio by a mere 3-2 margin in the Western Conference Finals, but they know they would eventually have to win a Game 7 on the road in order to advance. Nothing suggests that will happen. Speaking of advancing, the Heat missed a chance to do just that in a competitive Game 5 at Indiana.

All odds provided by Sportsbook.ag

LeBron James . Get your popcorn ready for something special from LeBron on Friday night, because he is going to be a man on a mission; and not just because he and the rest of the Heat want to do a number on Lance Stephenson. LeBron endured the worst playoff game of his career on Tuesday, finishing with just seven points after being plagued by ridiculous foul trouble. He picked up his fifth early in the third quarter. Miami eventually lost Game 5 in Indiana 93-90, sending the Eastern Conference Finals back to South Beach. LeBron and company are -8 favorites on Friday.

Oklahoma City Thunder . Oklahoma City is also left licking its wounds on this Friday, and its situation is far more dire than that of the Heat. The Thunder took care of business comfortably at home in Game 3 and Game 4, but they have been hopeless in visits to the Alamo. The Spurs won Game 1 by 17 points, Game 2 by 35, and Game 5 by 28 on Thursday. OKC won't exactly be in a lose-lose situation on Saturday, but a reward for a victory in Game 6 would be nothing more than a dreaded trip back to San Antonio for a decisive showdown. The Spurs are +110 favorites to win the NBA Championship, just barely ahead of Miami (+115).

Atlanta Braves . Arguably no Major League Baseball teams have been streakier this season than Atlanta and Boston. Heading into their four-game home-and-home series this week, the Red Sox were on a 10-game losing streak. The defending World Series champs previously had two sets of three-game skids. Since late April, the Braves already had a winning streak of four, a winning streak of three, a losing streak of seven, and a losing streak of three. So you just knew this series was going to be a sweep in one or the other's favor…and it was. Boston won two in a row on the road against the Braves then won two more at Fenway Park. It can't get much worse than dropping four straight to a team that had just lost 10 in a row. Atlanta is a -125 favorite to win the National League East.

Montreal Canadiens . The Canadiens apparently used up all of their goals in Game 5. After lighting the lamp seven times on Tuesday, Montreal failed to solve New York goaltender Henrik Lundqvist in Thursday's Game 6 and was eliminated by the Rangers from the Eastern Conference Finals via a 1-0 decision. One of the most well-respected franchises in the NHL, Montreal has not been to the Stanley Cup Finals since it lifted the cup in 1993.New York is +120 to win the Stanley Cup. L.A. is a -135 home favorite with a chance to close out Chicago in the Western Conference Finals on Friday.

Sean Lee . It's safe to say that organized team activities for the Dallas Cowboys did not get off to a fun start earlier this week; certainly not for Sean Lee, at least. The middle linebacker suffered a torn ACL during workouts when he collided with rookie offensive lineman Zack Martin. MRI results confirmed the Cowboys' worst fears on Wednesday. Lee has sustained torn ACLs in the past; the right in 2008 and the left-partially-in 2009. Lee missed five games last year due to hamstring and neck injuries but still recorded 99 tackles and four interceptions. Dallas is +265 to win the NFC East; Philadelphia is a +175 favorite.

Tiger Woods . Tiger was one of the favorites to win next month's U.S. Open as recently as a few days ago. Nobody, however, could have actually expected the 14-time major champion to suit up for Pinehurst. He has not played since the WGC-Cadillac Championship on March 9 and underwent surgery for a pinched nerve his back on March 31. "Unfortunately, I won't be there because I'm not yet physically able to play competitive golf," the world No. 3 said. "Despite missing the first two majors, and several other important tournaments, I remain very optimistic about this year and my future." Rory McIlory, who has won a tournament and fired an opening-round 9-under at the Memorial since breaking up with fiancée Caroline Wozniacki, is a +900 favorite to win the U.S. Open.

Australian Open champs . Nobody was going to win the calendar-year Grand Slam when people like Serena Williams, Rafael Nadal, and Novak Djokovic failed to bag the Australian Open. But nobody has ever come less close to capturing the second legs than Stanislas Wawrinka and Li Na. Wawrinka, who captured his first Grand Slam title Down Under, lost his Roland Garros opener to Guillermo Garcia-Lopez. Li did the same, going down right away to Kristina Mladenovic. Maria Sharapova is now the women's favorite, while Nadal and Djokovic are both slightly more than even money to take the men's title.
Get free picks from any Doc's Sports handicapper - there is no obligation for this offer and no credit card required. Just sign up for an account, and you can use the $60 in free picks for any Doc's Sports Advisory Board handicapper and any sport. Click here to get started now.
Read more articles by Ricky Dimon