This Week in Sports Betting, A-Z
by Ricky Dimon - 10/2/2014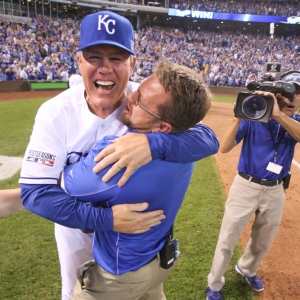 A. Allen, Dennis . The Raiders don't always get the spotlight on Monday night, but when they do, they prefer firing their head coach. They did just that earlier this week, canning Allen following a 0-4 start to the season. Now if they would only get rid of general manager Reggie McKenzie. Then the Black Hole faithful would really have something about which to rejoice.

B. Bridgewater, Teddy . Grandmothers could probably do work against the Falcons' defense. Perhaps the only person that can't is Bucs' QB Josh McCown (see Week 3). Still, Bridgewater looked good in his first NFL start last weekend-albeit against a porous Atlanta 'D.' The rookie completed 19-of-30 passes for 317 yards and rushed five times for 27 yards and a score in Minnesota's 41-28 victory before leaving with an ankle injury. He is questionable but hopeful to play on Thursday night against Green Bay. 5Dimes Sportsbook has the Vikings as +8 road underdogs.

C. Chelsea Clinton . The daughter of Bill and Hillary Clinton is a mom, herself. Chelsea and her husband announced the birth of a baby girl, Charlotte Clinton Mezvinsky, last weekend. Not many imagined this day would ever come while Chelsea was growing up in the White House!

D. Detroit Lions . The Lions made plenty of headlines last weekend. They took care of the Jets 24-17, and it was also announced that they are prepared to lose Ndamukong Suh to free agency this offseason-possibly to the team they just beat. What Suh wasn't prepared to do was to answer questions about the aforementioned subject during a Wednesday press conference. Detroit is a -7 home favorite over Buffalo, according to BookMaker.

E. ERA . Felix Hernandez wrapped up the American League's ERA title at 2.14 by giving up only one hit and no runs in 5.1 innings of work against the Angels on Sunday. King Felix picked up the win, improving his 2014 record to 15-6. Seattle missed the playoffs, however, by virtue of Oakland's last-day win. Of course, the Mariners would probably prefer to miss the postseason altogether than to have what happened to the A's in Tuesday's wild-card game against Kansas City. The Royals are +170 underdogs to win their series against the Angels, per Carbon Sports.

F. Farewell, captain . Derek Jeter's final game was never going to be as memorable as his swansong at Yankee Stadium. And it wasn't. Still, the captain hit an RBI single in the third inning of New York's 9-5 win at rival Boston on Sunday. He left the game immediately thereafter to a rousing applause from the Fenway Park faithful.

G. George Clooney . Clooney is off the market after tying the knot last weekend in Venice, Italy. Unclipping the belt and floating off into oblivion in "Gravity": bad move. Marrying Amal Alamuddin: good move.

H. Husain Abdullah . "Players are prohibited from engaging in any celebrations or demonstrations while on the ground." That's what Rule 12, Section 3, Article 1(d) states, but according to NFL spokesman Michael Signora, "However, the officiating mechanic in this situation is not to flag a player who goes to the ground as part of religious expression, and as a result, there should have been no penalty on the play." The play, of course, was Husain Abdullah's 39-yard interception return for a touchdown in Kansas City's 41-14 humiliation of New England on Monday Night. From some SEC Network studio somewhere, Tim Tebow agrees with Signora.

I. Irving, Kyrie . Dion Waiters is throwing shade at the Wizards, saying he and Irving are better than John Wall and Bradley Beal. Well, one thing is for sure: if Cleveland fares better than Washington this season, it won't be because Waiters and Irving are better than Wall and Beal. That's not to say they won't be; it just won't matter if they aren't. The Cavs are +250 favorites at Bodog Sportsbook to win the NBA Championship.

J. Jeff Gordon . The Rainbow Warrior took home the checkered flag from Dover's AAA 300 last weekend. He is safely through to the next round of the new Chase format, which begins on Sunday. Gordon is +300 at Bovada Sportsbook to win the Sprint Cup; Brad Keselowski is a +250 favorite.

K. Kimbrel, Craig . You've got to have a little fun on the final weekend of the season, especially when your team isn't going anywhere. Phillies' fans sitting in the vicinity of home plate mocked Kimbrel's arm-extended delivery preparation as Atlanta's closer attempted to finish off Saturday's game. It is must-see video. Kimbrel, though, got the last laugh by promptly recording his National League-leading 46th and 47th saves.

L. Lil' Rufio . Lions' tight end Joseph Fauria suffered a sprained ankle while…wait for it…chasing his 3-month-old Pomeranian/Husky mix named Lil' Rufio down the stairs. Fauria actually missed Detroit's game against the Jets, too. At least he isn't out for the year, like teammate Stephen Tulloch-who suffered a torn ACL while celebrating. The Lions are +160 at SuperBook to win the NFC North; the Packers are +120 favorites.

M. Mickelson, Phil . The only thing worse than Team USA's Ryder Cup performance was its ensuing press conference, with Mickelson and captain Tom Watson trading shots at each other. Hey, at least the Americans are keeping things interesting-since they certainly did not do that on the golf course.

N. New Zealand . That's where native Steve Williams wants to spend more of his time, which is why he announced his retirement from caddying on Wednesday. However, Williams indicated that he would be interested in part-time work, and when asked if he would ever go back to Tiger Woods, the New Zealander responded, "He's definitely someone I'd consider." Perhaps in a next stint with Tiger his tasks would be limited to on-course things like choosing clubs and reading putts.

O. Orton, Kyle . Kyle Orton is a starting quarterback in the NFL. You can't make this stuff up, folks. In fact, he is even the starting quarterback on a team in contention-if only because the AFC East is embarrassingly bad. Buffalo is +650 at BetOnline Sportsbook to win the division.

P. Phelps, Michael . The Olympic record-setting swimmer was arrested on a DUI charge early Tuesday and blew a .14. How many chances is this guy going to get? Well…a lot, of course, because he is a famous athlete!

Q. Quarterback position . Bill Belichick was actually asked in his press conference following New England's at Kansas City if he would "evaluate the quarterback position." And he actually handled it better than expected: with a borderline roll-eye, smirk, smile, headshake, and no verbal response of any kind. GT Bets has the Patriots at +600 to win the AFC Championship; Cincinnati is a +400 favorite.

R. Relax . That's what Aaron Rodgers told Packers' fans to do. And he knew what he was talking about. Despite a 1-2 start to the season, Green Bay came out like gangbusters in Week 4 and hammered NFC North foe Chicago 38-17 at Soldier Field. Rodgers completed 22-of-28 passes for 302 yards and four touchdowns with no interceptions.

S. Steve Smith Sr . It was personal, and it was also dominant. Smith abused his former team for 139 yards and two touchdowns on seven receptions as the Ravens crushed the visiting Panthers 38-10 last Sunday.

T. Tyler Hansbrough . According to ESPN commentator Brad Nessler, there was a Tyler Hansbrough in Missouri's backfield on Saturday night at South Carolina. The running's back name, however, is actually Russell Hansbrough. Nessler did not make the mistake once, either. He made it over and over and over again. Perhaps invoking memories of Tyler's awesome college career, Russell scored all three of the Tigers' touchdowns-including two within the last seven minutes-as the visitors stunned Steve Spurrier's squad 21-20. WagerWeb has South Carolina as a -5 road favorite over Kentucky.

U. Uneducated . That's what Manny Pacquiao called Floyd Mayweather Jr., perhaps misusing the word "uneducated" in an attempt to suggest that Mayweather is not a devout believer. There is not really anything else to say except please give us this fight.

V. Vernon Davis . Breakout star Larry Donnell was starting in one sense when the tight end's New York Giants hammered Washington last Thursday. In another sense, though, he certainly was not. Donnell is on his own fantasy football roster, but he benched himself for Week 4 in favor of the 49ers' Davis. According to Donnell, he lost his matchup by 15 points, meaning he would have won going away if he had started himself (54 yards, three touchdowns) instead of Davis (eight yards, no touchdowns). He assured that he will be in the lineup-in more ways than one-this weekend against Atlanta.

W. Wayne Rooney . You know a red card is deserved when both the player's own manager-and his own self, in fact-admitted that it was warranted. Rooney was sent off for a reckless challenge in Manchester United's match against West Ham last weekend and will miss upcoming matches versus Everton, West Brom, and Chelsea. Man U is +1200 to win the Premier League, according to Bovada Sportsbook.

X. The X . That's Dez Bryant's signature celebration move, and some Dallas high school kids at a Homecoming dance started "throwing up the X" when they realized Bryant was crashing their party. The Cowboys' star receiver answered the call by hanging out with the kids and posing for some photos. You would be in a good mood too if your team just destroyed New Orleans 38-17 on Sunday Night Football. Sportsbook has Dallas as a -6 home favorite over Houston.

Y. Yost, Ned . The Royals' manager made some…um…interesting pitching decisions in Tuesday's wild Wild Card Game against Oakland. He then tried to make up for it by bunting, bunting again, and bunting some more. The end result was a 9-8 win in 12 innings for host Kansas City, albeit no thanks to Yost. Then again, perhaps a lot of thanks to Yost should be in store since he is likely why the A's were able to make it so competitive.

Z. Zimmermann, Jordan . On one hand, Zimmermann should be taking Steven Souza out to dinner several times. On the other hand, Souza completely stole Zimmermann's thunder by making an unbelievable catch on the last out of Sunday's game between Washington and Miami to preserve a no-hitter for the Nats' starter. But it's safe to say Zimmermann will take it any way he can get it, and Souza's play made his own feat all the more dramatic and newsworthy. Washington is +425 at BookMaker to win the World Series.
Read more articles by Ricky Dimon