This Week in Sports Betting, A-Z
by Ricky Dimon - 12/24/2014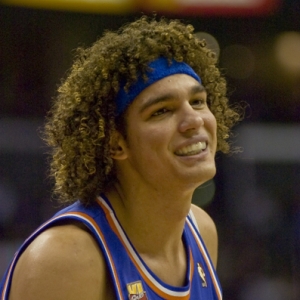 A. Anderson Varejao . Varejao exited Cleveland's 125-104 win over Minnesota on Tuesday in the third quarter due to a foot injury that the Cavs fear could be a long-term issue-potentially a torn Achilles'. He is scheduled for an MRI on Wednesday. Might Zydrunas Ilgauskas be walkin' through that door? Sportsbook.ag has Cleveland as a +320 favorite to win the NBA Championship.

B. Beast Mode . It may not have quite reached earthquake-run proportions, but Marshawn Lynch went into Beast Mode again as he ran around, over, and through Arizona's defense en route to a 79-yard touchdown run to put the game out of reach in the fourth quarter. Lynch finished with 113 yards on just 10 carries to help Seattle dominate 35-6. Is there anyone who can beat the Seahawks? Thanks for asking.

C. Chandler, Taylor Lianne . Chandler, 41, is the self-proclaimed ex-girlfriend of Michael Phelps. She is also intersex. Now she is in talks with Vivid CEO Steve Hirsch to star in a porn production. In other words, the following path appears to be the fast track to riches: get sex change, find famous person on Tinder, do porn.

D. DeMarco Murray . Murray's relatively modest performance by his standards (22 carries, 58 yards, one touchdown) may not have been a make-or-break deal for the Cowboys, because they had no problem blowing out Indianapolis 42-7 last week. But his Herculean effort just days after hand surgery likely made the difference in some fantasy football championships--and that's what's really important, right? Dallas is a -6 favorite at BookMaker to beat host Washington in Week 17.

E. Evil . North Korea may have kept "The Interview" away, but in turn it did us all a favor by inspiring the return of Mike Myers' "Austin Powers" character Dr. Evil. The villainous doctor opened Saturday Night Live by bashing North Korea and Sony for giving evil a bad name. Speaking of bad names....

F. Flacco, James . While referencing "The Interview" controversy during a speech, President Barack Obama mentioned main characters Seth Rogen and James "Flacco." That's right, he morphed actor James Franco and Ravens' quarterback Joe Flacco into "James Flacco." Flacco replied via Twitter: ".@barackobama It's James Franco, not James Flacco ;)".

G. Giancarlo Stanton . An ESPN.com article about the Braves' trade of Justin Upton mentioned that they signed Stanton earlier in the offseason. "Atlanta's recent signings of Giancarlo Stanton and Freddie Freeman…," it wrote. Stanton, of course, re-upped with the Marlins. The Braves, meanwhile, have been doing the opposite of signing Stanton. In addition to Upton, they have also lost Jason Heyward, Kris Medlen, Ervin Santana, and Tommy La Stella, just to name a few. At least the article got the part about Freeman correct. Miami is +2000 at SuperBook to reach the World Series.

H. Harbaugh, Jim . Harbaugh is about as close to the Michigan head coaching job as his San Francisco 49ers were to beating San Diego last Saturday night. They led 21-0 midway through the second quarter, 28-7 at halftime, and 35-21 with less than six minutes remaining in the game. The difference is that Harbaugh to Michigan is going to happen; San Francisco's win did not. Philip Rivers marched the Chargers back from the brink, and the visitors ultimately prevailed 38-35 in overtime.

I. Izzo, Tom . Michigan State lost at home to Texas Southern-which had previously been 1-7 overall and 0-7 on the road-71-64 in overtime last Saturday. "I'm going to find out what the NCAA will legally allow me to practice tomorrow, and I'm probably going to exceed it," Izzo said afterward in a tone that suggested he might even be serious. I bet that practice was fun; probably about as fun as having to share the same basketball court as the Citadel on Monday (Michigan State coasted to an 82-56 victory). Competition will get tougher in the form of Maryland next Tuesday.

J. Jay Ajayi . Boise State's junior running back has announced that he will make himself eligible for the 2015 NFL Draft. Ajayi's 2014 numbers include 1,689 rushing yards and 25 touchdowns, but ESPN's Mel Kiper rates him as the 10th-best running back in the upcoming class. Isn't the 10th-best running back these days tantamount to an undrafted free agent? BetOnline Sportsbook has the Broncos as +3 underdogs against Arizona in the Fiesta Bowl.

K. Kourtney Kardashian . There was already a North West in the Kardashian reign (daughter of Kim and Kanye, of course). Now there is an actual Reign. Kourtney and Scott Disick recently revealed their third child's name via Instagram: Reign Aston Disick.

L. Lightning . Seven people were reportedly struck by lightning outside Raymond James Stadium following Tampa Bay's 20-3 loss to Green Bay in Week 16. That's more lightning strikes than the Bucs' offense has delivered in at least the last decade-and possibly ever.

M. Mumps . Although Sidney Crosby is back from his particular case of the NHL's mumps outbreak, it has not done the Penguins much good. They are 1-1-1 in three games since Crosby's return after losing at Tampa Bay 4-3 on Tuesday. The star center had 15 shots on goal in those three outings but found the back of the net only once. Pittsburgh is +800 to win the Stanley Cup, as indicated by Bovada Sportsbook.

N. NFC South . The NFC South battle will come to a bitter end, but it won't be until the last week of the season-this one. Atlanta and Carolina are squaring off on Sunday in the de facto division championship game. The winner will join the 2010 Seahawks as the only other team in NFL history to reach the playoffs with a losing record. If the 6-9 Falcons prevail, they will tie Seattle at 7-9 for the worst record in playoff history. In other words, Atlanta is playing to become the worst team ever. What would that make Carolina? The Falcons are -4 home favorites, per BookMaker.

O. Odell Beckham, Jr. Maybe OBJ's famous grab should be known as "The catch that launched a thousand ships" because opponents' defense are trying to go to war with him every chance they get. Repeated late hits in last week's Giants-Rams game led to three ejections. Unfazed, Beckham finished with eight catches for 148 yards, two touchdowns, and zero Pro Bowl appearances. How did that guy get left out? 5Dimes Sportsbook has New York as a -2.5 home favorite over Philadelphia on Sunday.

P. Prodigy . LeBron James, Jr. may be the real deal. The 10-year-old has an epic highlight video that is making the rounds on the Internet and social media right now. Is it too early to start making scholarship offers? Heck, he's already 10; Southern California probably thinks it's already too late!

Q. Quadruple . Stoke City manager Mark Hughes, whose team got blanked 2-0 by Chelsea on Monday, thinks the Blues can win the vaunted quadruple in 2014. That would include titles in the Premier League, Champions League, FA Cup, and Capital One Cup. Chelsea currently tops the EPL with 42 points, is in the last 16 of the Champions League, the semifinals of the Capital One Cup, and will face Watford in the third round of the FA Cup. If you're one of those people who thinks soccer exists only once every four years, don't tell Chelsea! The Blues are -250 at Bodog Sportsbook to win the Premier Legue.

R. Rajon Rondo . It looks like there will be some growing pains in Dallas as the Mavericks get used to their new point guard. They are 1-2 in Rondo's first two games, and the one win came against a San Antonio squad that started guys like Aron Baynes, Cory Joseph, and Kyle Anderson. Dallas then lost back-to-back games on Monday and Tuesday at home against Atlanta and at Phoenix, respectively.

S. Samuel Dalembert . If you're gonna go down, you might as well go down swinging. Dalembert, who plays for the pathetic New York Knicks (5-25), elbowed Toronto's Jonas Valanciunas in the face last Sunday. He was hit with a flagrant 2, got ejected, and incurred a $15,000 fine. Needless to say, the Knicks lost by double-digits.

T. Texas A&M . A portion of Kyle Field was imploded last weekend as renovations on Texas A&M's football field began. No word yet if the Aggies also imploded the entirety of their defense.

U. UCLA . Here are the first-half stats for UCLA against Kentucky last weekend: zero of the game's first 24 points, seven total points, and 3-of-37 shooting. I know it's Kentucky, but holy smokes that is bad. The Bruins ended up getting humiliated 83-44. The Wildcats are -120 at GT Bets to win the National Championship.

V. Vick, Michael . Vick said last week that Jameis Winston is "the future of the NFL." In the same way that Vick was the future of the NFL when he was drafted No. 1 overall in 2001? Florida State is a +9 underdog against Oregon in the Rose Bowl, according to Sportsbook.ag.

W. Wisconsin Bearcats . Adidas sent warmups to the Wisconsin basketball team that were embroidered with Cincinnati's "Bearcats" logo. That may have been a compliment back in the days of Kenyon Martin, but not anymore. Now it's just a Tweetable offense. As Badgers' forward Duje Dukan pointed out on the social media network: "Hey @adidasHoops thanks so much for the official Wisconsin Bearcats warmup!"

X. Xavier . Bruce Pearl and the Auburn fans-spurred on by their head coach-celebrated their team's 89-88 double-overtime win over Xavier last Saturday like the Tigers had just won the National Championship. Beating Xavier probably doesn't warrant such a reaction, but perhaps a comeback from 13 points down at halftime, two extra frames, and the acknowledgement that you are Auburn basketball makes it a monumental occasion.

Y. Yankees . It no longer takes much talent to beat the Yankees. But it still takes a ton of talent to outspend them. The Dodgers ended New York's 15-year streak of leading Major League Baseball in salary when it was announced last week that they finished 2014 with a record-breaking payroll of $257,283,410 and owe more than $26 million in luxury tax. Well, at least all that money is buying them a lot of World Series trips. Oh, wait....

Z. Zach Randolph . Z-Bo's first missed game of the season did not come at a good time for Memphis. The power forward sustained a bruised knee in last Friday's loss to Chicago that ended a six-game winning streak, and he was unable to suit up on Sunday against Cleveland. LeBron James and company capitalized in the form of a 105-91 home victory. The Grizzlies are +800 at Bovada Sportsbook to win the Western Conference.
Read more articles by Ricky Dimon