This Week in Sports Betting, A-Z
by Ricky Dimon - 11/6/2014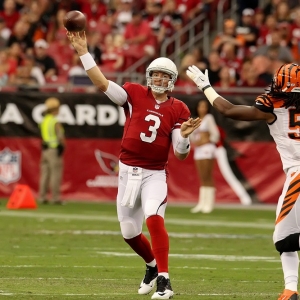 A. Arizona Cardinals . Who needs the 49ers and Seahawks when you can have…wait for it…the Arizona Cardinals? If the season ended today, the much-ballyhooed NFC West would have two teams out of the playoffs and another (Seattle) as the No. 6 seed. No matter; Arizona is 7-1 and would have home-field advantage throughout the postseason-including the Super Bowl. The Cardinals have won four in a row, and no, they will not apologize for getting to face Brandon Weeden instead of Tony Romo last week. They are +450 at Bovada Sportsbook to win the NFC Championship.

B. Bob Baffert . If there is one rule of horse racing, it should be that you don't mess with Bob Baffert. And you certainly don't take away his first-ever Breeders' Cup Classic win. Officials thought about doing that last Saturday after Baffert-trained horse Bayern veered into two other horses at the start then went on to win the race. Upon video review, Bayern was not disqualified, and the victory stood.

C. Caroline Wozniacki . A time of 3:26 in a marathon is stellar even for serious runners. Wozniacki, of course, is not that. She is a professional tennis player who had to train for the New York City Marathon in the heart of the WTA season. Wozniacki's performance should not necessarily drive anyone to tears like it did her BFF Serena Williams, but it is pretty damn impressive.

D. Djokovic, Novak . Djokovic is not keeping up with Roger Federer in the children department, but it looks like he will stay ahead of Federer at No. 1 in the world when the tennis season comes to close. The Serb, whose wife gave birth to their first child last month (Federer has four kids), returned to action last week in Paris and promptly won his first tournament as a dad. Federer will likely have to win next week's World Tour Finals in London and get help from Djokovic in order to have a shot at the year-end top ranking. SportsBettingOnline.ag has the top seed as a -650 favorite to win his first match over Marin Cilic.

E. Exonerated . A professional athlete has avoided jail time. In news that may or may not be related, 2+2=4. Technically "exonerated" is not exactly what happened to Adrian Peterson, but he won't be going behind bars after agreeing to a plea deal in his child-abuse case. It remains to be seen what Peterson's playing status is, but it may not be good news for him if it's in Roger Goodell's hands.

F. FSU . All they do is win. The Seminoles certainly have not been dominant this season, but the defending National Champions are 8-0 and seemingly on course for a berth in the inaugural College Football Playoff. Florida State has struggled with Oklahoma State, Clemson, N.C. State, Notre Dame, and Louisville, most recently defeating the Cardinals 42-31 last week after trailing 21-0 in the second quarter. FSU is +700 at Sportsbook.ag to win the national title.

G. Gordie Howe . Howe, the former Red Wings' and Whalers' great and NHL Hall of Famer, suffered a stroke last week but is reportedly recovering well. He held the record for most career goals (801) and points (1,850) before Wayne Gretzky came along.

H. Hill, Lauren . You should know the story and probably do know the story, but it's worth repeating. Hill, who has inoperable brain cancer, fulfilled her dream of playing college basketball last Sunday. The freshman at Division III Mount St. Joseph scored the first basket and the final basket of her team's win over Hiram before calling it "amazing" and "a really good day." Awesome.

I. Injured . Death, taxes, and Derrick Rose…. Well, you don't need me to spell it out for you. You know how it goes. The Bulls' point guard sustained not one but two ankle injuries last Friday and missed his team's next two games. On the bright side, Rose returned on Wednesday and contributed 13 points, seven assists, and two steals in just 31 minutes as Chicago won at Milwaukee 95-86. The Bulls are +110 at Carbon Sports to win the Central Division.

J. Jimmie Johnson . J.J. won the AAA Texas 500 last week. Unfortunately for him, he had already been eliminated from the reformatted Chase for the Sprint Cup.

K. Keselowski, Brad . It's never about who wins these days in NASCAR, anyway. It's about who brawls. Generally it's Keselowski, who was once again in the middle of things. As Johnson was busy capturing the checkered flag, Keselowski bumped Jeff Gordon while trying to make a pass with five laps remaining. Gordon, still in the Chase, spun out and finished 29th. An all-out melee between the two drivers and their teams ensued. Get your popcorn ready for this Sunday in Phoenix. BookMaker has Gordon at +450 to win the Quicken Loans Heroes 500.

L. Lisa Ann . The 42-year-old porn star went on a date with Notre Dame freshman receiver Justin Brent to a New York Knicks' game last month. As confirmed by an in-bed selfie taken by Ann, the date clearly continued well beyond Madison Square Garden. That's one way to get famous without catching a single pass the entire season.

M. Manchester Derby . Stop me if you've heard this before: Manchester United gets red card, Manchester United is reduced to 10 men, Manchester United loses. Rival Man City took care of the Red Devils 1-0 last week, dropping them to into a tie for ninth on the Premier League table. City is +330 at Bodog Sportsbook to win the EPL title.

N. Nick Foles . Philadelphia's quarterback sustained a broken collarbone last week and will be out indefinitely despite not needing surgery. The odds of us witnessing a butt-fumble in 2014 just increased exponentially. Yes, Mark Sanchez is in for the Eagles.

O. Outdoor Cocktail Party . Really, Georgia? Really? With the SEC East trying to hand its title to the Bulldogs on a silver platter, they got blown out by Florida 38-20 in last Saturday's installment of the World's Largest Outdoor Cocktail Party in Jacksonville. And Florida isn't even good. Missouri, which lost 34-0 at home to Georgia, is now in the East driver's seat. This year's SEC Championship in Atlanta is going to be comical. UGA is a -10.5 road favorite over Kentucky, per 5Dimes Sportsbook.

P. Playoff . Oregon moved into the top four of the College Football Playoff rankings on Tuesday, with Alabama still on the outside looking in. But it does not really matter yet since just about everyone still has to play everyone else during the regular season…. Except Florida State, of course. Ducks' QB Marcus Mariota is a -220 favorite at GT Bets to win the Heisman Trophy.

Q. Quiet . Court documents revealed last week that Alex Rodriguez paid his cousin approximately $1 million to keep quiet about his alleged PED use. Of course, that was never going to do much good since A-Rod reportedly admitted it himself in January and was suspended for the entire 2014 season. Even people who don't own $1 million know there are just a few better ways to spend $1 million.

R. Ryan Moore . Apparently golf is still being played. The existence of the fall swing is good news for Moore, who won the CIMB Classic in Kuala Lumpur last week for a second consecutive year. Sergio Garcia tied for second (what's new?).

S. Six . Ben Roethlisberger has become the first player in NFL history to throw six touchdown passes in consecutive games. After abusing both Indianapolis and Baltimore, Big Ben has 22 touchdowns compared to just three interceptions this season. In the words of that Dish Network commercial, "It's like we're back in college!" WagerWeb has Pittsburgh as a -4.5 road favorite over the Jets.

T. Tom Brady . But it's not like Roethlisberger is running away with MVP honors. Among the other contenders is Brady, who also has 22 TDs and three INTs this year-including 18 scores and just one pick in his last five outings. The Patriots have not lost since being left for dead at 2-2 following a 41-14 loss at Kansas City. New England is +250 to win the AFC Championship, as indicated by Bovada Sportsbook.

U. Undefeated . The Houston Rockets have been every bit as good as the L.A. Lakers have been bad to start the season. Houston and L.A. are sporting mirror-image records, and it does not take a genius to successfully guess which one is 5-0 and which one is 0-5. The Rockets are pouring in more than 105 points per game and are winning games by an average margin of more than 14 points. James Harden is putting up 27.2 points per night. Think the Thunder (what's left of them, at least) could use him right about now? Houston is a -4 home favorite over San Antonio on Thursday, per BookMaker

V. Volunteers' QBs . A torn labrum in his right shoulder that kept Justin Worley out of Tennessee's last two games will require season-ending surgery. Volunteer fans may not mind. Josh Dobbs filled in last Saturday and became the first player in school history to pass for 300 yards and rush for 100 yards in the same game as the Vols won at South Carolina 45-42 in overtime. Dobbs got a partial standing ovation upon entering one of his classrooms on Monday. Yes, he is actually a college athlete who goes to class. Even hard ones, in fact.

W. Washington Redskins . To say last week was an interesting one for the Redskins would be an understatement. Their bus crashed on the way to the game at Minnesota, there was a protest outside the stadium calling for a nickname change, rumors of problems in the locker room swirled, and they lost a close one 29-26 to the Vikings as Robert Griffin III returned after having been sidelined since Week 2. The Cowboys are +160 to win the NFC East, according to Bovada Sportsbook; the Redskins are +6600.

X. XO . Some background singer named Ahmad Javon Lane is suing Beyonce for stealing his music for her "XO" hit. Listen to a few seconds of the two tunes and you will quickly realize that this is ridiculous. But hey, he's only suing her for $3 million. Chump change.

Y. Yadier Molina . "Not one, not two, not three, not four, not five…." LeBron James may not have been correct in his prediction for Miami Heat titles, but he was on the right track if he was talking about Gold Glove Awards for Yadier Molina. The Cardinals' catcher earned that prestigious honor for a seventh consecutive year on Monday. St. Louis is +1800 at SuperBook to win the 2015 World Series.

Z. Jay-Z . Add Dez Bryant to the list of Jay-Z's clients. Bryant, who could not reach an agreement on an extension with the Cowboys prior to the 2014 campaign, signed with Roc Nation Sports last weekend. The 2015 offseason could be a nightmarish one for Jerry Jones, who will see both Bryant and DeMarco Murray hit free agency. At least Jones can deal with Jay-Z instead of Drew Rosenhaus in his negotiations over Bryant. Murray is +400 at BetOnline Sportsbook to win NFL MVP.
Read more articles by Ricky Dimon