This Week in Sports Betting, A-Z
by Ricky Dimon - 11/26/2014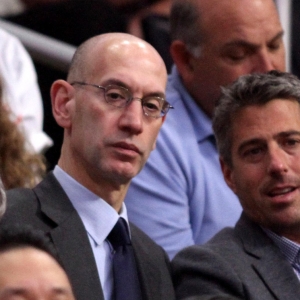 A. Adam Silver . Silver has acted quite sensibly since taking over for David Stern as NBA commissioner, and he continued to do so when he published a recent op-ed in the New York Times arguing for Congress to legalize sports betting in the United States. Silver noted that "nearly $400 billion is illegally wagered on sports each year," according to estimates, and therefore it should be brought out from under the table but carefully regulated. Sounds like a good idea.

B. Box Office . As expected, "Mockingjay"-the third installment of "The Hunger Games" series-dominated the box office with $121.9 million over the weekend. It was the best opening of the year, although it did not match the totals of the first two "Hunger Games" movies. And it is not hard to own the box office when you're going up against stuff like "Dumb and Dumber To."

C. Cleveland Cavs . A record of 6-7 would be pretty darn swell if you were in the NFL's NFC South-a whole game in first place, in fact! But it's anything but great for LeBron James and the Cavs. That being said, they at least managed to win a game on Monday, and they won it by 32 points (106-74 over Orlando). Cleveland is a -7 home favorite over Washington on Wednesday, according to GT Bets.

D. DeSean Jackson . Jackson recently went all in for a customized $75,000 necklace from one of L.A.'s top jewelers. The chain is reportedly 22 inches around with 2,200 diamonds and a half-kilo of gold. After all, you have to keep yourself happy somehow when you play for the Washington Redskins. WagerWeb has Washington as a +9.5 underdog at Indianapolis in Week 13.

E. Eustachy, Larry . Eustachy will always be the guy who partied with Missouri co-eds after his Iowa State squad lost a 2003 game to the Tigers. Even though it's awesome, perhaps it isn't fair. Eustachy has done extremely well to be sober for 10 years and get back in the coaching ranks. Now at Colorado State, he received a contract extension over the weekend that will keep him around through 2018-19.

F. Federer, Roger . Federer added one of the few titles he had never won to his resume when Switzerland prevailed over France in the Davis Cup final last weekend. In fitting fashion, Federer won the clinching match by destroying Richard Gasquet in straight sets. Bovada Sportsbook has Federer at +600 to win the Australian Open.

G. Georgia Tech . The Coastal Division was supposed to be Miami's personal playground after the ACC was split into two groups in 2005. To say it hasn't been would be an understatement. Ten championships have been allocated to Virginia Tech (5), Georgia Tech (4) and Duke (1). The Yellow Jackets backed into their fourth title game thanks to consecutive losses by Duke-first to Virginia Tech and then to rival North Carolina last weekend. The Jackets are +12.5 underdogs at Georgia on Saturday, as indicated by Carbon Sports.

H. Hammer, Armie . The 28-year-old actor stepped into the boxing ring with Shawne Merriman last Wednesday at a Sunset Strip gym owned and run by Brian Urlacher and Jay Glazer. Unsurprisingly, Hammer came away with an impressive black eye. After all, Merriman's nickname was "Lights Out" when he played for the Chargers.

I. Insignificant . That's how the NCAA defined Jameis Winston's contact with a referee during Florida State's win over Boston College last Saturday. Well sure it is…compared to all the other stuff he has done. The Seminoles are -7.5 home favorites at 5Dimes Sportsbook to beat Florida on Saturday.

J. Jonas Gray . The Patriots' running back rushed for 201 yards in Week 11. He did not see the field in Week 12. Who knows what goes on in Bill Belichick's mind, but whatever it is…it works. New England walloped Detroit 34-9 even with Gray as nothing more than an innocent bystander and has now won seven in a row. Here's guessing Belichick won't test the theory by benching Tom Brady at Green Bay on Sunday. The Pats are +3 road underdogs, per BookMaker.

K. Kentucky . Buffalo came within 19 points of Kentucky on Nov. 16, and that is the closest any of five opponents has come. The Wildcats followed up last week's 72-40 destruction of Kansas to beat up on Boston University 89-65 last Friday and Montana State 86-28 two days later. UK is winning its games by an average margin of 34.6 points. This is a preposterous notion, but think how ridiculous it would be if Anthony Davis was a senior at Kentucky right now….

L. Lionel Messi . Messi broke the all-time La Liga scoring record by finding the net three times in Barcelona's 5-1 win over Sevilla last Saturday. He now has 253 tallies, giving him a new mark that had previously stood at 251 since 1955. Messi then broke the Champions League record with another hat-trick in a 4-0 defeat of APOEL Nicosia on Tuesday, giving him 74 such goals.

M. Manchester United . Breaking news: Man United won a soccer game. Even more reason to stop the presses: it even beat a decent team. Man U got the best of Arsenal 2-1 last Saturday, when Wayne Rooney notched a late insurance goal before the Gunners scored in relatively meaningless fashion during stoppage time. The Red Devils are still 13 points back of first-place Chelsea on the Premier League table; Arsenal is 15 out. Chelsea is -700 at Sportsbook.ag to win the EPL title.

N. Neutral site . The only thing neutral about Monday's game between the Bills and Jets was the site-Detroit. New York had almost every other advantage, coming off a bye week while Buffalo could hardly practice at all throughout the week due to torrential snow. But the Bills did have one advantage that proved to be decisive: they aren't absolutely terrible at playing football. They pounded the hapless Jets 38-3 at Ford Field, dropping Rex Ryan's team to 2-9.

O. Odell Beckham Jr . Best catch ever? The Giants are -3 favorites at Jacksonville on Sunday, per SportsBettingOnline.ag.

P. Pacquiao, Manny . Pacquiao abused Chris Algieri last weekend at the Venetian Macao to win by unanimous decision and retain the World Boxing Organization welterweight championship. He knocked Algieri down six times in the process. That's all well and good, but nothing matters until we get Pacquiao vs. Floyd Mayweather.

Q. Quan Bray . Bray became the first player in Auburn history to score touchdowns via rush, reception, and punt return in the same season when he took an end-around to the house in last weekend's 31-7 victory over Samford. The senior can become the first Tiger ever to return three punts for scores in one season if he takes one back in the Iron Bowl. One record Bray probably won't break: longest return of a missed field goal to beat Alabama. Auburn is a +9.5 road underdog at BookMaker in the Iron Bowl

R. Ramirez, Hanley . If you can't beat anyone in the AL East, outspend them all. That appears to be Boston's thinking at the moment. The Red Sox, who went from World Series champions to last place in the division, signed Ramirez to a four-year deal on Monday and inked a five-year contract with Pablo Sandoval on Tuesday. Your move, Yankees!

S. Single-game rushing record . Barry Sanders' FBS record stood for 26 years. Melvin Gordon's stood for seven days. Gordon had racked up 408 yards against Nebraska on Nov. 15 only to see Oklahoma freshman Samaje Perine explode for 427 last Saturday against Kansas. Word on the street is that these things happened in real life, too; not on PlayStation. Gordon is +200 at BetOnline Sportsbook to win the Heisman Trophy.

T. Taylor Swift . Swift won something called the Dick Clark Award of Excellence at the American Music Awards, but the real news came as a result what she did in the audience. She actually cried during Selena Gomez's performance of "The Heart Wants What It Wants," a song about none other than Justin Bieber.

U. UCLA . It's a good time for UCLA right now. The basketball team has made its way into the Top 25 thanks to a 4-0 start and, more importantly, the footballers hammered rival USC 38-20 last weekend. The real news of the football game, though, came when some injured Bruins' walk-on named Scott Handler stood at midfield in the Rose Bowl and refused to let the Trojans' band major drive his sword into the UCLA logo. If nothing else, it was a shrewd move by Hander to plant himself in UCLA lore.

V. Voynov, Slava . The Los Angeles Kings' defenseman has been charged with felony domestic violence, stemming from his Oct. 20 arrest for allegedly causing his wife "to suffer injuries to her eyebrow, cheek, and neck." Voynov, of course, has not played since the incident. The Kings are +120 underdogs at Minnesota on Wednesday, according to Sportsbook.

W. Woods, Tiger . Tiger has hired a new swing consultant, some biomechanics graduate assistant named Chris Como. It's an especially awesome gig for Como, because he is in a win-win situation. If Tiger suddenly starts playing well, the consultant will get some of the credit. If Tiger plays poorly, well, he was already playing terribly and the consultant will shoulder none of the blame. He is +1500 at Carbon Sports to win the Masters.

X. X-Men Kia Sorento . Kia has unveiled a Sorento Wolverine based on the Hugh Jackman's character in the "X-Men: Days of Future Past" movie. It really does have claw-like representations all over itself. Kia is going to showcase the car at the 2015 Australian Open, for which it is the main sponsor. Rafael Nadal, a brand ambassador Kia, will be involved in some way. For example, maybe he will drive away in the car before he has to face Novak Djokovic on a hard court.

Y. Yeah . Marshawn Lynch may not have been in beast mode with the press after Seattle's win over Arizona, but he was in "yeah" mode. During an approximate four-minute interview at his locker, Lynch answered almost every question with nothing more than "yeah," while also throwing in one "maybe" and also a wild ramble about a charity event he is hosting next month. It's safe to say he doesn't like dealing with the media as much as he likes eating skittles. The Seahawks are +1200 at GT Bets to win the Super Bowl.

Z. Zayn Malik . One Direction won Artist of the Year at the AMAs, but is there trouble in paradise? Malik has been sick of late, and drug rumors are swirling. He is also reportedly discontent with the fact that his 1D duties are keeping him away from fiancée Perrie Edwards. Stay tuned…because we know you can't go a minute without major 1D news.
Read more articles by Ricky Dimon