This Week in Sports Betting, A-Z
by Ricky Dimon - 2/19/2014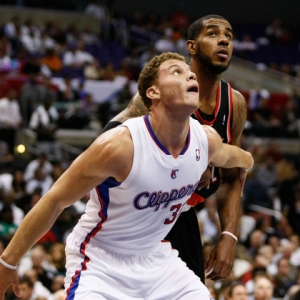 A. Austin Dillon. The No. 3 car is back. Richard Childress had not allowed the car made famous by the late Dale Earnhardt to grace the tracks of NASCAR's highest level since Earnhardt was killed at the Daytona 500 in 2001. He made an exception for his 23-year-old grandson, and Dillon delivered last weekend, capturing the pole for the Great American Race in the No. 3. Dillon is +1800 at TopBet to win in Daytona; Jimmie Johnson is a +900 favorite.

B. Blake Griffin. Did he or didn't he? A story surfaced last week that Griffin smacked Justin Bieber at a Starbucks in West Hollywood, gaining the L.A. Clippers' forward admirers around the world. It has since been confirmed to be false, although the Clippers are unsurprisingly trying to take credit for its legitimacy. As for something that really happened, an offensive explosion in Sunday's All-Star Game saw Griffin score 38 points on 19-of-23 "shooting" from the floor. In this case, "shooting" obviously means "dunking."

C. Chelsea. Chelsea is still on top of the English Premier League table, one point ahead of Arsenal and three points clear of Manchester City. The Blues, however, tumbled out of the FA Cup at City's hands following a 2-0 decision last Saturday at Etihad Stadium. Man City will take on Wigan Athletic in next month's quarterfinals, while Arsenal will face Everton. City is a +110 favorite at Sportsbook to win the Premier League title.

D. Dunker of the Night. Um, what was that? The East won all three head-to-head battle rounds against the West in what has become of the NBA's dunk contest. At that point, John Wall was suddenly declared to be "Dunker of the Night," and it was all over. Just when you thought the contest format could not get any worse, it did. Washington is a +1 underdog at Atlanta on Wednesday, per Carbon Sports.

E. Ed Reed. Reed had $50K stolen from his car last week. That's not good for the free-agent safety, but what he was going to do with $50K in cash probably wouldn't have been good, either.

F. Fifty. This is the 50th anniversary of the "Sports Illustrated Swimsuit Issue," and the cover did not disappoint. Lily Aldridge, Nina Agdal, and Chrissy Teigen got the nod as a threesome. But don't worry; there is plenty of Justin Verlander's girlfriend on the back cover and inside pages.

G. Gabe Carimi. The Atlanta Falcons signed Carimi on Monday. Their offensive line cannot possibly be any worse than it was last season, and by Falcons' standards a first-round bust is a decent investment. Carimi, a 29th overall pick of the Bears in 2011, will look to resurrect his injury-plagued career under new offensive line coach Mike Tice. Atlanta is +1600 to win the NFC Championship at Bovada Sportsbook.
H. Houston Texans. Jadeveon Clowney is making a pitch to be the No. 1 overall pick. His talent clearly warrants it, even though his production last season at South Carolina does not. Clowney has expressed a desire to be paired with fellow defensive end J.J. Watt on the Texans' front line. It's hard to imagine anyone else in the NFL—at least on offense—desiring such a scenario. Scary.
I. Serge Ibaka. Pot use in the NBA has been reported to be "ubiquitous," but don't count Ibaka among the users. Oklahoma City's shot-blocking force said while leaving AV nightclub in Hollywood last weekend that he did not know or care if the NBA would ease up on weed-smoking rules because has never smoked. It sounds like pot is to Ibaka as pre-marriage sex is to A.C. Green. The Thunder are +325 at WagerWeb to win the NBA Championship.

J. Derek Jeter. If you thought the fanfare surrounding Mariano Rivera's farewell tour was out of control, think again. Jeter will take it to a whole new level. The Yankees' shortstop announced last week that the 2014 campaign will be his last in Major League Baseball. He may not win anything else this season, but Jeter has all but locked up All-Star Game MVP honors.

K. Craig Kimbrel. Kimbrel signed a four-year, $42 million contract with Atlanta on Sunday. The Braves did not do anything else this offseason, but they at least are locking up all of their young talent. Atlanta is +1000 at BetOnline Sportsbook to win the National League Pennant.

L. Linemen. The Ted Wells report finally came out last weekend. It's 144 pages long, but to get the gist of it all you need to know is that Richie Incognito responded with a Twitter tirade and subsequent deletion of his account (he has since returned). None of the Miami Dolphins' offensive linemen—except maybe Jonathan Martin—is happy.

M. Mount Rushmore. You know we're in the dog days of February when the only thing "SportsCenter" talks about is LeBron James insisting that he should be on the Mount Rushmore of the NBA. Only time will tell, but for now James should definitely be on the Mount Rushmore of dunking home videos that make us even more upset he never participates in the dunk contest. Carbon Sports has Miami as an even-money second choice to win the Eastern Conference.

N. North Carolina vs. Duke. The season's first installment of college basketball's best rivalry got postponed by a winter storm last week. Duke somehow could not make the eight-mile drive to Chapel Hill, so it's now in the midst of a four-games-in-eight-days stretch. Included are dates with North Carolina on Thursday and Syracuse on Saturday.

O. T.J. Oshie. Oshie took Sochi by storm last Saturday. Under international hockey rules, Oshie just kept shooting and shooting and shooting in a shootout that would seemingly never end the United States vs. Russia hockey showdown. The St. Louis Blues' forward went 4-for-6 in the shootout and finally mowed down the home team with a clinching goal in the eighth round. St. Louis is a +550 favorite to win the Stanley Cup, according to Bovada Sportsbook.

P. Evgeni Plushenko. The men's figure-skating short program was a borderline disaster in terms of quality, but it was positively epic for those who like drama. Prior to Jeremy Abbott's hard fall and recovery, Plushenko—a Russian legend of the sport—withdrew from the competition due to a back injury and then retired. Yuna Kim is an even-money favorite at Bovada Sportsbook to win the women's title.

Q. Quoted. Michael Sam Sr. was quoted last week as saying what could be construed as anti-gay remarks after his son came out ahead of the upcoming NFL Draft. Not surprisingly, he backtracked a few days later by saying he was "terribly misquoted." You know a lot of people will put themselves in hot water with comments regarding Michael Sam; you just didn't think one of those people would be Sam's own father.

R. Ray Rice. Rice and his fiancée were arrested after a physical altercation at an Atlantic City casino last weekend. Hey diddle diddle, Roger Goodell up the middle. Rice can certainly expect to hear from the NFL commissioner in the near future.

S. Sun Devils. Arizona State upset Arizona 69-66 in double-overtime last Friday, but not before Jahii Carson of the Sun Devils hung on the rim with—unknown to giddy ASU students—time left on the clock. For some reason Arizona State did not get a technical for premature storming of the floor, nor did Carson get t-ed up for hanging on the rim. Arizona benefited in no way from the shenanigans and Nick Johnson barely missed a three-pointer at the buzzer. The Sun Devils are +3 underdogs at Colorado on Wednesday, per BookMaker.

T. "Tonight Show". Jay Leno is out. Jimmy Fallon is in. Fallon's debut on Monday night featured U2 singing, Will Smith dancing, and a whole host of stars who "bet Fallon 100 bucks he would never host the Tonight Show" taking turns walking on stage and handing over Benjamins.

U. Ubaldo Jimenez. Jimenez signed a four-year, $48 million deal with the Baltimore Orioles on Monday. The veteran right-hander's up-and-down career was back on the rise last season, when he went 13-9 with a 3.30 E.R.A. for the Cleveland Indians. The Orioles are +1400 at TopBet to win the American League Pennant.

V. Meredith Vieira. Vieira became the first woman to host NBC's Olympic coverage when she took over at the studio desk. The real story, of course, is Bob Costas' eyes. Wow. Those things probably have several hundred of their own Twitter accounts by now, and for good reason. Costas was shelved for almost a full week with pinkeye, leaving hosting honors to Vieira and Matt Lauer. Costas finally returned on Monday. Canada is a +175 favorite at BookMaker to win the men's hockey gold medal.

W. Jameis Winston. The Heisman Trophy winner is once again taking his talents to the baseball field. Winston recorded a two-inning save in FSU's 4-1 win over Niagara last Saturday, retiring all six batters he faced and ending it with a strikeout for the exclamation point. Is he already the most famous college baseball player ever?

X. XXX. That's the rating for Charlie Sheen's soon-to-be wife, which will be number four for him. Sheen proposed to his girlfriend, former porn star Brett Rossi, last Saturday, and she said yes. Winning.

Y. Patric Young. Young had a positively epic offensive rebound with fewer than two minutes remaining that all but finished Tennessee's upset hopes against Florida last week. The rebounding effort of Dennis Rodman-esque proportions really has to be seen to be believed. Florida, which went on to score a road victory at Kentucky last Saturday, has won 17 in a row and is No. 2 in the nation. The Gators are -17.5 favorites over visiting Auburn on Wednesday, per 5Dimes Sportsbook.

Z. Talib Zanna. Zanna, a mediocre-at-best 62 percent free-throw shooter this season, was all set to be the hero in Pittsburgh's home game against No. 1 Syracuse last week. The senior forward nailed two from the charity stripe 4.4 seconds left, giving him 16 points and 14 boards for the night while putting Pitt up by one. However, Panthers' head coach Jamie Dixon called timeout, and Syracuse drew up a play that saw Tyler Ennis drain a 30-foot heave at the buzzer to stun the home crowd and keep the Orange undefeated.
Read more articles by Ricky Dimon