This Week in Sports Betting, A-Z
by Ricky Dimon - 7/18/2014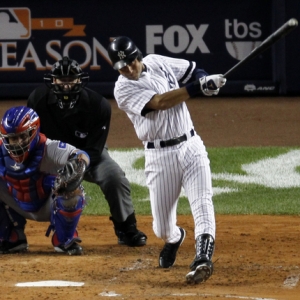 A. Jose Abreu . Rookies at 27 years of age are not the norm. But Abreu isn't your normal baseball player. The White Sox first baseman launched 29 home runs prior to the all-star break to go along with a solid .292 average. He is on an eight-game hitting streak (four multi-hit games in this stretch) and has hit safely in an incredible 26 of his last 27 games. Abreu is -180 favorite at Sportsbook to lead the majors in homers.

B. Britney Spears . Everyone loves the Cheesecake Factory. Everyone loves it even more when you don't have to pay for it. Well, Britney did have to pay; she just declined to do so. Apparently she thought her security guard had paid and the security guard thought she had paid. Oops.

C. Chris Froome . The defending Tour de France champion withdrew from the race last week after crashing and sustaining a wrist injury. Among the other notable riders who have abandoned their bikes are former winners Alberto Contador and Andy Schleck along with sprinting specialist Mark Cavendish. Current leader Vincenzo Nibali is a -1400 to win, per Bovada Sportsbook.

D. Derek Jeter . Jeter's all-star game farewell took place on Tuesday night. Not unlike the case with fellow Yankee Mariano Rivera last year, it was hard to even tell there was a baseball game going on with all the pomp and circumstance surrounding one player. Jeter went 2-for-2 before leaving in the fourth inning.

E. ESPYs . Most athletes use to the ESPYs to be seen and then party at L.A. mansions. Maria Sharapova, on the other hand, ran up and down sand dunes during her spare time away from the red carpet. If you don't think that's a brutal workout, think again. Tennis players may not get much of the limelight, but they sure are hardcore.

F. Fiancée . Prosecutors say they have evidence that Aaron Hernandez's fiancée lied to the grand jury during his testimony in Hernandez's murder trial. Shayanna Jenkins has pleaded not guilty to perjury. Hernandez, of course, pleaded not guilty to the shooting death of Odin Lloyd.

G. Groove . First Adam Wainwright said he "grooved" Jeter a fastball in the bottom of the first inning, then he said he didn't. Whatever the case, a single pitch in a relatively meaningless baseball game is getting way too much publicity. The Cardinals (Lynn) are -130 favorites over the visiting Dodgers (Haren) on Friday, according to TopBet.

H. Home . LeBron James is going home and so is Tim Tebow…in a different sense. Tebow bought a $1.4 million house in Jacksonville earlier this week. It may not be Tebow time for the Jaguars, but it is for some reportedly pumped-up neighbors! The Jags are +1400 to win the AFC South, per Bovada Sportsbook.

I. Indiana Pacers . The Lance Stephenson sideshow is taking its talents to Charlotte. Stephenson spurned the Pacers by signing a three-year, $27 million deal with the Hornets on Wednesday. Charlotte rookie Noah Vonleh is +4000 at Carbon Sports to win NBA Rookie of the Year.

J. Jonathan Toews . The Blackhawks seem to be in the business of spend now and deal with consequences later. But it's not like they had any choice; they simply could not let either Toews or Patrick Kane go. Chicago inked both starts to twin eight-year, $84 million contract extensions on Wednesday. The Blackhawks are +700 favorites at Bovada Sportsbook to win next season's Stanley Cup.

K. Brad Keselowski . What can you say? Keselowski is the man. He routinely guzzles beer on air during victory celebrations and he sliced his hand open on a champagne bottle after winning in Kentucky earlier this month. The No. 2 car triumphed again last weekend, sweeping both the Nationwide Series and Sprint Cup races at New Hampshire Motor Speedway.

L. Lap dances for life . That's what the strip club Scores NYC offered Carmelo Anthony if he returned to the Knicks. 'Melo did in fact re-sign with New York, but he has reportedly declined the generous offer. However, he told TMZ that he would be very interested in free pizzas for life. Either one sounds like a major win…as does the $124 million that will be coming his way.

M. Mario Gotze . It's not a bad time to be Mario Gotze right now. The 22-year-old scored the World Cup-winning goal in Germany's triumph over Argentina last weekend. He is also dating model Ann-Kathrin Brömmel. On that note, google is your friend…. Germany is a +450 favorite to win the 2018 World Cup, according to Bovada Sportsbook.

N. Denzel Nkemdiche . Ole Miss head coach Hugh Freeze announced at SEC Media Days on Thursday that Nkemdiche is back with the football team following a spring suspension. The junior linebacker has been making plenty of news off the field this year, having been sued along with his brother for $2 million after allegedly beating a man at a fraternity party and he was also caught on video hurling expletives at people on the beach during a spring-break trip. Ah, SEC football.

O. Oakland Coliseum . Everything about the stadium is a borderline debacle right now. Basically, the A's want to move to San Jose while the Raiders want to have it torn down in order to build a football-exclusive venue on the same site. On Wednesday, the Oakland City Council voted and approved a 10-year stadium lease. But this story is still far from over. Meanwhile, the A's are +450 favorites at BetOnline Sportsbook to win the World Series.

P. Josh Pastner . The Memphis head basketball coach hired assistant Keelon Lawson on Wednesday. Who is Keelon Lawson? He is a basketball coach, yes, but he also happens to be the father of four heralded recruits. Shrewd move, Pastner!

Q. Quarterback strike zone . The SEC has come up with a new QB strike zone rule that says any unabated defender must tackle an "offensive player in a passing posture" below the neck and above the knees. Any hit outside of the proverbial strike zone will be flagged, unless the unabated defender is blocked into the passer.

R. Ryan Gosling . Welp, Gosling knocked up Eva Mendes. Impressive work by the 33-year-old actor, who previously dated Rachel McAdams. Mendes is due to give birth in October.

S. Stuart Scott . The ESPYs are generally all about the athletes, but it was a SportsCenter anchor who stole the show on Wednesday. If you haven't seen Scott's acceptance speech for the Jimmy V Perseverance Award, do so ASAP.

T. Tight end . Jimmy Graham was ruled as a tight end instead of a wide receiver in arbitration, which did not help his contract prospects. Still, the Saints' pass-catching star got paid earlier this week. Graham signed a four-year, $40 million deal with $21 million guaranteed—the richest contract in NFL history for a tight end. New Orleans is +800 at BookMaker to win the NFC.

U. USC . It's still two years away, but we know that the 2016 college football season will begin with a bang. USC and Alabama will contest a blockbuster opener on Sept. 3 in the Cowboys Classic at AT&T Stadium. WagerWeb has this year's Trojans at +450 to win the Pac-12.

V. Louis van Gaal . The new manager of Manchester United made his first public appearance with the club earlier this week after being hired in May. He held a press conference on Thursday and is now embarking with Man U on a preseason tour in the United States. Also the head coach of the Dutch national team, van Gaal led the Netherlands to a third-place showing at the World Cup.

W. Bobby Wagner . The Seahawks' linebacker recently said the Broncos' were "scared" during last season's Super Bowl, which Seattle dominated 43-8. Of course, it should be pointed out that Stephen A. Smith pretty much goaded Wagner into those comments on ESPN's "First Take."

X. Xander Bogaerts . What a difference a year makes. In 2013, Bogaerts was a sensational newcomer in Boston and the Red Sox won the World Series. Now, the shortstop has five hits in his last 53 at-bats (his average has plunged to .235) and the team is in last place in the AL East
at 43-52. The Red Sox (Buchholz) are -116 home favorites over the Royals (Shields) on Friday, per 5Dimes Sportsbook.

Y. Yoenis Cespedes . Cespedes became the second player in history and first since Ken Griffey, Jr. in 1998 and 1999 to win back-to-back Home Run Derby titles. Oakland's slugger struggled in the first round, but the new bracket format helped him advance and he eventually had no trouble beating Jose Bautista in the semifinals and Todd Frazier in the final. Oakland (Samardzija) is a -151 home favorite over Baltimore (Tillman) on Friday, per GT Bets.

Z. Zen Master . Phil Jackson showed his sense of humor when Pau Gasol signed with Chicago instead of New York last weekend. The Knicks' president tweeted a photo from June 30, 2014 of lightning striking the Windy City's three tallest buildings.
Want free sports betting picks? Doc's Sports has you covered – get $60 worth of picks free from any of Doc's Sports expert handicappers. Click here for free picks (new clients only).
Read more articles by Ricky Dimon