Weekly Football Betting Public Action Report
by Trevor Whenham - 9/26/2014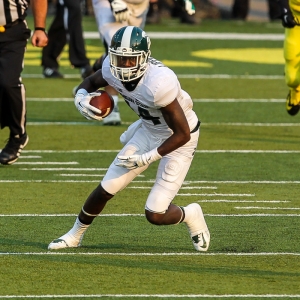 The Public Action Report has been just burning it up to start the season in college football. Last week just one game in college fit our criteria, but it was again a gem - Indiana was correctly identified to cover against Missouri, and they went one step further and pulled off the big upset. We are back with another Indiana play this week as part of a four-game college slate. No NFL games fit our criteria this week, but that's not really a bad thing at this point - the Report tends to have more success in the NFL later in the season. We have a bit of an oddity in the four games this week. It is rare to have one game in which we are backing a favorite, but this week we are on two.
As we often do, let's refresh you on the criteria before discussing the games. Typically, we expect that when a team gets a large majority of the betting action in a game directed towards them we will see their line become less attractive. In an ideal world books like to have their action close to balanced between the two sides so that they can enjoy profit without risk. Books don't release the amount of money that is bet on either side of a game, but they do tell us what percentage of bets is one each side. Most times those percentages come close to representing the amount of money bet, so the line movement makes sense. Sometimes, though, we find games in which there is an unbalance in the percentage of bets, yet the line moves in the opposite direction that we expect. Those are the games we are interested in. There are two main reasons we can see this unexpected line movement - sharp money is heavily betting the team the public doesn't like, or for some reason the books are happy to take bets on the more popular team because they feel confident that they won't lose money on the bet. Either way, it has proven over the years to be profitable and attractive to look closely at the less popular teams in these situations. Now, on to the games:
College football
Wyoming (+27.5) at Michigan State (Saturday, noon ET): Three out of every four bets on this game have been on the Spartans, yet the line opened at 32 and has fallen below the key number of 28 to 27.5. That means that Wyoming gets our attention here. You can't call Wyoming scared - they come into this game having already played Oregon. Craig Bohl is in the first year with this team. He doesn't have the talent he wants right now, but he is a very creative and aggressive coach and could keep things interesting in this one - just as he did against Oregon when the Cowboys covered the spread.
Indiana (-4) vs. Maryland (Saturday, 1:30 p.m. ET): Maryland plays at Indiana for the first time as a member of the Big Ten, and bettors are happy to see it - three quarters of bets have been on the Terps. Despite that, this line has climbed from three points to four - and could even be found at five earlier. That's a clear sign that Indiana gets our attention here. Since they are coming off an impressive win over Missouri, I am happy to bet on the Hoosiers. Both teams have three wins and a loss by a field goal, and on an overall basis there isn't a lot more to like about Maryland than Indiana - especially at Indiana.
Miami (-6.5) vs. Duke (Saturday, 7:30 p.m. ET): It tells a lot about the relative directions of these two programs that Duke - never a football powerhouse - has drawn more than 70 percent of the bets against Miami - the most public of teams just a generation ago. Despite that betting imbalance, this line has climbed two points from 4.5 to 6.5. The books clearly aren't afraid of Duke action, and that makes Miami attractive to us. Duke is 4-0 and ranked, but they have played a laughably-weak schedule. Miami has been tested far more, and Duke would likely have the same 2-2 record against the same schedule.
Syracuse (+9.5) vs. Notre Dame (Saturday, 8 p.m. ET): The very public Irish have, not surprisingly, drawn three quarters of the bets, yet the line has fallen from 13.5 to 9.5. A move of more than a field goal is very significant, so Syracuse get our attention here. Notre Dame is coming off of consecutive laughers against Michigan and Purdue and won't be hyped up for this game, either. They have a huge game against Stanford next week and could easily be caught looking past this task and towards the future.
Get free picks from any of Doc's Sports Advisory Board of expert handicappers - and with no obligation or credit card. You can use these free picks for any sport, and you will never deal with a salesman. Click here for your free Doc's Sports picks.
Read more articles by Trevor Whenham