Weekly Q&A with Doc's Sports Expert Handicapper Raphael Esparza
by Doc's Sports - 9/16/2014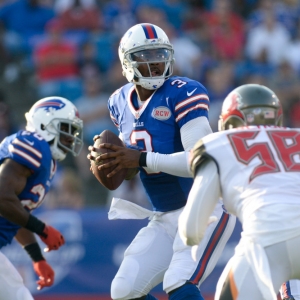 Doc's Sports has been one of the leaders in the sports selection industry for over four decades, and in our 43rd year in this game we are already off to a fast start for the new football season in both the college ranks and the pros. One of the main reasons for our continued success is our ongoing relationship with some of the top expert sports handicappers in the nation. Raphael Esparza has been a valued member of our team for over eight years, and he has established himself as one of the best in the game.
He was able to hone his craft as an expert handicapper during a long and illustrious career behind the counter of some of the biggest sportsbooks in Las Vegas. Formerly known as the Vegas Sports Informer, Raphael rose through the ranks to hold the prestigious position of Director of the Race and Sports Book for MGM Grand's Aria.
He has since retired from the sportsbook industry, but he remains hard at work building relationships with some of the biggest and most influential insiders in Las Vegas. These industry professionals know the gaming industry inside and out, and Raphael has done an excellent job at incorporating this "inside edge" into all the selections he releases. Diversity is the cornerstone of his expert handicapping service, with selection packages for all the major sports as well as the WNBA, horse racing, boxing, professional tennis and soccer leagues all around the globe.
Doc's Sports has taken full advantage of our relationship with Raphael to gain access to the Las Vegas betting scene through a weekly Q&A. Our goal is to get his expert insight into some of the hottest trending topics in the sports betting industry today. We have found that there is no better source than someone that is a true "insider" in the undisputed sports gambling capital of the world. The following is this week's conversation.
Doc's Sports: The latest AP Top 25 poll for college football is out, and seven of the first 15 teams on the new list reside in the SEC. While some experts insist that this is not the power conference it used to be, could you see two teams from the SEC making it into this season's four-team playoff to determine a national champ?
RE: It would not surprise me if two teams from that conference made it into the playoffs given the current state of the Big Ten, but the top teams in the SEC tend to beat each other up as the season wears on. There is also some solid depth in both the Big 12 and Pac-12 this year, which will play a factor in the actual four-team field.
Doc's Sports: The top three teams in the nation (Florida State, Oregon and Alabama) all open conference play this Saturday as heavy favorites. Do you see any of these powers struggling to cover the spread?
RE : I think all three teams should come out on top by a very comfortable margin, but Florida State did struggle with Oklahoma State in its season opener, and the Crimson Tide have failed to cover in their first three games, so you never know what might happen this Saturday.
Doc's Sports : You have commented on just how well the Las Vegas books have fared through the first two weeks of the NFL season with so many dogs winning games straight up. While Seattle, San Francisco and New England all have one loss, which of the seven teams that have started the season 2-0 have you been impressed with the most?
RE: I was impressed with Buffalo's road win against Chicago in Week 1 as a 6.5-point underdog, but overall I would have to say Carolina. I knew that the Panthers defense would still be good, but I have really been impressed with how the offense has looked so far. Cam Newton has battled through injury, and this newly-assembled receiving corps has played much better than expected.
Doc's Sports: There are a number of great matchups on this week's NFL schedule, but the biggest has to a Super Bowl rematch between Denver and Seattle. The Seahawks are coming off a bad loss to San Diego on the road, but will they bounce back at home this Sunday with another win over the 2-0 Broncos?
RE: Denver went out this offseason and made a number of personnel moves to close the gap with the Seahawks, but it still comes down to the fact that this game is being played in Seattle. Much like the New Orleans Saints, the Seahawks are a completely different team at home then when they have to play on the road.
Doc's Sports : In a recent post in your blog, Straight Bet Talk, you touched on the "over/under" numbers for this season's point totals in the NHL along with the betting odds as provided by Bovada. The start of a new season of hockey is still over a month away, but can you give us your early favorites to meet in the 2015 Stanley Cup Finals?
RE: It may seem like a homer call, but I would have to go with Chicago out of the Western Conference. This team is built to compete for a Stanley Cup title every season, and with Los Angeles winning last year it should be the Blackhawks turn this time around. The East is much tougher to call, but if I had to pick a team it would be Pittsburgh. The Penguins cleaned house in the front office and the coaching ranks this offseason, and I think the change in culture is going to work in their favor.
Click here to visit Raphael Esparza's Insider's Page at Doc's Sports for more information on his amazingly-profitable sports handicapping picks. Also, get $60 worth of Esparza's member's picks absolutely free - no obligation, no sales people - you don't even have to enter credit card information. You can use this $60 credit for any sport Esparza handicaps. Click here for $60 worth of free picks from Raphael Esparza . Also be sure to follow him on Twitter @VSIDocsports.