Weekly Q&A with Doc's Sports Expert Handicapper Raphael Esparza
by Doc's Sports - 9/23/2014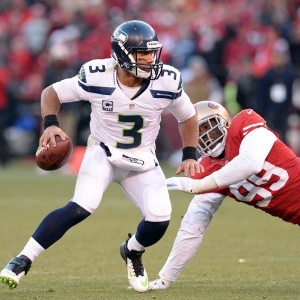 Doc's Sports and winning selections have become synonymous over the past 43 years in the world of sports betting, and we have been able keep things going with a fast start in the first few weeks of this year's football season at both the college ranks and the pros. The main reason for our continued success in such a competitive industry is a long-time relationship with some of the top expert sports handicappers in the nation. One of the top players in that game has been Raphael Esparza, who has been a valued member of our team for over eight years.
Raphael worked his way up the ranks as an expert handicapper during a long and illustrious career behind the counter of some of the biggest sportsbooks in Las Vegas. Formerly known as the Vegas Sports Informer, Raphael once held the prestigious position of Director of the Race and Sports Book for MGM Grand's Aria.
After deciding to retire from the sportsbook industry last year, he has been hard at work expanding his relationships with some of the biggest and most influential insiders in Las Vegas. These sports betting professionals know the gaming industry inside and out, and Raphael has reached a whole new level of success by incorporating this "inside edge" into all the selections he releases. Not only does he provide winning picks for all the major sports, but he remains one of the few handicappers in town that will offer selection packages for sports such as the WNBA, horse racing, boxing, professional tennis and soccer leagues all around the globe. Recently, he has gone as far as offering picks for professional wrestling.
Doc's Sports decided to sit down with Raphael through a weekly Q&A to gain that "inside" access to the Las Vegas betting scene. Our goal is to get his expert insight into some of the hottest trending topics in the sports betting industry today. We have found that there is no better source than someone that is a true "insider" in the undisputed sports gambling capital of the world. The following is this week's conversation.
Doc's Sports: The biggest game on tap in Week 5 of the college football season is a Thursday night showdown between UCLA and Arizona State. We all know what a huge Pac-12 fan you are, so can you give us the inside scoop on which one of these nationally-ranked programs comes away with the win?
RE: I am sort of surprised that UCLA is a five-point road favorite in this one with most of the books in town as Tempe is not an easy place to get a win. If this spread rises any higher, I would have to seriously consider a strong play on the Sun Devils given that this game is too close to call as far as picking a straight up winner.
Doc's Sports: Denver narrowly missed an opportunity to avenge last season's drubbing in the Super Bowl with a tight 26-20 overtime loss in Seattle this past Sunday. From what you have seen from all 32 NFL teams so far, are these two powers destined to meet again in Super Bowl XLIX?
RE : Before the season began I was not all that high on a Super Bowl rematch between these teams simply because of how hard it is to get back to the title game whether you won or lost the year before. Given what I have seen so far, I would have to think that Denver has the best chance to return simply because of the easier path through the AFC. The Broncos scored a big moral victory this past Sunday, which could serve them well down the road.
Doc's Sports : In some of your recent posts in your blog, Straight Bet Talk, you have commented on how the Las Vegas sportsbooks have cleaned up so far in the first few weeks of the new NFL season. Was that the case again last week with the underdogs slightly outpacing the favorites for the third straight week?
RE: The books got hammered in the early games this past Sunday on the strength of a Saints, Bengals, Cowboys and Colts parlay from which they never recovered. They made some of their money back on Arizona and Pittsburgh, but overall it was one of those weeks to forget in Las Vegas.
Doc's Sports: One of the more intriguing matchups on the week's NFL schedule sends 3-0 Philadelphia on the road as a five-point underdog against the 1-2 San Francisco 49ers. An Eagles' straight up win would probably put them near the top of the power rankings while putting the 49ers in a pretty deep hole in the NFC West. How do you see this game playing out?
RE: I would not be surprised if the betting public jumps all over the Eagles in this one, but the play is still on San Francisco. A loss this Sunday could easily send the 49ers spiraling downward to a losing season, so I know that there will be a huge sense of urgency heading into this game. On the other side of the coin, I am just not sold on Philadelphia in light of what I have seen so far from a very porous defense.
Doc's Sports : Turning to the upcoming MLB playoffs, are you favoring a City Championship between the Angels and the Dodgers in this year's World Series or a Beltway Battle between the Orioles and the Nationals?
RE: I think an Angels vs. Dodgers matchup is more likely as I have some serious reservations about Baltimore's ability to make it all the way to the World Series. My top pick for this year's matchup would be the Angels against Washington in what would be a true pitcher's duel in almost every game. I have been on the Nationals' bandwagon all season long, and I am not about to get off now.
Click here to visit Raphael Esparza's Insider's Page at Doc's Sports for more information on his amazingly-profitable sports handicapping picks. Also, get $60 worth of Esparza's member's picks absolutely free - no obligation, no sales people - you don't even have to enter credit card information. You can use this $60 credit for any sport Esparza handicaps. Click here for $60 worth of free picks from Raphael Esparza . Also be sure to follow him on Twitter @VSIDocsports.