2014 World Cup Handicapping: Easy Groups
by Trevor Whenham - 2/25/2014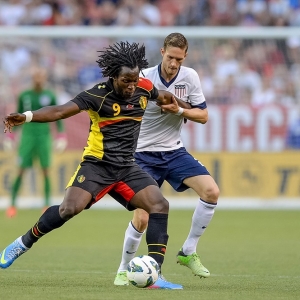 When it comes to the groups in the World Cup, so much of the discussion is about the so-called groups of death. People want to focus on which group is the toughest and which teams could be left out of the round of 16. Just as interesting, though are the groups that are decidedly easy — at least in relative terms. The easy groups may be even more interesting for bettors than the most challenging ones.
There is no shortage of easy groups this year. Brazil will barely break a sweat winning Group A. Colombia will be given every chance to reach their massive potential in Group C. Argentina could rest their starters for the entire first round and likely still qualify out of Group F. And Belgium would have to stumble badly not to at least advance out of Group H.
When you are handicapping the teams in a position of strength in their weaker groups there are some questions you need to ask to properly assess whether the value is in backing the dominant squad or if it worth betting on a potential upset. Here are five of the bigger ones:
How do they handle easy games?: Teams this successful have played a lot of easy games along the way. They will have played some outmatched opponents in qualifying (except for Brazil in this case since they didn't have to qualify), and they will have played some friendlies that weren't against teams that are their equal. Some teams will play particularly well against these outmatched opponents, flexing their muscles and showing their superiority. Other teams, though, will ease up and play well below their potential because they don't feel challenged or threatened. By looking back at what teams have done against weak opponents you can get a sense of what to expect here.
Are they healthy?: The one thing that can most effectively derail a talented team is a lack of health. If they aren't able to field their best roster, or if key players aren't at full strength, then they might be as strong as we would otherwise expect them to be.
Are the games as easy as they appear?: The public will jump all over the storyline of a giant of a team is up against a weakling. They will blindly and enthusiastically bet on the favorite. That could make sense if the game is as lopsided as it seems. Sometimes, though, the game will actually be closer than the public will give it credit for. It could be that the favorite is overrated or that the underdog is better than given credit for — or at least that they match up well against their opponent. The single biggest thing that handicappers need to do in these situations is to evaluate the game to see if the gap between the two teams is really as big as big as the public perception and the oddsmaker line.
Will the underdogs be particularly fired up for some reason?: Emotion is a massive factor in the World Cup. Fans have a long memory, and the teams are fueled by their fans. If a team has a reason to be fired up to play against a stronger opponent then they could elevate their play and perform significantly better than expected. It could be a political rivalry — the two teams have a long history of issues in real life. It could be that they have met before in past World Cups or in other major tournaments. Whatever the reason, there s nothing better than a rivalry to get an underdog ready to play above expectations.
How crucial is first place in the group?: The motivation for the strong team could be weakened if second place in a group is no worse than first in terms of potential playoff pairings. It's even possible that second could be favorable — the second-place team in a group is on the opposite side of the draw from the first-place squad, so finishing second could lead to an easier path to the finals in some spots. I'm not suggesting that great teams would intentionally finish second in a group. I'm just saying that if second is no worse than first then they might not be quite as motivated to ensure that they don't falter and fall out of first.
Read more articles by Trevor Whenham