Case of the Mondays: Mets Not So Amazin' in World Series Loss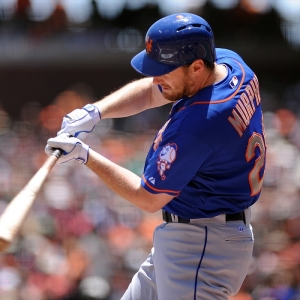 The New York Mets looked like world-beaters in sweeping the Chicago Cubs to win the NL Pennant, but they could not get out of their own way in the World Series. As we speak right now, the Mets should at the very least be going back to Kansas City, if not with a 3-2 lead then trailing 3-2. Or they could have won it all in five games. But a flurry of late-game collapses sealed New York's fate, and the Royals are world champions.

All odds provided by BetOnline Sportsbook.
Daniel Murphy . As good as Murphy was in the Mets' NLCS sweep of Chicago, he was that bad in the Fall Classic. The second baseman fell victim to the Sports Illustrated cover jinx, going a horrendous 3-for-20 against Kansas City with no extra-base hits and no RBIs. But it was in the field where Murphy especially blew it for his team. In the eighth inning of Game 4 on Halloween, the Royals scored the tying run when Murphy let an Eric Hosmer dribbler go under his glove. They eventually won it 5-3. In the 12th inning of Sunday's Game 5, Murphy let the floodgates open by booting another grounder. Kansas City, which had already stormed ahead 3-2, added four more runs in its clinching 7-2 victory.

Duke . In this past weekend's debacle against Miami, Duke appeared to win the game with a touchdown in the final seconds, had the game won when a block in the back was called on the Hurricanes' ensuing kick return, and won the game when one of eight laterals came after the ball-carrier's knee was down. Despite all of that, the officials allowed-incorrectly, it must be added-Miami's miracle touchdown on the final play to stand. Thus, the 'Canes made out like bandits from Durham, N.C. with a 30-27 victory. With the loss that was not really a loss, the Blue Devils dropped to 3-1 in the ACC and to third place in the Coastal Division (a game behind North Carolina and a half-game south of Pittsburgh). Duke is a +8.5 road underdog at UNC this week.

Mark Richt . Richt's seat has been hot on many occasions during his 15-year tenure as head coach of the Georgia Bulldogs, but it has never been more scorching than it is now. Thought to be a National Championship contender and at least a heavy SEC East favorite prior to this season, Georgia is 5-3 overall and 3-3 in the conference after losing three of its last four games. The Bulldogs' lone win during this stretch is an awful 9-6 laugher against visiting Missouri. Things reached a low point last weekend with a 27-3 setback against rival Florida in Jacksonville. Richt went with an inexperienced, unknown quarterback in Faton Bauta, and the experiment proved to be disastrous. In fairness to Richt, he has absolutely no decent options under center in Athens these days. Florida is a -20 home favorite over Vanderbilt on Saturday.

Steve Smith . It was black Sunday in the NFL in Week 8, at least in terms of injuries. None was worse than Smith's, who went down with a dreaded non-contact injury in the Ravens' 29-26 win over San Diego. As expected based on what appeared to transpire when Smith went down in the third quarter, the team announced that the veteran receiver suffered a torn Achilles' and will miss the rest of the season. Smith indicated prior to the 2015 campaign that it would likely be his last in the NFL. But a 2-6 record and a season-ending injury at the midway point could not have been what the 36-year-old expected. Head coach Jim Harbaugh has already said that he has a feeling Smith will be back. The Chargers are -4 home favorites over Chicago next Monday night.

Le'Veon Bell . Bell's incident looked far worse than Smith's, and it does not sound any better. The Steelers' star running back got tackled in the first half of Sunday's 16-10 loss to Cincinnati, and his right knee buckled awkwardly. Initial reports say that Bell did not tear his ACL, but a severely torn MCL is expected to sideline him for the rest of the season. The 23-year-old finished second in the NFL in yards from scrimmage last year, and he was averaging more than 100 rushing yards per game through five outings of the 2015 campaign. Pittsburgh's blown fourth-quarter lead and ensuing setback leaves it at a disappointing 4-4 and three games back of the undefeated Bengals in the AFC North. The Steelers are -4.5 home favorites over Oakland in Week 9.

James Harden . The last month has not exactly gone according to plan for Harden. Off the court, Khloe Kardashian broke up with him. On the court, he has been shockingly bad. Through three games of the 2015-16 NBA season, Harden is shooting 22.2 percent from the floor and an outrageous 3-for-32 from 3-point range (for those counting, that is 9.4 percent from long distance). Not coincidentally, the Rockets are 0-3 with a trio of 20-point losses. That's right-they have dropped all three of their games by exactly 20 points. Houston is a +4 home underdog against Oklahoma City on Monday.

Joey Logano . Matt Kenseth insisted that Logano had payback coming his way, and Kenseth lived up to his word on Sunday. Logano had spun out the No. 20 car two weeks ago in Kansas before winning the race and basically preventing Kenseth from advancing in the Chase for the Sprint Cup. Kenseth retaliated by intentionally wrecking his rival in Martinsville while Logano was leading with 47 laps to go. Logano finished 37th because of it and will have to win one of the next two events in order to stay in contention heading into the 2015 finale at Homestead.
Read more articles by Ricky Dimon