Terrible Tuesday: Steelers Once Again Without Roethlisberger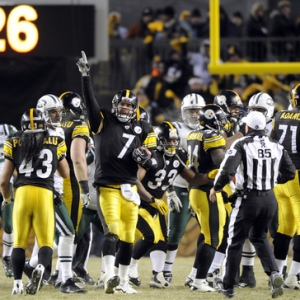 Steelers' quarterback Ben Roethlisberger is on the shelf again after sustaining a foot injury in a Week 9 win over Oakland. It was not a great week for a handful of veteran quarterbacks as Peyton Manning's Broncos suffered their first loss of the season, Drew Brees and New Orleans fell at home to Tennessee, Matt Ryan and Atlanta got beat by Blaine Gabbert-led San Francisco, and Philip Rivers' Chargers lost at home to Chicago on Monday night.

Odds provided by BetOnline Sportsbook unless otherwise indicated.
Ben Roethlisberger . Well, at least the Steelers won. They squandered a 35-21 fourth-quarter lead over the Raiders last Sunday but kicked a field goal in the final seconds for a 38-35 victory. Roethlisberger, however, left with a mid-foot sprain that will sideline him for several weeks-including for an upcoming Week 10 home game against Cleveland. Big Ben had previously missed four games earlier in the season because of a sprained MCL. Landry Jones, who helped engineer the victory over Oakland, will get the start. The Steelers are +2000 to win the AFC North.

New Orleans Saints
. New Orleans had won four in a row to erase a four-game losing streak and surge to a .500 record. With an ensuing home game against Tennessee, it was all right there for the Saints to reach 5-4 and put themselves in very real playoff contention. They led 14-3, 21-10, and then 28-20 midway through the fourth quarter. But the Titans forced overtime, won the coin toss, and promptly marched right down the field for a game-winning touchdown. Drew Brees' 387 passing yards and three scores were wasted by the Saints, who ran for a mere 61 yards and watched Marcus Mariota go off for 371 yards and four touchdowns.
New Orleans is a -1 road favorite at Washington on Sunday
.
Leonard Fournette
. Once the frontrunner for the Heisman Trophy, Fournette saw his bid take a hit when LSU lost to SEC West rival Alabama 30-16 last Saturday. The sophomore rushed for only 31 yards on 19 carries. He had an 18-yarder that set up his lone touchdown of the night, meaning he gained just 18 yards on his 18 other attempts. Fournette's previous season-low output was 150 yards, and he has gone for at least 228 yards on three occasions. His numbers (1,383 yards, 16 touchdowns) are still off the charts, but might a performance like that in the biggest game of the 2015 campaign be too much to overcome? It also appears that Fournette will not be able to showcase his skills in the SEC Championship as the Crimson Tide now control the division. Fournette remains the Heisman favorite at -140.
TCU
. Speaking of Heisman hopefuls, Horned Frogs' quarterback Trevone Boykin saw his stock plunge in far more precipitous fashion last weekend. In his team's first loss of the year (49-29 at Oklahoma State), Boykin completed 35 of 57 passes for 445 yards and a touchdown while also rushing 73 yards and two scores. But the senior was picked off a whopping four times. TCU trailed 35-9 early in the third quarter and its comeback attempt ended in appropriate fashion, when the Cowboys' Chad Whitener returned his second interception of the day 42 yards for a touchdown with 41 seconds remaining. Boykin is +1600 to win the Heisman, and the Frogs are +4000 to win the National Championship.
Florida Panthers
. The Panthers started the season 5-3-1. They have since gone 0-3-2 and have not won a game since Oct. 27. Florida's slump coincided with the absence of ageless wonder Jaromir Jagr, who has six goals and four assists this season. All 10 of his points, however, came in his first eight games of the 2015-16 campaign. The 43-year-old has failed to notch a single point in the last four outings, including three since returning from a lower-body injury. The punch-less Panthers have not scored more than two goals in any of their last five contests. They have lit the lamp a total of seven times in those five.
Florida is a +225 home underdog against Calgary
on Tuesday.
Kobe Bryant
. Kobe is hinting that this season will be his last in the NBA, according to Lakers' head coach Byron Scott. Based on both his play and his team's ineptitude, it would not come as any surprise. The 37-year-old is averaging a decent 16.5 points per game, but he is shooting a horrendous 32 percent from the floor and 20.8 percent from 3-point range. Los Angeles is 1-5, and its only win has come at the expense of Brooklyn, which is 0-7.
L.A. is a +11 road underdog at Miami on Tuesday night
.
Brad Keselowski
. Keselowski had a golden chance to automatically advance in the Chase for the Sprint Cup to the season finale at Homestead. A win last weekend at Texas Motor Speedway would have punched Keselowski's ticket, but he could not finish the job after leading 312 of 334 laps. Jimmie Johnson passed the No. 2 car with four laps remaining and ultimately took home the checkered flag. Because of wreck the previous week in Martinsville, Keselowski is still well behind his most important competitors in the Chase standings and almost certainly has to win this Sunday's race in Phoenix in order to stay in contention. MyBookie.ag has Keselowski at +1000 to win the Sprint Cup championship; Kevin Harvick is a +200 favorite.
Read more articles by Ricky Dimon