Case of the Mondays: Dez Drops the Ball, So Do the Broncos
by Ricky Dimon - 1/12/2015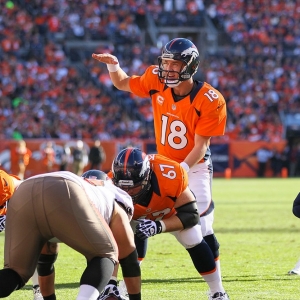 To catch or not to catch? That is the question. Dez Bryant did not exactly drop a pass on what was the biggest play of Sunday's divisional playoff game between Dallas and Green Bay, but he also did not get credited with a catch. Partly because of that determination, the Cowboys are going home. So, too, are the Broncos. As for Oregon, some of its players won't even be allowed to make plays on Monday night.

All odds provided by Sportsbook.ag

Peyton Manning . Reports are surfacing that Manning played the last few weeks with a torn right quad. That would partly explain his recent shortcomings, but it does not do anything to change the past-either distant or recent. Manning suffered his ninth career one-and-done in the playoffs when Denver lost at home to Indianapolis 24-13 during divisional playoff action on Sunday. The 38-year-old did not throw any interceptions, but he fumbled once and posted a mere 211 yards on 46 attempts. Is the time now to start serious contemplating the 'R' word? The Colts are +7 underdogs at New England in the AFC Championship.

Cowboys' fans . Karma is a bitch, and Dallas learned that the hard way in this season's NFL playoffs. In round one, the host Cowboys benefited from a pass interference flag that was picked up, helping them hold off Detroit 24-20. Fast forward exactly one week and a humongous call contributed to the team's ouster in Green Bay. Trailing 26-21 with less than five minutes remaining in the game, Dez Bryant appeared to have made an amazing fourth-down catch at the Packers' one-yard line. Replay controversially led to a reversal, giving the ball back to the home team. Aaron Rodgers and company promptly ran out the clock. Green Bay is a +7.5 road underdog against Seattle in the NFC Championship.
Free $60 in Member Sports Picks No Obligation Click Here
Ineligible players . Hammering Jameis Winston and Florida State 59-20 in the Rose Bowl was awesome for Oregon. Starting with a "no means no" postgame mockery of the former Heisman Trophy winner, the aftermath has been entirely less awesome leading up to tonight's National Championship against Ohio State. Second-leading receiver Darren Carrington, who has 37 receptions for 704 yards and four scores this season, is ineligible after failing a drug test. Carrington had amassed more than 100 yards in two straight contests and made seven catches for 165 yards and two touchdowns against FSU. Little-used running back Ayele Forde is also ineligible for the same reason. The Ducks are -6.5 favorites over the Buckeyes.

Duke . And then there were two. Kentucky (just barely) and Virginia are the only remaining undefeated teams in college basketball after Duke went down at N.C. State on Sunday. The Blue Devils, who had been 14-0, shot a horrendous 36.9 percent from the floor and 25.9 percent from three-point range in an 87-75 loss. Matt Jones and Tyus Jones combined to go two for 14 (one for nine from deep) with a combined nine points. Justice Winslow was 3-of-13 shooting (one for six from downtown). Duke is a +900 second choice to win the National Championship.
Minnesota Timberwolves . The Timberwolves have lost a whopping 15 games in a row and are 5-31 overall. That would generally be good news for them, because in most other years they would be on course for the most ping-pong balls in lottery and have the inside track for the No. 1 pick in the NBA Draft. But here's the bad news: New York has also lost 15 straight and is even worse than Minnesota (5-35). It's safe to say the race for the most pitiful record is an epic one, and the T-Wolves-although no fault of their own-are "losing" it. They have not won since Dec. 10 against visiting Portland. Interestingly, they have not lost by more than 15 points since Dec. 23 at Cleveland. The Spurs, who took care of Minnesota 108-93 on Saturday, are +700 to win the NBA title.
Tanner Pearson . The Kings' rookie forward sustained a broken leg during a game against Winnipeg over the weekend and is out indefinitely. Pearson is L.A.'s second-leading scorer this season with 12 goals in 42 games. He had cooled off just a bit after lighting the lamp seven times in October, but he found the back of the net once last Thursday in a 4-3 loss to the Rangers. The Kings, who won it all in 2014, are -180 home favorites over Toronto on Monday.
Manchester . It was not a good weekend to be one of Manchester's two English Premier League clubs. Playing without Yaya Toure on Saturday, City drew with Everton 1-1 after allowing an equalizing goal in the 78th minute. The Sky Blues' failure to win combined with Chelsea's victory over Newcastle puts them two points out of first place on the EPL table. One day later, United lost to Southampton 1-0. It was the Red Devils' first home setback against Southampton in the last 27 years. Man U had been on a steady climb up the Premier League standings, but it is now 12 points back of Chelsea and Southampton has passed it for third place. Chelsea is -150 to win the title. Man City is +150 and nobody else is better than +2800.
Read more articles by Ricky Dimon