2015 Grey Cup Betting Odds with CFL Predictions and Picks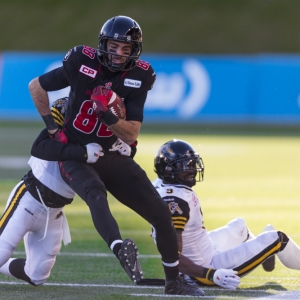 Edmonton Eskimos (-7) vs. Ottawa Redblacks, Sunday Nov. 29, 6 p.m. ET
The Grey Cup will be hoisted for the 103rd time by the Canadian Football League champion on Sunday night. It's a study in contrasts. The Edmonton Eskimos are one of the great franchises in the league - they have won the trophy 13 times, including five in a row from 1978 to 1982 when they were quarterbacked by NFL Hall of Famer Warren Moon. The Ottawa Redblacks, meanwhile, are an expansion team making the championship game in just their second year in existence.
I'll be frank - I've been a CFL fan for my whole life, but this has been as boring and underwhelming a season as I have ever seen. The Grey Cup is usually a solid game, though, and it's another game to bet on, so it's worth a preview. Here are four factors to consider when deciding how to make your bet:
Weather: The game is being played outdoors in Winnipeg. Winter lives in Winnipeg. On bad days it can make Green Bay look like Jamaica. The forecast is actually pretty mild for Sunday - at least in relative terms. It is something that will be worth keeping a close eye on, though, because anything is possible.
The weather could change the composure of the game, but it shouldn't give either team a particular edge. Both Ottawa and Edmonton play outdoors at home, and neither city is exactly a tropical paradise. They aren't likely to see anything that they haven't seen before. The weather could impact the total much more than the sides.
Quarterbacks: The QB battle here is interesting. Ottawa is led by Henry Burris, one of the few guys still playing pro sports who is older than me - he turned 40 in June. He played his college ball at Temple and has won championships in Calgary and had stints in Green Bay and Chicago. He joined Ottawa in the expansion draft to be the leader of the team, and that has obviously worked out well. He leads the league by almost 1,200 yards in passing with 5,703 yards in his 18 games. He has completed 70.9 percent of his passes, too, so he is very efficient. He'll be ready. His opponent, Mike Reilly, is a full decade younger. He has signed with four NFL teams without making a regular-season roster and was with the B.C. Lions before joining Edmonton in 2013. He won a Grey Cup with B.C., but as a third-string QB he played no real part in it. He has dealt with injuries this year but has played reasonably well when he has been in action. Edmonton definitely has the second-best QB here, but Reilly will also be facing the second-best defense, so the gap between the teams isn't that significant under center.
Coaches: Edmonton's Chris Jones and Ottawa's Rick Campbell have a connection - when Campbell became Calgary's defensive coordinator in 2012 he was taking over for Jones. The two worked together in Calgary for a year when Campbell was running backs coach. Campbell also has close ties to the Eskimos - his father Hugh was the coach that won all those titles with Warren Moon. And after stints in the USFL and NFL, Hugh returned to Edmonton and was the long-time GM and President of the team. Campbell grew up around the franchise he now desperately wants to beat.
It's hard to give either team an edge here on this front. Jones is 26-10 in his two years in Edmonton in his first time as head coach anywhere and 14-4 this year. Campbell, also in his first head-coaching role, was 2-16 with an expansion squad last year and is now 12-6 and playing for all the marbles. Needless to say, both guys can coach.
Head-to-head: The advantage of a nine-team league is that you always have head-to-head games to help your handicapping. Every team plays every other team at least twice. In this case, though, that's not much help. These teams played back-to-back games in early July - the third and fourth weeks of the season. Edmonton won both - by 29 at home and then by 11 in Ottawa - but they were so long ago that it's hard to take much meaning from them.
The odds and the pick: Edmonton is favored by a full touchdown here. It's hard to argue with that and hard not to pick the Eskimos. Ottawa has done impressive things, but they benefit from playing in the Eastern Conference, and they likely wouldn't have made it this far if Hamilton QB Zach Collaros had been healthy. Edmonton has a very stout defense and much more overall experience. Ottawa should be aggressive and will keep things interesting, but Edmonton will pull away late and seal this one. There is value in Edmonton at this price.
Read more articles by Trevor Whenham