Sports Betting Futures Odds: Fournette Hot on Boykin's Heisman Trail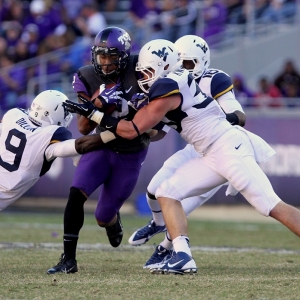 Rarely do any future odds fluctuate more wildly than those regarding the Heisman Trophy. So is there even any reason to discuss them? Well, yes. It makes things especially entertaining with contenders emerging and disappearing by the week. Speaking of contenders, all four teams in the NFC East appear capable of winning the division-but not necessarily because any of them are looking good.
All odds provided by MyBookie.ag .

Heisman Trophy

Trevone Boykin, TCU (+500) - The schedule will eventually get tougher, with three of the Horned Frogs last four regular-season contests coming against teams currently in the top 25. At the moment, Boykin is dominating and TCU is cruising. He has accounted for 12 total touchdowns (10 passing).
Leonard Fournette, LSU (+550) - Nobody is more of a physical, athletic freak than Fournette. After just two games, both his and his team's resumes are arguably the best in the nation. LSU boasts wins over Mississippi State and Auburn, and Fournette has rushed for 387 yards and six touchdowns.
Nick Chubb, Georgia (+550) - If Boykin stumbles in the near future, the top two-or more-Heisman favorites could be SEC running backs. Chubb is part of a more crowded backfield than Fournette, but he is doing his best to keep pace. The sophomore has 468 yards (averaging 8.4 per carry) and four scores through three outings.

Cody Kessler, USC (+800) - Unlike the three players ahead of him in the race, Kessler has a team loss that is hurting his stock. Despite USC's loss to Stanford last week, the senior QB has 10 touchdowns and no interceptions on the season. Alabama running back Derrick Henry and Baylor quarterback Seth Russell are also +800.

NFC East

Dallas Cowboys (Even) - Under normal circumstances, a 2-0 team would seemingly just about have this otherwise moribund division wrapped up. But Dez Bryant was already out with a foot injury, and now Tony Romo will be sidelined for approximately eight weeks with a broken collarbone.

Philadelphia Eagles (Even) - No team has been more disappointing than highly-touted Philadelphia. Chip Kelly's squad is 0-2 following road losses to Atlanta and Dallas. On his current pace, highly-paid running back DeMarco Murray would not rush for 100 yards in the entire season.

New York Giants (+360) - The Giants definitely should have beaten Dallas in Week 1. They probably should have beaten Atlanta in Week 2. On the bright side, Odell Beckham Jr. is a beast, and fellow receiver Victor Cruz is nearing a return. The schedule over the next seven weeks is extremely favorable.

Washington Redskins (+500) - Washington looked like an afterthought heading into the 2015 campaign, and Week 1 did nothing to change that notion. But last Sunday could not have gone any better for the 'Skins. While they upset St. Louis, the rest of the NFC East dealt with significant problems.

Tour Championship
Jason Day (+280) - Odds of +280 to win a golf tournament are just about unheard of, even when a field consists of just 30 players. After all, the 30 making the trip to Atlanta this week are arguably the 30 best in the world. Day has won four of his last six starts, including twice already during the FedEx Cup playoffs.
Rory McIlroy (+550) - McIlroy has been consistently decent in three appearances since the start of August: 17th at the PGA Championship, 29th at the Deutsche Bank, and fourth last week at the BMW. Unfortunately for the former world No. 1, decent has been nowhere near good enough to compete with Day.

Jordan Spieth (+650) - Despite two consecutive missed cuts to begin the playoffs, Spieth is still second in the cup standings behind Day heading into East Lake. The two-time major champion finally has some confidence back, too, after his 13th-place showing at the BMW included rounds of 65 and 66.

Henrik Stenson (+800) - At No. 4 in the standings, Stenson controls his own destiny this week: win the Tour Championship and he wins the FedEx Cup. The Swede finished runner-up at both The Barclays and the Deutsche Bank Championship before placing 10th last week. Current form suggests Stenson is one to watch in Atlanta.

Next James Bond

Tom Hardy (+150) - Daniel Craig is reportedly retiring from his run as James Bond after "Spectre," which hits theaters worldwide on Nov. 6. Hardy, a 38-year-old, who stands at a modest 5'9'', is best known for breakout performance in Inception (2010). He was also Max in Mad Max: Fury Road.

Henry Cavill (+200) - Is Superman the next Bond? It's certainly not out of the question, with Cavill a close second favorite behind Hardy. The 32-year-old Brit played Clark Kent in Man of Steel (2013) and is assuming the same role for Batman v Superman: Dawn of Justice, coming out next year.
Idris Elba (+250) - Pierce Brosnan went out on a limb this week saying the next Bond cannot be a woman. He added that the next Bond can, however, be black-although he is not predicting it. Elba would be the first such Bond. The 43-year-old Londoner is best known for HBO's "The Wire" series and the film Mandela.
David Beckham (+15000) - The only athlete currently listed in the Bond odds, Beckham is aware of the rumors that have him running to be the next guy. He assured on Tuesday that he will not be the one, despite admitting that it was nice to be linked to the discussion. Maybe Ronaldo will be the next rumored soccer player?
Read more articles by Ricky Dimon