This Week in Sports Betting, A-Z
by Ricky Dimon - 1/7/2015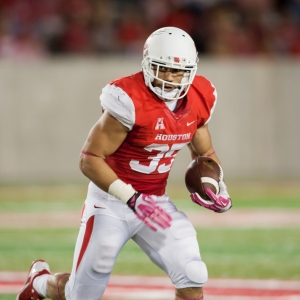 A. Armed Forces Bowl . In the biggest collapse since Kris Humphries' marriage to Kim Kardashian, Pittsburgh led Houston 31-6 last Friday. IN THE FOURTH QUARTER. WITH LESS THAN 11 MINUTES LEFT. But the Panthers failed to recover either one of two onside kicks, and the Cougars stormed back for a miracle 35-34 victory. Houston scored three touchdowns in the final 3:41 and converted a game-winning two-point conversion with 59 seconds remaining.

B. Bradley Cooper . Cooper stars in "American Sniper," which opens nationwide on Jan. 16, and based on early returns in Italy and in select US-based theaters is expected to dominate the box office. But a much different American sniper is dominating on the hardwood. Warriors' guard Stephen Curry is averaging 23 points per game and has made 94 three-pointers in 32 outings this season. Golden State owns the best record in basketball at 27-5 after destroying Oklahoma City 117-91 on Monday. 5Dimes Sportsbook has the Warriors as -11 home favorites over Indiana on Wednesday.

C. Chelsea . Once comfortably atop the English Premier League table, Chelsea is in the midst of a slump that has helped Manchester City tie for first place. The Blues reached a new low in a 5-3 loss to Tottenham Hotspur last Thursday, with City getting past Sunderland 3-2 on the same day. Chelsea has now failed to win four of its last eight EPL matches. In news that may or may not be related, the club is in talks with Barcelona to acquire Lionel Messi for the small sum of $250 million.

D. Double overtime . The ACC did not disappoint last Saturday as two of its conference openers went to double overtime. Notre Dame held off visiting Georgia Tech 83-76, while third-ranked Virginia won at Miami (FL) 89-80. Speaking of overtime, Kentucky somehow went to it on Tuesday in a home game against Ole Miss but managed to survive 89-86. UK is -150 at GT Bets to win the National Championship.

E. ESPN . The ESPN family--and really the whole sports world--is mourning the loss of famed "SportsCenter" anchor Stuart Scott this week. Scott passed away on Sunday at 49 years old. R.I.P.

F. Fumble . There is no way an untouched fumble is worse than a butt fumble, even if it contributes to a loss in a national semifinal. But given that it happened to a guy everyone loves to hate, Jameis Winston, it is the play that launched 1,000 memes. It's hard to say which one is the best, but Lance Stephenson blowing Winston over and Ndamukong Suh stomping on him are definitely well done. A defensive or special teams TD being scored in the National Championship is +140 at Sportsbook.ag.

G. Girgensons, Zemgus . In the greatest athletic accomplishment in Latvian history (maybe tied with Ernests Gulbis' French Open upset of Roger Federer), Girgensons held on for the NHL All-Star Game vote-getting title. Determined voters in Latvia propelled the Sabres' otherwise little-known forward to 1,574,896 votes.

H. Hat trick . Since Christmas, the Philadelphia Flyers have zero wins, four regulation losses, one overtime loss, and one shootout win, have been fined by the NHL for an illegal travel schedule, and have given up a hat trick to a 42-year-old. Jaromir Jagr lit the lamp three times in a 5-2 Devils' win last Saturday to become the oldest hat-tricking player in league history. The Flyers are +6600 to win the Eastern Conference, as indicated by Bovada Sportsbook.

I. In-N-Out . Nevada defensive end Brock Hekking recently signed with Octagon sports agency, and he did so at his local In-N-Out burger joint in Vacaville, Calif. When I first read the report's headline I thought it said Hekking had signed a lifetime contract with In-N-Out. Now that would have been sweet-especially for Hekking, who "went every day after high school."

J. Jeff Teague . How good are the Atlanta Hawks? Well, they are No. 1 in ESPN's current power rankings, for whatever that is worth. Atlanta is 19-2 in its last 21 games, with wins in that stretch at Cleveland, Houston, Dallas, Portland, and the L.A. Clippers, plus home scalps of the Clippers, Cavs, and Bulls. Teague has scored at least 20 points in five straight outings and is averaging 17.4 per game. It looks like the Hawks are in the business of selling high, because 100 percent of the team is now for sale. The Clippers are -10.5 favorites at Bovada Sportsbook to beat the Lakers on Wednesday.

K. Kevin Ollie . What a difference a year makes. In March of 2014, Ollie and Connecticut were on top of the world as surprise champions of college basketball. Suddenly the head coach has hit a rough patch both personally and professionally. Ollie's wife filed for divorce over the weekend, citing a marriage of 16 years that has "broken down irretrievably and there is no reasonable prospect of reconciliation." On the court, UConn is a mediocre 8-5 (1-1 in the American Conference).

L. LeBron James . LeBron has missed the last four games due to knee and back issues and is likely to be out for a total of two weeks. Kyrie Irving is day-to-day with tightness in his lower back. Head coach David Blatt has not been sidelined despite having tightness around the collar. The Cavs are 1-3 in this stretch without LeBron and are 19-15 overall, fifth in the Eastern Conference and 7.5 games back of first-place Atlanta. They are +700 at BetOnline Sportsbook to win the NBA title.

M. Moses Malone . Mavericks' forward Dirk Nowitzki passed Moses Malone for seventh place on the NBA's all-time scoring list by going for 15 points in a 96-88 win at Brooklyn on Monday night. Dirk, 36, has a decent chance of passing the other Malone for No. 2 on the list…if he plays until he is 500 years old.

N. No means no . Meme-lovers were not the only ones to mock Winston in the wake of Florida State's blowout loss to Oregon. The Ducks, themselves, joined in on the fun. Well, it was not fun at all if you're head coach Mark Helfrich and have to deal with the repercussions. According to Helfrich, Torrodney Prevot, Kani Benoit, Chance Allen, and Tyree Robinson will be "disciplined internally" for referencing Winston's rape allegations during the postgame celebration. Oregon is a -6.5 favorite over Ohio State, as indicated by BookMaker

O. Oregon, Ohio . There is actually a city in Ohio called Oregon. Well, there was. It officially changed its name on Monday to "Oregon, Ohio Buckeyes on the Bay, City of Duck Hunters" on Monday, effective through next week's National Championship. I guess it would kind of stink (other than the publicity) to have the same name as a team you have to hate for at least a whole week. But it would be nowhere near as bad as being named Gerry Sandusky, which is the woebegone fate of the Ravens' play-by-play announcer.

P. Perry Fewell . The Giants finished fourth to last in total defense this year, besting only Chicago (LOL), New Orleans (LOL), and Atlanta (LOL). For those aforementioned efforts, Fewell--New York's defensive coordinator--is getting...brought back! So, too, is special teams coordinator Tom Quinn. There aren't enough special teams stats to tell the entire story, but we can just assume the unit was bad.

Q. Quinn, Dan . Reports are circulating that Quinn is the "number one" coaching candidate throughout the NFL this offseason. You probably would be, too, of you coordinated a defense led by Richard Sherman, Earl Thomas, and Bruce Irvin-just to name a few. Seattle is a +200 favorite at WagerWeb to win the Super Bowl.

R. Rajon Rondo . The only thing better than Rondo cookies (you'll probably just have to trust me on this one) is the show Rondo himself put on in his return to Boston. The Celtic-turned-Maverick dazzled his way to 29 points to go along with six rebounds and five assists in a 119-101 Dallas victory last Friday. Rondo and company have won six in a row and are tied for third in the Western Conference at 26-10. The Mavs are +600 at SuperBook to win the west.

S. Shut it down . Will Carmelo Anthony sit out the rest of the season due to lingering knee trouble? The only thing it would affect is the race for the No. 1 pick in the 2015 NBA Draft. Then again, the Knicks will probably lock that pick up either way.

T. Terrance Williams . Williams caught three passes for 92 yards and two touchdowns in the Cowboys' 24-20 win over Detroit last weekend. Of course, pretending like Williams was the story of that game would be like pretending Hozier's performance of "Take Me to Church" was the highlight of last month's Victoria's Secret Fashion Show. Debate of the pass interference call that wasn't won't be ending any time soon. Dallas is a +6 underdog at Green Bay on Sunday, per Sportsbook.ag.

U. Unloaded . The Knicks have decided that now might be a good time to unload their players. They sent J.R. Smith and Iman Shumpert to Cleveland on Monday in a three-team deal that also included Oklahoma City. In exchange for helping the Cavs, New York was hoping the NBA would allow it to boycott the rest of this season. No dice.

V. Volquez, Edinson . The majority of us will never be Royals, but Volquez is one. Formerly with Cincinnati and Pittsburgh in addition to a few other clubs, Volquez inked a two-year, $20 million contract with the World Series runner-ups last week. He went 13-7 with a 3.04 ERA as a Pirate last season. Kansas City is +2500 at Bovada Sportsbook to win the World Series.

W. Withdrew . Novak Djokovic withdrew from the final of last week's lucrative exhibition event in Abu Dhabi due to illness. In Djokovic's last scheduled match of 2014, he won the World Tour Finals thanks to a withdrawal by Roger Federer. You might say what goes around comes around, but it's safe to say Djokovic is still coming out way ahead. Federer's pullout essentially handed the top-ranked Serb $2.075 million on a silver platter. Djokovic's absence gave Andy Murray a "modest" $250,000. Djokovic is a +115 favorite at BookMaker to win the Australian Open.

X. Xavi Hernandez . Xavi was reportedly on his way to New York last summer, prepared for a transfer from FC Barcelona to one of two Major League Soccer franchises-either the New York Red Bulls or New York FC. But he is going to play out his contract (expires in 2016) and is now tasked with convincing Messi to do the same rather than bolt for Chelsea. As for a slumping Barca squad, it lost to Real Sociedad 1-0 in La Liga action on Sunday. Bovada Sportsbook has Barcelona as a -210 favorite over Atletico Madrid this weekend.

Y. Yes . That's what Elliott Spencer said to actor Stephen Fry (or vice versa?) earlier this week. Fry, a Hobbit star, is 57 years old; Spencer is 27. Welp. In other marriage news, Cameron Diaz is officially off the market. Damn.

Z. Zero . That's how many playoff wins Cincinnati has in the last 24 years. Now try to argue that Marvin Lewis doesn't have the best job in the world. The guy can produce consistently mediocre results, never have to worry about job security, and make millions of dollars in the process!


Read more articles by Ricky Dimon