This Week in Sports Betting, A-Z
by Ricky Dimon - 2/27/2015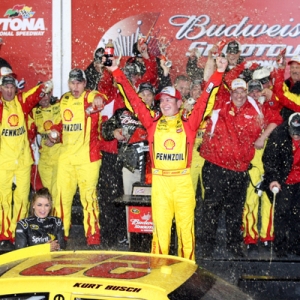 A. Amar'e Stoudemire . Stoudemire did not last long on the open market after being waived by the Knicks. As expected, he signed with the Mavericks almost immediately thereafter. It seemed like a good idea at the time…then Rajon Rondo decided to ignore Rick Carlisle's play-calls. Now Dallas has issues. The Mavs are +900 at Bovada Sportsbook to win the Western Conference.

B. Busch, Kurt . Missing the Daytona 500 for a compound leg fracture the day before is usually as bad as it gets. For Kyle Busch, it wasn't even the worst reason amongst his own family for missing the 500. Kurt was suspended earlier in the week after a court found him to have committed domestic violence against an ex-girlfriend whom he claims is a trained assassin. You can't make this stuff up, folks.
C. Chris Bosh . Miami seemed like a lock for the playoffs when it traded for Goran Dragic prior to last week's deadline. But then Bosh went down. Out of nowhere, the veteran forward was diagnosed with a blood blot in his lung, and he will miss the rest of the season. Get well soon, CB! The Heat are -1.5 favorites at New Orleans on Friday, according to Sportsbook.

D. Duke-UNC . Is there anything better in sports than the Duke-UNC rivalry? Well, maybe Alex Morgan's face; but certainly not much else. One of the best parts about it is we never have to wait long in between games. Duke won a 92-90 overtime thriller at Cameron Indoor Stadium last Wednesday and the rematch at Chapel Hill is next Saturday. Duke is +1000 at BetOnline Sportsbook to win the National Championship.

E. Ensteins . "The Little Einsteins," a show on Disney Junior, is taking over Vine with its "we're going on a trip in our favorite rocket ship" theme song jingle. It may be even more annoying than the question currently taking over Twitter: is the jacket gold and white or black and blue?

F. Fitzgerald, Larry . Fitzgerald re-signed with the Arizona Cardinals last week, inking a two-year deal that will guarantee him at least $11 million. It should also keep him with the same franchise for his entire professional career. That does not happen often…just ask Brett Favre, or Peyton Manning, or-later this offseason-maybe Adrian Peterson.

G. Giambi, Jason . Giambi announced his retirement from baseball last week after 20 years in the majors (yes, he was actually still playing in 2014). He hit 440 home runs and won AL MVP in 2000. "I've done everything I possibly can in my career," Giambi said. His steroid suppliers definitely can't argue with that!

H. Hahn, James . Hahn won the Northern Trust Open last week, but it will take a major title in order for him to be known as something other than James "Gangnam Style" Hahn. The 33-year-old American did the famous (infamous?) dance after birdying the famous (not infamous) 16th hole at the Phoenix Open in 2014. Never forget. Hahn is +15000 at SuperBook to win the Masters; Rory McIlroy is a +650 favorite.

I. Ineligible . Former Baylor running back Silas Nacita, a walk-on, was ruled ineligible on Wednesday for accepting impermissible benefits while homeless last summer. Now he is college-less, as Baylor confirmed later in the day that he is no longer a member of the football team. Silas, I'm happy for you and imma let you finish, but Michael Oher had the best homeless-to-stardom story of all time! The Bears are +2000 at Bodog Sportsbook to win the College Football Playoff.

J. Joey Logano . The ending of last Sunday's Daytona 500 was not a good one for NASCAR fans. Not only was it a dreaded, anti-climactic green-white checker finish, but Dale Earnhardt Jr. did not cross the line in first (even though he arguably had the best car). But it was, of course, a great ending for Logano.

K. Kevan Miller . Injuries were the last thing the Boston Bruins needed last weekend. Just as they ended a six-game losing streak by pounding Chicago 6-2, Miller was lost to season-ending shoulder surgery. The defenseman had seven points and a stellar +20 plus-minus. Boston is in grave danger of missing the playoffs, but there is good news for people around those parts: it's almost baseball season! The Bruins are -145 favorites at New Jersey on Friday, as indicated by BookMaker.

L. Love III, Davis . Love III was named U.S. Ryder Cup captain for 2016 earlier this week. He was also captain in 2012, when Team USA's collapse led to Europe's Miracle at Medinah. "I don't think we have to make massive changes," Love III said. "We have to make small changes to get a half a point here, a half a point there." Um, a half-point swing in 2014 and the United States still would have lost by four.

M. Mayweather vs. Pacquiao . May 2. Las Vegas. It's actually happening. Granted it would have been more awesome 10 years ago before Mayweather and Pacquiao had their AARP cards, but hey, we can't have it all. Mybookie.ag has Mayweather as a -220 favorite.

N. Nemanja Matic . Matic was hit with a red card, albeit controversially, in Chelsea's English Premier League match against Burnley last Saturday. Burnley, which is in line for relegation as one of the worst teams in the EPL, eventually scored an equalizing goal in the 81st minute en route to a 1-1 draw. Despite the borderline disaster, Chelsea is still five points clear of Manchester City for first place on the table. The Blues are -600 favorites at Sportsbook to capture the title.

O. Oscars . Jennifer Lopez looked good, John Legend and Common killed it with "Glory," and Birdman won Best Picture. In other words, Boyhood took more than a decade to be filmed and got nothing to show for it. Kind of sounds like Dan Marino's NFL career!

P. Public masturbation . Eagles' safety Nate Allen was wrongly accused of…wait for it…public masturbation because the truck belonging to the guy who was actually doing it resembled that of Allen. Fortunately for Allen, he took a time-stamped photo with an employee at Red Lobster that pretty much absolves him from having been at the scene of the crime. Awesome story.

Q. Qatar . The 2022 World Cup in Qatar is currently planned for November and December in order to avoid oppressive heat. FIFA has already stripped Qatar of hosting the 2021 Confederations Cup. What is the deadline for FIFA stripping Qatar of its World Cup privileges and transferring them to the United States? Asking for a friend….

R. Rolando McClain . McClain has had his fair share of off-the-field issues, and the latest is a violation of the NFL's substance-abuse policy that will sideline him for four games in 2015. McClain was productive for Dallas last season, but there are rumors he could go elsewhere. A defensive player with well-documented troubles? Sounds like Oakland or Cincinnati would be a good fit! The Cowboys are +700 to win the NFC, per Bovada Sportsbook.

S. Shut down . In news that surprised no one, Carmelo Anthony was shut down for the rest of the season immediately following the all-star break. That makes sense given that his team shut down for the rest of the season a long time ago.

T. Trademarked . Marshawn Lynch is seeking to trademark the "I'm just here so I don't get fined" comment he made during Super Bowl media day. It is unclear if Seahawks' head coach Pete Carroll and offensive coordinator Darrell Bevell have trademarked not giving Lynch the ball on the biggest play of the entire NFL season. Seattle is a +550 favorite at GT Bets to win Super Bowl L.

U. Upton Jr., Melvin . The artist formerly known as B.J. Upton is now going by Melvin Upton Jr. That's right; Bossman Junior is no more. The Atlanta Braves hope the old version of Upton is no more in more ways than one. Atlanta is +3700 at BetCRIS to win the NL East.

V. Vikings . A judge ruled in Peterson's favor on Thursday, saying that an NFL arbitrator's denial of Peterson's appeal was in violation of the league's collective bargaining agreement. You can be sure a lot of legal mess remains, but for now the running back's path to reinstatement has been cleared. But here is the bad news for Peterson: he is still under complete contractual control by the Vikings.

W. Winston, Jameis . Winston may or may not have showed up at the NFL combine overweight (depending on whom you talk to and if you believe the photo of his gut was enhanced by the workout leash around his belt). Either way, he ran accordingly (4.9 in the 40). But he didn't have to run fast. Winston is a pro-style quarterback, and by all indications the throwing portion of his combine has cemented his status as the favorite to go No. 1 overall.

X. Xzibit . It was announced earlier this week that Pimp My Ride, a mid-2000s show on MTV hosted the rapper Xzibit, was pretty much a complete farce (Google is your friend if you actually care for the details). I'm not sure if viewers are mad, but they should be mad at themselves for watching a show called Pimp My Ride.

Y. Yankees . The Yankees announced last week that they will retire Andy Pettitte's No. 46 this summer. Pettitte was a nice player and all, but let's be honest: the team is going to run out of numbers-literally-if it keeps retiring these kinds of guys. BookMaker has the Yankees' over/under win total in 2015 at 81.5.

Z. Zito, Barry . Zito, 36, signed a minor-league contract with the A's last week with an invitation to major-league spring training. The southpaw will earn a base salary of $1 million if he makes the team. For those counting, that is 126 times smaller than the deal he received from San Francisco in 2006, when he left none other than Oakland.
Read more articles by Ricky Dimon