This Week in Sports Betting, A-Z
by Ricky Dimon - 1/28/2015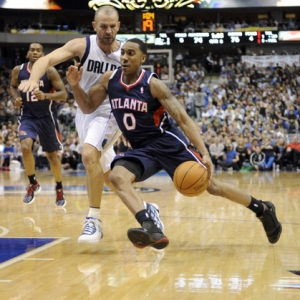 A. Atlanta Hawks . Will they ever lose again? It is becoming increasingly less likely by the day. The Hawks have won a franchise record 16 straight and are 30-2 in their last 32 to seize complete control of the Eastern Conference at 37-8. Atlanta is a -14 home favorite over Brooklyn on Wednesday, according to BookMaker.

B. Buffalo Sabres . The Sabres aren't simply bad. They are an abomination of epic proportions. Losing 11 games in a row is one thing; losing them in the manner in which Buffalo has done so is a whole different matter altogether. The team has not taken a single one of its last 11 contests to overtime, and only two of the 11 have come by a one-goal margin. The Sabres, who have also dropped 15 of their past 16, are dead last in the NHL in the following categories (just to name a few, of course): goals per game, goals against, power-play percentage, and penalty-kill percentage.

C. Chelsea . Chelsea, the top team in the English Premier League, was eliminated in the fourth round of the FA Cup last Saturday by a club that plays its soccer in a league two levels below the EPL. In other words, this Bradford City squad is supposedly way worse than every team in the Premier League, and anyone who is even a fringe follower of the premiership knows there are some teams in there that are downright awful. Chelsea led 2-0 at home before crumbling en route to a stunning 4-2 loss. Fellow EPL powers Manchester City, Southampton, and Tottenham Hotspur also fell in FA Cup action. Sportsbook.ag has Chelsea as a -114 favorite over Man City on Saturday.

D. Deflated . The NFL got nothing more out of Bill Belichick and Tom Brady on the deflate-gate subject than it got out of Marshawn Lynch on media day. So it has turned its attention to a Patriots' locker-room attendant, who took the footballs into a bathroom for 90 seconds. There are a lot of things you can do in a bathroom in 90 seconds, but deflating a whole bunch of footballs probably isn't one of them.

E. Ernie Banks . The Chicago Cubs legend died at 83 last Friday. Let's play two.

F. Federer, Roger . Seven of the top eight seeds in the men's singles draw at the Australian Open took care of business to reach the quarterfinals. You might guess that the one aberration would be someone like Kei Nishikori or Milos Raonic. But nope; it was none other than Federer, who went down to Andreas Seppi 6-4, 7-6(5), 4-6, 7-6(5) in last Friday's third round. Well, at least he avoided another meeting with Rafael Nadal. Bovada Sportsbook has Novak Djokovic as a -175 title favorite.

G. Gordon, Josh . If Mike Florio reports something, it must be true. That means Gordon is heading for a season-long suspension after testing positive for alcohol. The Browns' receiver, who missed 11 games during the 2014-15 campaign, was subject to such testing as a result of his DWI arrest last summer. Unfortunately, nothing is surprising about this story…except that Johnny Manziel wasn't involved.

H. Haas, Bill . Winning is obviously not a bad thing, but with each title, the question of how Haas can be so pathetic at majors becomes even more pressing. The 32-year-old, who prevailed last week at the Humana Challenge, has never finished better than T12 in 21 major appearances. In addition to six cuts missed and the T12, Haas also has finishes of T20, T20, T20, T25 and various placements between T27 and T57. All of this from a guy who won the FedEx Cup in 2011 and owns six PGA Tour titles.

I. Injure . That's what Brandon Browner hopes the Patriots do to his former Seattle teammates on Sunday. Both Richard Sherman and Earl Thomas are dealing with injuries, and Browner said in a recent interview, "I'm gonna tell my teammates, 'Go hit that elbow. Go hit that shoulder. Most definitely. Try to break it if you can.'" He might want to be careful, because karma has been known to be a bitch. Just ask the Cowboys. Richard Sherman is +2500 at Bodog Sportsbook to be named MVP.

J. James, LeBron . The Cavs have won seven in a row, which is pretty darn good by the standards of everyone other than the Hawks. Not coincidentally, it has directly coincided with LeBron's return. Cleveland had lost eight of nine LeBron-less games in December and January but is now 7-0 in seven contests since his return from knee and back issues. The Cavs are +450 at GT Bets to win the NBA title.

K. Kobe Bryant . Hobbling off the court with a season-ending injury as a member of one of the NBA's worst teams is probably not how Kobe wants to go out-so it probably won't be. But he is out for the year (again) after suffering a torn right rotator cuff during last Wednesday's loss to New Orleans. The 36-year-old, who was limited to a mere six games a season ago, has one year left on his contract that he signed with L.A. in the fall of 2013.

L. Lane Kiffin . After toying with the idea of becoming the 49ers' offensive coordinator, Kiffin is staying at Alabama in the same capacity. If you didn't already like Ohio State's chances to repeat, you have to love them now! The Buckeyes are +550 favorites at BetOnline Sportsbook.

M. Morris, Raheem . To say Dan Quinn is multi-tasking right now would be an understatement. The Seahawks' defensive coordinator is preparing for the Super Bowl, compiling his staff as the future head coach of the Falcons (he is bringing in Morris as assistant head coach in charge of defensive backs), and teaching his Seattle guys how to catch and hold on to deflated footballs. The Seahawks are +225 to score either a defensive or special-teams TD, per Bovada Sportsbook.

N. Northeast blizzard . The current blizzard was not kind to all areas of the northeast, but New York sure does appreciate it. Not only did it spare NYC the worst of the storm, but it also mercifully prevented the Knicks from having to play a basketball game on Monday.

O. One thousand . Like Duke or not, you have to admit Mike Krzyzewski is one of the greatest basketball coaches in history. He picked up win number 1,000 when the Blue Devils beat St. John's on Sunday. Congrats, Coach K. Duke is +450 at Mybookie.ag to win the National Championship.

P. Pacquiao, Manny . Pacquiao and Mayweather finally faced each other…but it wasn't in the ring. Both men attended Tuesday's game between the Miami Heat and Milwaukee Bucks, even chatting for a brief moment. According to Pacquiao, Mayweather gave him his phone number in hopes that they can work out fight logistics themselves. Don't hold your breath.

Q. Quin Snyder . The Utah Jazz head coach gave his team the silent treatment a few weeks ago, simply inflicting a death-stare upon his players for an entire timeout. Snyder may have to do the same after Utah got manhandled at home by lowly Boston on Monday while being outscored 38-14 in the second quarter.

R. Rob Manfred . Bud is out; Rob is in. Manfred officially took over as the commissioner of Major League Baseball last weekend. And he is already making headlines, having said in an interview that he would consider banning extreme defensive shifts. Let's not go all Roger Goodell on the rules, please, Mr. Manfred. Washington is a +400 favorite at SuperBook to win the World Series.

S. Schwarzenegger, Arnold . It was announced on Monday that Schwarzenegger will be inducted into the WWE Hall of Fame in March. What for-aside from being a big fan and attending plenty of WWE events-is unclear.

T. Tusker . A tusker has picked the Super Bowl winner. Bubbles the elephant, based in Myrtle Beach, chose to eat a Patriots cake over a Seahawks cake, thus indicating New England will prevail. Even if Bubbles gets it right, she'll have a long way to go before matching the late World Cup-predicting octopus, Pulpo Paul. Heads and tails are both -110 at WagerWeb to win the coin toss.

U. Universe, Miss . Miss Colombia, also known as Paulina Vega, was crowned Miss Universe last Sunday. "Congrats and all, but I gotta say, Miss Jamaica was robbed!" Or so said just about every Twitter user who was watching the pageant.

V. Venus Williams . The 34-year-old turned back the clock at the Australian Open with an impressive run to the quarterfinals. Unfortunately for Venus, the clock was turned back too far on Wednesday. Fellow American Madison Keys, just 19, pulled off an upset in three sets to reach the semis. Serena Williams is a -145 favorite at BookMaker to win the title.

W. Waste Management Phoenix Open . Physical problems and personal issues have kept Tiger out of too many tournaments over the past few seasons, but this latest incident (could it be both a physical problem and a personal issue at the same time?) won't sideline him from his scheduled 2015 debut this week in Phoenix. The 14-time major champion was missing a front tooth while watching girlfriend Lindsay Vonn win a World Cup ski race in Italy. Who knows what the deal is, but having it knocked out by a cameraman sounds suspicious at best. Tiger is +3000 to win the tournament, as indicated by Bovada Sportsbook.

X. Xander Bogaerts . The Red Sox were terrible last season, and Bogaerts was not great at the plate (.240 batting average). But who cares, because Bogaerts is self-reportedly epic at ping-pong. The 22-year-old shortstop dominated all of his challengers at the team's "Baseball Winter Weekend" and afterward talked a big game about his table skills.

Y. Yellow Jackets . It is unclear if Georgia Tech was using a deflated basketball, but it somehow managed to score a grand total of 28 points in last Thursday's loss to Virginia. It was Tech's smallest-ever output in an ACC game, and its 12 points in the second 20 minutes were the lowest single-half total in the team's history in conference play. The Yellow Jackets arguably got even worse three days later, falling at home to Boston College in a matchup between two teams winless in ACC action.

Z. 'Zona . Arizona is the capital of the football universe right now. Not only does University of Phoenix Stadium in Glendale have this year's Super Bowl, but it will also host the second CFP National Championship next January. The Patriots are -1.5 favorites at Sportsbook.ag.


Read more articles by Ricky Dimon