This Week in Sports Betting, A-Z
by Ricky Dimon - 1/14/2015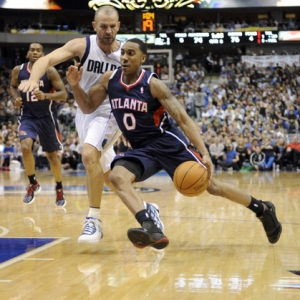 A. Atlanta Hawks . The NBA standings and ESPN's power rankings are not a joke. Atlanta (30-8) is No. 1 in the Eastern Conference by an incredible four games, trailing only Golden State (30-5) overall, and it is No. 1 on ESPN's power poll. The Hawks have won nine in a row and 23 of their last 25. They are -7.5 favorites at Boston on Wednesday, as indicated by BookMaker.

B. Boston . The city of Boston knows a thing or two about winning, and it won against last week when it was nominated for the United States' 2024 Olympic bid over Los Angeles, San Francisco, and Washington, D.C. If the criteria was whichever city's football team has the best quarterback of the bunch, then the pick makes sense.

C. Catch? The general consensus seems to be that Dez Bryant successfully made a catch under the common-sense definition of catch. Unfortunately for the Cowboys, Roger Goodell and the NFL do not always have common sense. Vague rules left the play up to interpretation, and Bryant's "catch" with less than five minutes remaining in last weekend's divisional playoff game at Green Bay was called incomplete. Dallas thus turned the ball over on downs, and the Packers ran out the clock for a 26-21 victory. 5Dimes Sportsbook has Green Bay as a +7.5 underdog at Seattle in the NFC Championship.

D. Draymond Green . Nothing is going wrong on the court for Green and company, but apparently things can go awry when the Warriors' forward ventures outside of basketball. Green and teammate Stephen Curry, a Charlotte native and Panthers fan, attended the divisional playoff game at Seattle-where the former Michigan State star threw food at victorious Seahawks fans. According to Green's Twitter, it was only "4 GRAPES!!!!".

E. Elliott, Ezekiel . Elliott went off in Monday's National Championship, leading Ohio State past Oregon 41-20. The sophomore running back carried 36 times for 246 yards and four touchdowns. And how about Cardale Jones? Once the Buckeyes' third-string quarterback, his three starts during the season resulted in a Big Ten Championship, a Sugar Bowl win, and the National Championship. Unprecedented. Ohio State is a +500 favorite to win it all next year, according to Bovada Sportsbook.

F. FIFA Ballon d'Or . Ronaldo won the Ballon d'Or as the best soccer player in the world on Monday. It's his second in a row, following three straight for Lionel Messi. Ronaldo and Messi have finished one-two in the voting in five straight years. Legends.

G. Golden Globes . Boyhood racked up at last weekend's Globes, taking home honors for Best Drama, Best Director, and Best Supporting Actress. More importantly, Jennifer Lopez was extremely…um…well-dressed. Boyhood is -500 at Sportsbook to win the Oscar for Best Picture.

H. Hall of Fame . They voted for Pedro…and for Craig, Randy, and John. Four players will be heading to Cooperstown this summer: Pedro Martinez, Craig Biggio, Randy Johnson, and John Smoltz. Well, Pedro, I just tip my cap and call you my daddy.

I. Injured reserve . That's where the L.A. Kings' placed Tanner Pearson after the rookie forward sustained a broken leg during a game against Winnipeg last weekend. Pearson, who is sidelined indefinitely, is L.A.'s second leading scorer (tied) this season with 12 goals in 42 games. Bad news for the defending Stanley Cup champions.

J. Julian Edelman . Edelman did a little bit of everything in New England's 35-31 playoff win over Baltimore. He caught eight passes for 74 yards and tossed a tying 51-yard touchdown strike to Danny Amendola late in the third quarter. You might think the Jets would have tried to hire Patriots' offense coordinator Josh McDaniels on the spot after that, because they haven't had an offensive play so exciting since before the Mark Sanchez and Geno Smith eras. New England is a -6.5 home favorite over Indianapolis in the AFC Championship, per Sportsbook.ag.

K. Kurt Warner . Warner, recently announced as a finalist for the Pro Football Hall of Fame, last played in 2009 for the Arizona Cardinals. With his former team consistently in playoff contention while their quarterbacks dropped like flies, Warner said he would have considered a return if asked. No matter that he is 500 years old; he'd still be an upgrade over Ryan Lindley.

L. Lottery . The battle for the most ping-pong balls is an epic one. Both the Knicks and the Timberwolves had lost a hilarious 15 games in a row heading into Tuesday. Those streaks kept them tied in the win column, with New York (5-35) on track to get the best chance for the No. 1 pick in the 2015 NBA Draft. If Mo Williams' 52 points on Tuesday was good news for the T-Wolves, it was even better news for the Knicks. Derek Fisher's team is now comfortably in last place thanks to Minny's 110-101 win at Indiana.

M. Myles Mack . Is there a difference between Myles Jack and Myles Mack? Apparently so. The latter is a senior guard for Rutgers (not a two-way star for UCLA's football team), and he torched Wisconsin with 21 points in a 67-62 upset last weekend.

N. Novak Djokovic . Novak Djokovic was bounced out of a tournament in Doha surprisingly early last week at the hands of Croatian giant Ivo Karlovic. Of course, Doha is to the tennis schedule what Kourtney is to the Kardashians: entirely insignificant. Count on Djokovic being far more motivated for the Australian Open. Bovada Sportsbook has the world No. 1 at even money to triumph in Melbourne.

O. Obama, Barack . The San Antonio Spurs visited the White House on Monday to be honored for their 2014 NBA title. President Obama delivered some absolute zingers while addressing the team. If next week's State of the Union is so entertaining, his approval rating is going to soar.

P. Peyton Manning . If that's the last we see of Manning in the NFL, it was not a good ending. The Broncos lost at home to Indianapolis 24-13 on Sunday after the 38-year-old passed for a mere 211 yards on 46 attempts and lost a fumble. Even if he does not retire, odds are that Peyton will finish his career with fewer Super Bowls than Eli. That just ain't right.

Q. Qwest Field . The field formerly known as Qwest (now CenturyLink) will host the NFC Championship on Sunday. Dez Bryant vs. Richard Sherman should be an epic matchup. Oh…wait…. Seattle is a +115 favorite at GT Bets to win the Super Bowl.

R. Rex Ryan . Ryan unceremoniously parted ways with a team (the Jets) that has a good defense, terrible quarterbacks, and has to play New England twice every season. Now he is coaching a team (the Bills) that has a good defense, terrible quarterbacks, and has to play New England twice every season.

S. Steve Ballmer . That was some high-comedy dancing on the part of the Clippers' owner during his team's blowout win over the Lakers last Wednesday. An even funnier (scarier?) thought: what if Donald Sterling ever did something like that?

T. Timofey Mozgov . When you are a team hovering around .500 (and now the Cavs are below said mark at 19-20), perhaps you have to do something drastic if you're in the business of winning now. And trading two future first-round picks for a player who averages 6.4 points and 4.9 rebounds per game for his career would certainly qualify. Mozgov scored all of two points in 16 minutes on Tuesday at Phoenix in a 107-100 loss, Cleveland's sixth in a row. BetOnline Sportsbook has the Cavs at +175 to win the Eastern Confernece.

U. Upset . When is a 72-71 win over fifth-ranked Louisville not the highlight of a weekend for North Carolina? When Duke loses, of course. One day after UNC's big victory, things got even better for the Tar Heels when then-No. 2 Duke was stunned at N.C. State 87-75. Thanks mostly to horrendous 36.9 percent shooting by the Blue Devils, only two teams in college basketball remain unbeaten: Kentucky and Virginia.

V. Victoria Azarenka . It's hard to imagine how Redfoo could have a positive impact on someone's tennis game, but who knows? Azarenka has been a disaster on court since her breakup with the "Sexy and I Know It" singer. Of course, that probably has more to do with the fact that the Belarusian was hurt almost nonstop in 2014. Azarenka, who lost in the Brisbane first round last week, is +700 at SuperBook to win the Australian Open.

W. Woods, Tiger . While Tiger was busy not playing the Tournament of Champions in Hawaii (that's right, he didn't win a single time in 2014), he did take the time to announce his early-season schedule. The 14-time major champion will make a rare appearance later this month in Phoenix, where he hit his famously raucous hole-in-one en route to victory back in 1997. Bovada Sportsbook has Tiger at +200 to win at least one major in 2015.

X. Xavier Silas . Going from one the best teams in the NBA's Eastern Conference to some club called Nea Kifissia in Greece is a bit of downgrade. Silas, who was waived by Washington last fall, signed a deal with the Greek club last week. He knows what the drill is, though, because he has also played for the likes of Maccabi Ashdod in Israel and Quimsa in Argentina. And at least he didn't have to witness what Atlanta did to the Wizards last Sunday!

Y. Yaya Toure . Manchester City has not won an English Premier League game without Yaya since last April. The trend continued over the weekend, as the Sky Blues drew with Everton 1-1. Yaya was off playing in the Africa Cup of Nations with the Ivory Coast and may be absent from EPL action until late February. City is a +225 second choice at BookMaker to win the Premier League title.

Z. Z, Jay . Jay-Z's Roc Nation agency has reportedly inked former Georgia running back Todd Gurley. That's probably a shrewd move on Jay-Z's part, because collegiate evidence suggests Gurley will do just about anything in the way of making money. His skills at signing his name are well-documented, and he is not too shabby at football, either.


Read more articles by Ricky Dimon