This Week in Sports Betting, A-Z
by Ricky Dimon - 1/23/2015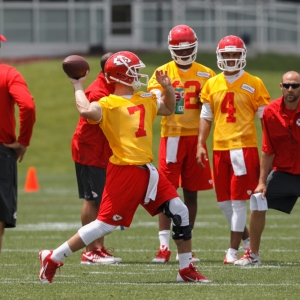 A. Aaron Murray . The engagement between Murray, a backup quarterback on the Chiefs and former UGA star, and his fiancée ended earlier this month. He can find sympathy from his brother, Josh, who was the last man standing in the "Bachelorette" but recently broke off his engagement to Andi Dorfman. It will be tough for either one to do any better.

B. Brandon Bostick . There was a reason why Bostick was supposed to block for Jordy Nelson on the Packers' onside kick coverage team. And we found it out the hard way-at least the hard way for Bostick. The ways in which Green Bay could have won that NFC Championship Game are innumerable, but the most glaring error that won't soon be forgotten was Bostick's botch.

C. Caris LeVert . 2013 ain't walkin' through that door. That's when LeVert was a freshman supporting a Michigan squad led by Trey Burke, Tim Hardaway Jr., and Glenn Robinson Jr. that finished runner-up to Louisville in the NCAA Tournament. Fast forward two years and LeVert is out for the season due to a broken foot, and the Wolverines are a mere 12-7 with double-digit conference losses to Purdue and Ohio State. Sportsbook.ag has UM at +50000 to win the National Championship; Kentucky is a -130 favorite.

D. Deontay Wilder . Wilder is the new WBC heavyweight champion of the world. Who? Well, he's a guy who won a title fight last Saturday against Bermane Stiverne. Who?

E. Every, Matt . Every's 4-iron at last week's Sony Open looked as if he had gone all Elin Nordegren on Tiger Woods with it. Actually, he bent it against tree while hitting a shot. The problem did not come until the next day, when Every used it again. After realizing it, he called over a rules official and was promptly disqualified from the tournament for using a non-conforming club. Tiger is +1045 at BookMaker to win the Masters.

F. Floyd Mayweather . Didn't Marvin Gaye once sing, "Let's get it on"? Apparently Mayweather and Manny Pacquiao did not get the memo. Both men are talking a big game like they are ready for the fight to happen. Talk is cheap. The fight would not be.

G. Grass . Marshawn Lynch may play his home football on FieldTurf, but he is almost certainly more comfortable on grass. In fact, he now has his own strain of it. That's right; a dispensary in Washington state has named a strain of marijuana "Beastmode 2.0" in honor of the Seahawks' running back. Apparently there was already a "Beastmode" strain that sold at alarming rates in 2014.

H. Hired assassin . Kurt Busch is claiming that his ex-girlfriend is a trained assassin, hired to…yes…kill people. You can't make this stuff up, folks. The bizarre story started with Busch being accused of assault, and to say things have escalated from there would be an understatement. Well, that's one way to get NASCAR in the news! Busch is +2500 at Bovada Sportsbook to win the Sprint Cup title.

I. Ivanovic, Ana . Ana is gone-ovic. And she did not even last a single round. The former world No. 1 lost her opener at the Australian Open 1-6, 6-3, 6-2, an especially surprising result given that a resurgent Ivanovic is back up to fifth in the rankings. But hey, at least she looked good doing it!

J. Jesus Shuttlesworth . LeBron James is reportedly trying to pitch his team to Ray Allen. There's just one problem: Allen is only interested in playing for a contender. Too soon?

K. Kearse, Jermaine . Kearse has Bostick and Ha Ha Clinton-Dix to thank for having the opportunity to make one of the biggest catches in recent NFL history. He also has Bostick and Clinton-Dix to blame for making the biggest catch in NFL history that nobody is talking about. A touchdown pass is a +150 favorite to be the first score of the Super Bowl, as indicated by Bovada Sportsbook.

L. Luck, Andrew . Everyone loves Luck, and everyone loves talking about the Patriots' PSI, but the Colts' QB cannot be exempt from what transpired last Sunday in Foxboro. He completed an abysmal 12 of 33 passes for 126 yards, no touchdowns, and two interceptions. Luck also said, obviously not trying to make a reference to the scandal, in an interview earlier this week that he felt "deflated." Oops.

M. Mike Scott . Spurs East (that is Atlanta, for those wondering), is on a 14-game winning streak and registers at 35-8 overall. Scott made a big contribution on Monday, going for 20 points on 9-of-15 shooting in a 93-82 win over Detroit. Maybe he just felt like making sure everyone knows that he is the real Mike Scott. After all, earlier this month the Mike Scott on Idaho hit a 70-footer at the halftime buzzer before the Vandals beat Weber State by-you guessed it-two points. 5Dimes Sportsbook has ATL as a -4 home favorite over Oklahoma City on Friday.

N. New York Knicks . When the Knicks lose, they lose. When the Knicks win, they lose. That's just how they bad they are this season. They have, amazingly enough, won two in a row with victories this week over New Orleans and Philadelphia. Unfortunately for them, that means they are now just one game "ahead" of Minnesota for the worst record in the NBA and the most ping-pong balls in the lottery.

O. Out . That's what Roger Federer is from the Australian Open. The 14-time major champion had little trouble through two rounds, and more of the same was expected against an opponent who had been 0-10 lifetime vs. Federer and 1-21 in total sets. Instead, unheralded Italian Andreas Seppi stunned the 33-year-old Swiss 6-4, 7-6(5), 4-6, 7-6(5) on Friday. So much for a two-week vacation away from two sets of twins!

P. Pekka Rinne . Nashville is the second-best team in hockey right now, just three points back of the Ducks (and it has played two fewer games). But it will be without one of the NHL's best goaltenders for approximately four weeks. Rinne went down with a sprained knee in last week's win over Vancouver. At the time of the incident, the 32-year-old Finn was second in the league in both save percentage and goals-against average. The Predators are +1800 to win the Stanley Cup, per Bovada Sportsbook.

Q. Quinn, Dan . Green Bay wasn't the only loser as a result of its epic NFC Championship collapse against Seattle. Atlanta must remain without a head coach for 14 extra days now that the Seahawks are in the Super Bowl. Quinn, the defensive coordinator of one of the most ferocious units in football, is set to become the Falcons' leader immediately thereafter.

R. Rose, Derrick . In perhaps his most emotional verbiage since talking about his mother during his 2011 NBA MVP acceptance speech, Rose called out his team for a lack of effort and desire. Apparently the rest of the Bulls got the memo, because they lambasted San Antonio 104-81 on Thursday. And no, it was not one of those games in which Gregg Popovich rested all of his 50-year-olds. Chicago is a +200 favorite at BetOnline Sportsbook to win the Eastern Conference.

S. Scherzer, Max . Whenever you have a chance to pay a 36-year-old $35 million to play a season of baseball, you just have to take it. That seems to be the mentality among MLB teams these days, and Washington is no exception. The Nationals recently inked Sherzer to a seven-year, $210 million contract. Currently 30, he will turn 37 during the final season of his deal, and he is slated to make $35 million in each of the last three years. The Nats are +400 favorites at SuperBook to win the World Series.

T. Tiger Woods . Tiger was missing one of his front teeth while watching girlfriend Lindsay Vonn win a World Cup race in Italy earlier this week. Vonn claims it got knocked out by a photographer, but race officials deny such a notion. Whatever the real story is, it's probably a lot more epic than a photographer being the culprit. Let's hope the truth eventually…um…comes out.

U. Union . Obama delivered his State of the Union on Tuesday, and if he was talking about the top half of the women's Australian Open draw, the state is an unbelievable one. It's not good in the bottom half and it is bad throughout the men's bracket, but a whopping six of 16 females remaining in the upper section Down Under hail from the United States. That includes both Serena and Venus Williams. Venus is -245 at GT Bets to beat Camila Giorgi on Saturday.

V. Voice, The . Coaches and guest mentors have been announced for season 8 of "The Voice". Adam Levine, Blake Shelton, and Pharell Williams are back and will be joined by former coach Christina Aguilera, who is replacing Gwen Stefani. The mentor list features Meghan Trainor, Ellie Goulding, Nick Jonas, and Lionel Richie. Unless you're Hugh Hefner, you're never going to see more stars in such close quarters.

W. Wenger, Arsene . Arsenal (the team, not to be confused with the coach's name) has won two straight matches in Premier League action by a combined score of 5-0 since falling on New Year's Day to Southampton. After the Gunners blanked Manchester City 2-0 last Sunday, Wenger insisted his squad is not permanently changing its style to the controlled, tactically-sound football that befuddled the Sky Blues. Arsenal is +5000 at Bodog Sportsbook to win the EPL title.

X. XLIX . For all the ridiculous prop bets, the most interesting play related to Super Bowl XLIX may be the actual game spread. Rarely does a line move so drastically, as Seattle opened as a -2.5 to -3.5 favorite at most shops before it settled as a pick-'em then ultimately swayed in New England's favor. The Patriots are -1 favorites, according to Sportsbook.ag.

Y. Yes . That's what shows up right now if you pay a visit to DidDukeWin.com. In fact, "yes" has been seen by viewers dating back to last Saturday night. Since losing two in a row to N.C. State and Miami (FL), the Devils have scored convincing wins over Louisville and Pittsburgh.

Z. Ze Monroe . Dennis Graham, better known as Drake's dad, made a recent Instagram post looking to collaborate musical with a "classy" person that is not "ghetto style." Well, that eliminates Justin Bieber! Of course, so does the fact that papa Drake also specified female. Some amateur rapper named Ze Monroe ultimately got the nod. Can't wait to see how this turns out….


Read more articles by Ricky Dimon