This Week in Sports Betting, A-Z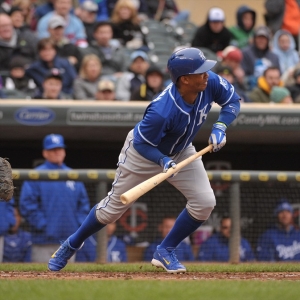 A. Al Golden . At this rate, any college football team that is not changing head coaches in the middle of the season is doing pretty well. Miami, however, is not doing well-at least not after suffering the worst lost in program history, a 58-0 drubbing by visiting Clemson last weekend. One day later, Golden was fired.

B. Brandon Marshall . Marshall took the blame for the Jets' loss to New England last Sunday after he dropped what would have been a fourth-quarter pass in the endzone and failed to get lined up in time for a potential game-tying Hail Mary attempt on the final play. The dreaded 10-second runoff ended New York's hopes. Bovada Sportsbook has the Patriots as +250 Super Bowl favorites.

C. Chelsea . Chelsea is an incredible 15th on the English Premier League table with a 3-5-2 record. For those counting, that is 14 places worse than the position in which the Blues finished the 2014-15 campaign. The defending champions' woes were extended last Saturday with a 2-1 loss to West Ham. Manchester City is a -109 favorite at BookMaker to win the EPL title.

D. Daniel Murphy . Now might be a good time for Murphy's bat to heat back up. The Mets' second baseman famously homered in six straight playoff games as his team finished off the Dodgers and swept the Cubs. But he is 2-for-9 with no extra-base hits and no RBIs through two World Series games against Kansas City-both New York losses. The Mets (Syndergaard) are -142 home favorites over the Royals (Ventura) on Friday, per BetOnline Sportsbook.

E. Eight . The Montreal Canadiens became the first team in NHL history to begin a season with eight straight regulation wins. They eventually extended the streak to nine before falling to Vancouver 5-1 on Tuesday. Suddenly, however, Montreal is in the midst of a much different kind of streak. It blew a 3-0 lead against Edmonton on Thursday and dropped its second consecutive game by losing 4-3.

F. Federer, Roger . Federer is playing just his second tournament since the U.S. Open this week in Basel. He lost is opening match in Shanghai last month but currently finds himself in the Basel quarterfinals after a pair of victories. Could a Federer vs. Rafael Nadal showdown be looming on Sunday? Even at home in Switzerland, Federer probably hopes not.

G. Georgia Tech . It wasn't quite the "Kick 6" of Auburn vs. Alabama fame in 2013 and it wasn't quite the Miracle at Michigan from one week earlier. But what transpired last Saturday night between Georgia Tech and visiting Florida State was some sort of combination of the two. The previously 2-5 Yellow Jackets pulled off a stunning upset of the previously undefeated Seminoles by blocking a field goal and returning it 78 yards for a touchdown on the final play. 5Dimes Sportsbook has the Jackets as -6 road favorites at Virginia this week.

H. Hardy, Greg . In news that could not have surprised anyone, Hardy got into shoving matches with teammates and coaches in addition to a shouting match with Dez Bryant during the Cowboys' Week 7 loss to the Giants. Team owner Jerry Jones promptly lauded Hardy's leadership. Welp.

I. Inside-the-park . Royals' shortstop Alcides Escobar hit the first World Series inside-the-park home run since 1929, and he did it on the first pitch of the bottom of the first inning of the first game. It's been full steam ahead ever since for Escobar, who has three hits, three RBIs, and three runs scored for two games. As for the play's goat, Yoenis Cespedes, it has been only downhill since he failed to catch Escobar's fly ball. Cespedes is 1-for-10 with no extra-base hits, no RBIs, and three strikeouts.

J. Joey Logano . Logano won again at last week's Sprint Cup race in Talladega…which means Dale Earnhardt Jr. did not. Junior had to win in order to reach the next round of the chase, but he came up empty when a caution flag came out with the No. 88 running in second place. It looks like Ricky Bobby was right after all: "If you're not first, you're last." Logano is +800 at GT Bets to win the Goodys 500.

K. Kerr, Steve . The Warriors' head coach was at the team's banner unveiling and ring ceremony on Tuesday night, but he is not yet able to return to the sidelines following offseason back surgery. Luke Walton, the interim, coached Golden State to a blowout of New Orleans. "Coached" meaning: "sat there and watched Stephen Curry do whatever he wanted." The Warriors are -2 favorites at Houston on Friday, per WagerWeb .

L. Lamar Odom . Odom is still being treated as a "brain trauma victim," but he has been taken off dialysis and reportedly does not need a kidney transplant. Progress continues to be made.

M. Maty Mauk . There is one Missouri Tiger who has benefited from the team's vomit-inducing last three games. Missouri is coming off losses of 21-3 to Florida, 9-6 to Georgia, and 10-3 to Vanderbilt. Yep; that's 12 points in three outings. In what can't be a coincidence, Mauk-who had been suspended-was promptly reinstated following a four-game absence.

N. Nashville Predators . The Predators have not allowed a first-period goal this entire season. Nine games…20 minutes per period…. That's 180 minutes of scoreless hockey. Unsurprisingly, Nashville is 7-1-1 and leads the NHL in goals against at a meager 1.9 per contest. MyBookie.ag has the Preds at +1100 to win the Stanley Cup.

O. O'Leary, George . Central Florida head coach George O'Leary retired early this week. Apparently the original plan called for O'Leary to retire at the end of the season, but his hand was forced by a dismal 0-8 record. If this is the college football end for O'Leary, he finishes with 133 wins, 101 losses, and at least one fabricated resume.

P. Pacquiao, Manny . Pacquiao is going to fight one more time before retiring, and he is reportedly in negotiations with none other than Floyd Mayweather. Oh, God, no. Make it stop! Make it stop!

Q. Quenneville, Joel . The Blackhawks' head coach paid tribute to a late friend at practice earlier this week. Jimmy Roberts, who won five Stanley Cups with Montreal, passed away last Friday. Roberts, once an assistant to Quenneville in St. Louis, used to run an occasional drill without pucks in which players would make imaginary passes, take imaginary shots, score imaginary goals, and go crazy after scoring said goals. It sounds like fun. Maybe not as fun as winning the Stanley Cup last season; but fun. Chicago is a +130 underdog at Minnesota on Friday, according to BookMaker.

R. Rivers, Philip . Not one, not two, not three, not four, not five…. No, it is now eight children for Rivers. He and his wife welcomed baby No. 8-their sixth daughter-on Wednesday. She'll be just another thing to keep San Diego's quarterback up at night. He is still probably thinking about last week's disastrous loss in which the Chargers (2-5), despite playing at home, trailed Oakland 37-6 after three quarters and fell 37-29.

S. Saunders, Flip . Saunders died of cancer at age 60 on Monday. He spent 17 years as a head coach in the NBA with stints in Minnesota, Detroit, and Washington, compiling 654 wins. R.I.P.

T. Texans . It was another debacle of a Sunday for the Texans, and this time it wasn't just because of a blowout loss. In addition to their 44-26 setback against Miami, they lost oft-injured running back Arian Foster for the season. Foster sustained a dreaded non-contact injury that turned out to be a ruptured Achilles'.

U. USC . Interim head coach Clay Helton took a loss to Notre Dame in his debut at the Trojan helm, but things turned around in a hurry for Southern Cal last Saturday. Helton's squad manhandled previously unbeaten Utah 42-24 to stop a two-game losing streak in convincing fashion. It's not like anyone was going to miss Steve Sarkisian, anyway. USC is a -6 road favorite at California, according to Bovada Sportsbook.

V. Vol quez, Edinson . Who really knows when Volquez found out that his father passed away on the same day he started Game 1 of the World Series? The only thing for certain is that the 32-year-old turned in a stellar performance on the mound, going six innings while allowing three runs on six hits. He kept the Royals in the game, and they eventually won the second-longest World Series game in history 4-3 in 14 innings. BetOnline Sportsbook has Kansas City as a -365 favorite to win it all.

W. Wambach, Abby . Wambach announced her retirement from soccer on Tuesday, the same day on which the U.S. Women's National Team was honored at the White House for its World Cup victory. The 35-year-old finished her illustrious 14-year career with 184 international goals, a record for any woman or man.

X. X-ray . Sam Simon, creator of "The Simpsons," recently auctioned off various items to raise money for his charity organization. Among them was an x-ray of Muhammad Ali's broken jaw that the all-time great suffered in a 1973 loss to Ken Norton. Signed by Ali, himself, the x-ray went for $1,500.

Y. Yates, T.J . It can't be glorious being a backup quarterback on the Texans. But hey, getting paid to watch football from the sidelines sure beats not getting paid to sleep in every day. That, of course, is what recently released Ryan Mallett will be enjoying after missing last week's team flight to Miami. Houston is a -3.5 home favorite over Tennessee on Sunday, as indicated by GT Bets.

Z. Zobrist, Ben . Zobrist hit a solo shot in the first inning of Kansas City's Game 6 ALCS clincher against Toronto, which turned out to be a 4-3 thriller. The second baseman had eight hits in the series and he opened the World Series with a three-hit performance as the Royals picked up their first of two straight wins over New York.
Read more articles by Ricky Dimon