This Week in Sports Betting, A-Z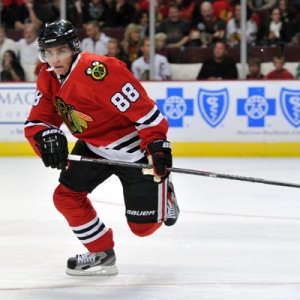 A. Arsenal . The 2015-16 Premier League campaign is off to a rough start for the Gunners. Playing at home in the friendly confines of Emirates Stadium, Arsenal (which finished third on the EPL table last season) lost to West Ham (12th last season) 2-0. BookMaker has Arsenal at +461 to win the league title; Manchester City is a +183 favorite.

B. Blackhawks .Chicago has a history of unloading talent in the immediate aftermath of winning the Stanley Cup, albeit never to the extent of a Florida Marlins-esque firesale. After all, the Blackhawks have a borderline dynasty going with three titles in the last six years. They traded Patrick Sharp to the Dallas Stars last month, and Patrick Kane has been accused of sexual assault, so it's safe to say yet another offseason is off to an inauspicious start.
C. Cardinals .St. Louis is the best team in baseball with room to spare, boasting a 72-40 record. That's good for a .643 winning percentage; no other team is better than .607 (the Kansas City Royals, who are four games back of the Cardinals at 68-44). Now just think if Adam Wainwright wasn't out for the year…. The Cards (Wacha) are -121 home favorites over the Pittsburgh Pirates (Cole) on Wednesday, per 5Dimes Sportsbook.

D. Daniel Negreanu . The top tournament earner in poker history will not be part of the November Nine-the final table at this year's World Series of Poker. Negreanu came close, but he finished 11th upon getting eliminated last month on the river in a hand against chip leader Joe McKeehen. McKeehen is a +200 favorite at Sportsbook to win it all.

E. Ed Sheeran . Mike Tyson's tattoo on his face may have been a worse decision, but Sheeran's move to ink basically his entire chest with the head of a lion cannot be considered a good one. Sheeran's NBA-worthy list of tattoos got even bigger-by a lot-when he unveiled the lion on Tuesday.

F. Foster, Arian . The highlight of HBO's "Hard Knocks" so far-other than just watching J.J. Watt be awesome-is the reaction of Houston Texans' head coach Bill O'Brien to Foster's groin injury. Let's just say there were some expletives. The running back could miss the first half of the regular season following surgery.

G. Gifford, Frank . The former NFL star and broadcaster passed away on Sunday at age 44. Gifford played 12 seasons with the New York Giants, winning one championship and snagging an MVP honor (both in 1956). R.I.P.

H. Houston, Justin . Making him the world's third highest-grossing Justin behind Bieber and Timberlake, Houston signed a six-year, $101 million deal with the Kansas City Chiefs last month. The former University of Georgia star may not top the Justin chart, but he is now the highest-paid linebacker in the NFL and the highest-paid player in franchise history. Kansas City is +350 at Bovada Sportsbook to win the AFC West.

I. Isner, John . Few tennis players are hotter than Isner as the U.S. Open rapidly approaches. The 6-foot-10 American captured the Atlanta title earlier this month and also made a run to the Washington, D.C. final before losing to 2014 U.S. Open runner-up Kei Nishikori. Just because Isner looks like he should be playing basketball doesn't mean he can't ball on the tennis court. BetOnline Sportsbook has Isner at +5000 to win the U.S. Open; Novak Djokovic is a +110 favorite.

J. Josh Donaldson . Break up the Blue Jays! Toronto made some serious noise at the trade deadline, and to say it has paid immediate dividends would be a gross understatement. The team has won nine in a row and 12 of its last 13 to pull within a half-game of the New York Yankees (lost four in a row) in the AL East. This is the closest the Jays have been since being tied for the division lead on April 23. Donaldson (.294, 31 HR, 83 RBI) has hit safely in 16 of his last 20 games, with eight multi-hit performances during this stretch. Toronto (Dickey) is a -191 home favorite over the Oakland Athletics (Brooks) on Tuesday, per BookMaker.

K. Kevin Harvick . Harvick is still the points leader in the Sprint Cup standings, but he endured a rough finish at Watkins Glen this past Sunday. The No. 4 car led 29 of 90 laps on the road course and was comfortably ahead on the final loop. But it ran out of fuel literally seconds from the finish line, thus opening the door for Joey Logano's triumph.

L. Lowry, Shane .When you're heading into Sunday of a golf tournament needing to mount a charge, Jim Furyk is the name you want to see atop the leaderboard. Since winning the Tour Championship in 2011, Furyk has held at least a share of a 54-hole lead 10 times. Not once has he sealed the deal. The streak of futility reached double-digits this past weekend, when Lowry surged past Furyk-and everyone else-with a final-round 66 to win the WGC-Bridgestone Invitational by two strokes at 11-under par. GT Bets has Jordan Spieth as a +550 favorite to win this week's PGA Championship.

M. Mike Scott . The Atlanta Hawks' shooting guard was hit with two felonies after being pulled over along with his younger brother with 28 grams of marijuana and molly. Scott took the fall, saying that all of it was his and that his brother was entirely unaware of everything. What a guy.

N. NL West .We don't know who will win it, but we know who won't win it.If the high-spending San Diego Padres (54-60) had any distant designs at the all-star break of making a second-half playoff push, those evaporated with last week's disaster. The team lost all six of its games after being swept by…wait for it…both the Milwaukee Brewers and Philadelphia Phillies.

O. Oregon . Running back Thomas Tyner underwent shoulder surgery earlier this week and is expected to miss the entire upcoming season. Tyner struggled with injuries in 2014 but rushed for 573 yards and five touchdowns in 11 games.

P. Pittsburgh Pirates . How much does it suck to be in the same division as the Cardinals? Well, a lot. Pittsburgh would be leading any other division in Major League Baseball except for the AL Central. Instead, its season will likely come down to a one-game wild-card playoff-perhaps against none other than NL Central foe Chicago. The Pirates have won four of their last five games, a stretch that includes a sweep of the Los Angeles Dodgers.

Q. Quintana, Jose . The Chicago White Sox lefty has lowered his ERA from 3.83 to 3.59 in the span of four starts, no small feat when a pitcher is already getting up toward 150 innings on the season. Three of his last four outings have been quality, and the other came within one earned run of the same distinction. Quintana's hot stretch includes a complete-game shutout of the Cleveland Indians on July 24.

R. Rory McIlroy . You thought McIlory's injury was dumb-playing soccer a week before the British Open and banging up his ankle to the extent that he missed the year's third major. Then you saw what happened this week with New York Jets' quarterback Geno Smith. Yeah, McIlroy's move isn't so dumb after all. Nor is he out 6-10 weeks. The world No. 1 is back for the PGA Championship, which begins on Thursday. McIlroy is +135 at SportsBettingOnline.ag to shoot a better score than Spieth in round one.

S. Smith, Aldon . Smith got chance after chance with the San Francisco 49ers, but his chances finally ran out last week after his latest arrest on DUI and hit-and-run charges. The last eight months or so have been an unmitigated disaster for the 49ers. But, hey, at least they aren't the Jets. San Francisco is a +3 road underdog at Houston on Saturday, according to Bovada Sportsbook.

T. Texans twins .The best thing about the Texans may not be Watt or "Hard Knocks," but their propensity for sets of cheerleader twins. That trend has continued this season, with redhead sisters Kristin and Randi. Do yourself a favor and check out the calendar.

U. Unauthorized biography . Only one thing is certain about Monte Burke's biography on Alabama head coach Nick Saban: it won't be as good as the sound bytes it elicited from Saban himself. Saban went off last week, saying-among many other things-that we should just wait until he writes his own autobiography after he retires. Now that's gonna be worth a read.

V. Vikings .For whatever it's worth, the Minnesota Vikings top the NFL preseason standings with a 1-0 record. They drubbed the Pittsburgh Steelers 14-3 in last weekend's Hall of Fame game. Minnesota scored enough points without Adrian Peterson on the field in support of a defense that allowed only 191 total yards.

W. Williams, Serena .Serena played her first hard-court match of the summer on Tuesday and extended her winning streak to 16 by overcoming Flavia Pennetta 2-6, 6-3, 6-0 at the Rogers Cup in Toronto. The world No. 1 will be looking to complete the calendar-year Grand Slam next month in New York.

X. Xavier Cedeno . The Tampa Bay Rays' reliever recorded his first save in more than three years when preserved his team's 2-0 win over the Atlanta Braves on Tuesday. But that drought did not mean Cedeno had been slumping. Far from it. He has a 2.38 ERA this season (2.03 since being acquired by Tampa Bay in April) and has gone 12 straight outings (9.1 innings) without allowing a run.

Y. Yuletide .Get ready for a Christmas Day rematch of the NBA Finals. LeBron James and the Cleveland Cavaliers are tentatively scheduled to pay a visit to the defending champion Golden State Warriors on arguably the best day of the league's regular season. The full 2015-16 schedule is expected to be released later this week. Cleveland is a +200 favorite at MyBookie.ag to win the NBA title.

Z. Zack Greinke . Greinke had been on a streak of three straight games in which had given up a run-at least two, in fact. And, yes, by his lofty standards that is indeed a streak. It came to an end on Tuesday, when the Dodgers' ace blanked the Washington Nationals over six innings in a 5-0 L.A. win. Greinke (12-2, 1.65 ERA) has allowed zero runs in seven of his last 10 starts, each one featuring at least six innings of work.
Read more articles by Ricky Dimon