This Week in Sports Betting, A-Z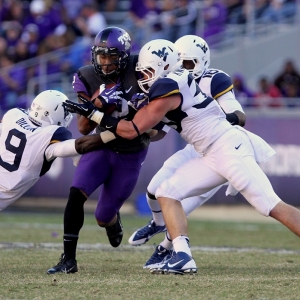 A. Arrieta, Jake . Having to play in a one-game wild-card showdown to save a season that has spanned 162 games is not a fun proposition. Or is it? For the Cubs it might be. They will have Arrieta going against Pittsburgh. The 29-year-old is 21-6 (including 10-0 in his last 10 decisions and 15-1 in his last 16) with a 1.82 ERA. He has a ridiculous 0.44 ERA in his last 11 outings. Chicago is +525 at BookMaker to win the National League Pennant.

B. Boykin, Trevone . It was not exactly a Heisman moment for Boykin, who started a borderline miracle play at Texas Tech by throwing a pass that would have sailed several feet over most receivers. But Josh Doctson got a hand on it and the ball was tipped to a diving Aaron Green, who caught the game-winning touchdown in a 55-52 Horned Frogs' victory. TCU is a -15 home favorite over Texas this week, according to Bovada Sportsbook.

C. City of Brotherly Love . That's where Pope Francis I could be found last weekend. The Eagles were not in town, but they may have gotten a papal blessing from afar (well, not too far) as they made the short trek to New York and picked up their first win of the season by beating the Jets 24-17.

D. Durant, Kevin . Durant was cleared last week for all basketball-related activities after recovering from a foot injury that limited him to 27 games last season. Nobody-other than Durant-is happier than new Thunder head coach Billy Donovan. And Russell Westbrook won't mind because he will still jack up 30 shots a game.

E. Evan Murray . Murray, a 17-year-old star quarterback for his high school in New Jersey, died from a lacerated spleen after sustaining a hit during last Friday night's game. R.I.P.

F. Flip phone . Karl Malone is apparently still living in the era during which he played basketball. The Mailman was caught by cameras using an actual flip phone while attending LSU's win over Syracuse this past weekend. Needless to say, it took him much longer to send a text message than it did for Leonard Fournette to complete his ongoing 45-yard run.

G. Gore, Frank . For the unofficial first time since Andrew Luck took over at quarterback in Indianapolis, the Colts successfully managed to run the football. Gore carried just 14 times, but he turned those chances into 86 yards and two touchdowns in a 35-33 win over Tennessee. 5Dimes Sportsbook has Indy as a -10 home favorite over Jacksonville in Week 4.

H. Harvick, Kevin . Harvick is finding new ways to lose at just the wrong time. The No. 4 car was running well when it got spun out by Jeff Gordon in the opening Chase race at Chicagoland. It then led 216 of 300 laps last week in New Hampshire before running out of gas while leading with just three laps remaining. Harvick likely has to win on Sunday in Dover to book a spot in the next round.

I. Inept . That's what the Ravens' rushing attack was in Week 3, when a home loss to Cincinnati dropped them to 0-3 for the first time in franchise history. Five different ball-carriers combined for 36 yards on 18 attempts. Still, it does not take a genius to figure out that this is not a terrible football team. Baltimore's three setbacks have come by a combined 14 points.

J. Julio Jones . The Falcons are the first team in NFL history to start a season 3-0 with three fourth-quarter comebacks. Jones is on pace for 350 catches, 3200 yards, and 64 touchdowns-or something like that. You do the math: he has 34 catches, 440 yards, and four touchdowns through three games.

K. Kane, Patrick . The Blackhawks' offseason has been plagued by sexual-assault allegations involving Kane. It looks like he will get off scot-free, and not just because he is a professional athlete (who has won three Stanley Cups in the last six seasons), as the prosecution has reportedly tampered with evidence. Chicago is a +650 co-favorite with the Rangers at MyBookie.ag to win it all.

L. Lionel Messi . Life without Messi is off to winning start for FC Barcelona, but it looks like the club may endure its fair share of heart attacks before the star striker returns in approximately eight weeks. Barca recovered from a 1-0 deficit in the waning minutes to beat Bayer Leverkusen 2-1 during group-stage Champions League action on Tuesday. Messi sustained a knee injury last weekend in his team's victory over La Liga rival Las Palmas.

M. Mathieu, Tyrann . They say the honey badger don't care, but don't tell that to Mathieu. "I think it is always good to go out there and play your best for your teammates," he said after being named NFC Defensive Player of the Week for his efforts last Sunday. Mathieu picked off two passes and returned one for a touchdown in Arizona's 47-7 blowout of San Francisco. The Cardinals are -7 home favorites over St. Louis in Week 4, per SportsBettingOnline.ag.

N. Nkemdiche, Robert . In unimportant news, Nkemdiche has climbed to No. 1 on Mel Kiper's big board. Much more important is how Nkemdiche got there. The defensive tackle has been dominant for undefeated Ole Miss, and he even scored a rushing touchdown in last week's win over Vanderbilt.

O. Odell Beckham Jr . There is still plenty of time for the Madden cover curse to take effect, but for now things are going just fine for OBJ. He has 21 catches for 225 yards and two touchdowns in his last two games. The Giants are +5.5 underdogs at Buffalo on Sunday, as indicated by GT Bets.

P. Punter . Texas lost a week earlier (45-44 to California) on a missed extra point. This time the Longhorns lost (30-27 to Oklahoma State) because their punter muffed a snap. It's safe that firing its athletic director did not solve Texas' football problems.

Q. Quack-less . For the first time since 2009, Oregon is not a part of the AP top 25. A three-point loss at Michigan State was by no means disastrous, but things escalated quickly last Saturday in Eugene. The Ducks got humiliated 62-20 at home by Utah, which led 62-13 at one point before a meaningless late touchdown. Marcus Mariota ain't walkin' through that door.

R. Rose, Derrick . In the first practice of the season, Rose took an elbow to the face and suffered an orbital fracture. He required surgery and will miss the next few weeks. You can't make this stuff up, folks.

S. Spieth, Jordan . Spieth won the Tour Championship, the FedEx Cup, and regained the No. 1 world ranking last Sunday in Atlanta. For those counting, that's $11.485 in the blink of an eye (well, much of it was a season-long effort to be fair); $1.485 million for the tournament title and $10 million for the cup. Only Floyd Mayweather thinks that's a pedestrian day at the office. Spieth is a +600 favorite at BetOnline Sportsbook to win the Masters.

T. Tristan Thompson . Thompson has still not signed a deal with Cleveland has not been at practices. The better story, of course, is just how freaking terrible Chris Broussard is. Broussard struck again last week with incorrect reporting when he announced on Twitter that Thompson had inked a three-year, $53 million contract with the Cavs. Oops.

U. United . Not unlike Yankees vs. Red Sox, it feels like old times in the Manchester Derby rivalry. United and City have not yet faced each other this season (that will come on Oct. 25), but Man U suddenly finds itself atop the English Premier League table for the first time this season. Their new status as league leaders is primarily thanks to Man City, which has lost two in a row and given up six goals in that span after going 5-0 with no goals allowed in its first five matches. Bovada Sportsbook has United as a +400 third choice to win the EPL title; City is a -115 favorite.

V. Vick, Michael . The Steelers lost while winning last week. During their 12-6 victory at St. Louis, Ben Roethlisberger went down with a scary knee injury that proved to be only an MCL sprain and a bone bruise. The good news is that no ACL tear means Big Ben is not out for the year. The bad news-or good news for Baltimore-is Vick has to start on Thursday night against the Ravens. WagerWeb has Pittsburgh as a +2.5 home underdog.

W. World Peace, Metta . World Peace signed one-year, nonguaranteed contract with the Lakers last Thursday and reported to team camp earlier this week. He played four seasons in L.A. before last suiting up for New York in 2013-14, then was out of basketball this past year. Some may think World Peace is over the hill at 35, but he has not yet entered his prime at four years old (he turned four on Sept. 16) if you take into account his name change from Ron Artest. GT Bets has the Lakers at +10000 to win the Western Conference.

X. Denotes clinched division . The Mets have won the National League East for the first time since 2006. While they do have themselves to thank for a great second half, they should also send a Christmas card to the Nationals. Heavily favored to begin the year, the Nats have spent more time fighting in their own dugout (ahem, Bryce Harper and Jonathan Papelbon) than winning baseball games.

Y. Young, Chris . The Royals' veteran pitched five innings of scoreless and hitless ball one day after his father passed away. Young, who had a pitch limit of 70, helped his team beat the Astros 3-0 last Sunday. The bullpen eventually gave up the no-hitter in the seventh inning. Kansas City (Medlen) is a -130 favorite at the White Sox (Danks) on Thursday, per BookMaker.

Z. Zero . That's how many wins Shelby Miller will record since May 17 if he does not capitalize on his next-and last-chance. Despite boasting a 3.15 ERA, Miller has lost 16 consecutive decisions, is winless in his last 24 starts, and the Braves are 2-21 in his last 23 starts. The 24-year-old will toe the rubber one more time in 2015 on Saturday at the Cardinals.
Doc's Sports has been successfully handicapping the pro and college sports for 40+ years and wants to give new clients a chance to try our service for free. Click here for the hassle-free sign up and get $60 in free picks today . Also, get three football handicappers for the price of one when you sign up for a full-season football package! Click Here for details.
Read more articles by Ricky Dimon