This Week in Sports Betting, A-Z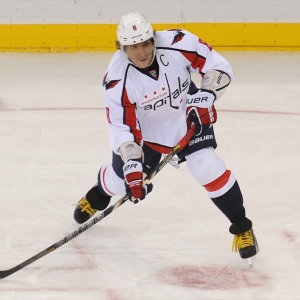 A. Alex Ovechkin . The Capitals' star forward recorded his 900th career point during Tuesday's blowout of Calgary. He is the only player in franchise history to reach the milestone and he is the second fasted active player (behind Jaromir Jagr-yep, Jagr still plays and is still great) to achieve it. Ovechkin also scored the game-winner on Thursday against Vancouver. Washington is a -109 road favorite at Edmonton on Friday, per 5Dimes Sportsbook.

B. Back to the Future . "Back to the Future" Day came and went on Wednesday and the 1989 hit movie did not exactly get everything right in terms of its predictions. It came relatively close to nailing the Cubs as World Series champions before that possibility went horribly wrong. The lovable losers were supposed to triumph-at long last-on Oct. 21, 2015. Instead, that's the day they were swept by the Mets in the NLCS.

C. Columbus Blue Jackets . Columbus is off to the second worst start in NHL history at 0-8 and may be well on its way to the absolute worst. The 1943-44 New York Rangers kicked things off with a 0-11 mark before ending the slide with a tie. These Blue Jackets finally came close to winning on Thursday (lost 3-2 to Minnesota), but they have otherwise been hopeless. They are being outscored by a combined 37-15 for a minus-22 differential. No other team is worse than minus-13. Columbus is also on pace to go through 11 head coaches this season. John Tortorella was hired after seven games to replace Todd Richards.

D. Daniel Murphy . What in the name of Daniel Murphy is going on in New York? The Mets are on fire and no one is more scorching than the second baseman. Murphy has homered in six consecutive playoff outings, including all four against the Cubs. New York swept through the four games by a combined score of 21-8 and awaits either Kansas City or Toronto in the World Series.

E. Escobar, Alcides . Since failing to reach base in the ALDS opener against Houston, Escobar has run off a nine-game hitting streak. The Royals' shortstop has 10 hits through five games of the ALCS against Toronto, including a 4-for-5 performance on Monday. Kansas City (Ventura) is a +120 home underdog to the Blue Jays (Price) on Friday, according to GT Bets.

F. Fourth quarters . Those have been the bane of Seattle's 2015 existence. The Seahawks have led in all seven fourth quarters this season but have only a 3-4 record to show for their efforts. They got outscored 11-0 by Green Bay in the fourth, blew a 17-point lead over Cincinnati in the final frame, and basically lost to Detroit. At least Seattle managed to beat San Francisco on Thursday, but that is not saying a lot.

G. GameDay . ESPN's College GameDay is heading to…wait for it…James Madison this weekend. With all due respect to the Dukes, that's when you know Saturday's schedule is not a strong one.

H. Harden, James . It's five days until the Rockets' season opener against Denver. But who's counting? Harden, for one. The star guard posted via Instagram on Wednesday that the cook will be back to work in seven days. But he can also start a count up in addition to his countdown-it's been three days since Khloe Kardashian broke up with him and called off her divorce from Lamar Odom.

I. Infection . Giants' tight end Daniel Fells is dealing with the MRSA infection, but he returned home on Tuesday three weeks of treatment. His Instagram video of being greeted by his kids is epic. Fells still has multiple surgeries pending, but hope remains that his foot will not have to be amputated. New York is a -3.5 home favorite over Dallas in Week 7, as indicated by Bovada Sportsbook.

J. Johnny Manziel . Manziel assured that his recent dust-up with his girlfriend is no big deal…which means it is a big deal. With each passing week it seems increasingly likely that this guy is never going to get it together before his time in the NFL is up.

K. Kristaps Porzingis . The Knicks' rookie sported cornrows as a kid because "all the girls loved it." But no Knicks fans are loving anything about their team these days. Porzingis got booed simply for getting drafted and he may get booed again in next Thursday's home opener against the Hawks-for no reason other than fans wanted someone (anyone?) else. New York's over/under win total at BetOnline Sportsbook is 29.5.

L. Logano, Joey . Although Logano was already through to the next round of the Chase for the Sprint Cup, he raced last week in Charlotte like it was do or die. And who can blame him? Well, Matt Kenseth can. Possibly needing a win to advance, Kenseth led 153 laps was still in front with five to go when Logano spun him out and coasted to victory. Fasten your seatbelts-literally-for this weekend in Talladega, 'cause Kenseth ain't happy.

M. Marcus Mariota . The Titans' rookie signal-caller has been sidelined from practice this week because of a sprained knee but he hopes to play on Sunday. As of Friday afternoon, Mariota's status is still uncertain. Unless a Tennessee defender goes Tanya Harding on Devonta Freeman's knee between now and kickoff, it won't matter who plays quarterback against the Falcons. BookMaker has Atlanta as a -5 road favorite.

N. Nike . The Texas Longhorns on Wednesday reached a 15-year contract extension with Nike that will pay approximately $200 million. Only time will tell how much money per football victory that will equal, but it could be astronomical based on the current rate.

O. Odom, Lamar . Once thought to be hours away from dying, Odom is making progress after appearing to overdose on a mixture of drugs and Viagra-like medication at a Las Vegas brothel. He was transferred to a Las Vegas hospital but remains in critical condition. Odom has his fair share of haters, but everyone should be rooting for him to get well and turn his life around.

P. Price, David . Price became the first player in major-league history to lose the first seven starts of his postseason career when Toronto fell to Kansas City 6-3 in Game 2 of the ALCS last Saturday. He is now 0-7 lifetime in the playoffs with a 5.24 ERA. And, yes, he is starting Game 6 on Friday night. Congrats, Royals!

Q. Qualified . Despite a brutal year by his standards, Rafael Nadal officially qualified for the exclusive eight-man field at the year-end championship in London next month. That could be bad news for Roger Federer, but right now Novak Djokovic looks like he could not care less who is on the other side of the net.

R. Robert Nkemdiche . Ole Miss' defensive end has scored a pair of offensive touchdowns in 2015, but it all went wrong last Saturday against Memphis. Nkemdiche took a handoff on 3rd-and-1 deep in the Tigers' territory during the second quarter, got stopped short of a first down, and suffered a concussion in the process. He did not return in the Rebels' 37-24 upset loss. What is head coach Hugh Freeze thinking? Well, Nkemdiche is expected to play this week against Texas A&M and word on the street has him continuing to play some on the other side of the ball.

S. Snoop Dogg . Julius Randle and D'Angelo Russell attended Snoop's 43rd birthday bash on Tuesday night. At least being on the Lakers has some benefit.

T. Tristan Thompson . Thompson's holdout is over, as he agreed to a five-year, $82 million deal with the Cavaliers on Wednesday. Now if LeBron James can just get Kyrie Irving and Kevin Love to stay healthy…. MyBookie.ag has Cleveland as a +200 favorite to win the NBA title.

U. Undefeated . Five perfect NFL teams remain; Carolina, Cincinnati, Denver, Green Bay, and New England. Carolina, Cincinnati, and Green Bay have Seattle to thank. Denver has just about all of its opponents to thank. New England has nobody to thank. The Packers and Patriots are +250 co-favorites at GT Bets to win the Super Bowl.

V. Vick, Michael . The Steelers' quarterback went from starter to third string just about as fast as he went from free agent to starter. Vick was ineffective during last week's win over Arizona then left the game with either a concussion, a hamstring injury, or dirt in his eye…or all three-it still isn't clear. What is clear is Landry Jones led Pittsburgh's comeback and will start on Sunday against the Chiefs. Ben Roethlisberger may be healthy enough to suit up and be an emergency backup. Of course, does it really matter who plays QB when the opponent is Kansas City?

W. Watts-Jackson, Jalen . Michigan State's freshman special-teams specialist and now living legend returned Michigan's muffed punt snap on the last play of the game for one of the most improbable endings in college football history. For his efforts, Watts-Jackson suffered a hip injury and is out for the season. On the bright side, he will never have to buy a beer in East Lansing. The same cannot be said for Wolverines' punter Blake O'Neill in Ann Arbor. The Spartans are -16.5 home favorites at 5Dimes Sportsbook against Indiana on Saturday.

X. Xavier Rhodes . The Vikings almost always let their cornerback go one-on-one with Lions' receiver Calvin Johnson when the two NFC North rivals collide. For the most part Rhodes has done a good job containing Johnson, to the extent that Detroit is already telling the officials to keep a close eye on potential pass interferences during Sunday's game. The Lions know they need all the help they can get these days.

Y. Yaya Toure . Manchester City took care of business in a Champions League Group D match on Wednesday, beating Sevilla 2-1. Yaya had one assist and played a big part in each of his team's goals-both the equalizer in the 36th minute and Kevin De Bruyne's winner in stoppage time. City is +1200 at Bovada Sportsbook to win the Champions League.

Z. Zorn, Jim . Former Redskins' running back Clinton Portis said his head coach divided the locker room between "Christians" and "ballplayers" with his religious tenor. It is unclear whether it was Portis who Southeast Jerome who gave the interview. By the way, it must have been a really slow news day when this made the main page of ESPN.com earlier in the week.
Read more articles by Ricky Dimon