This Week in Sports Betting, A-Z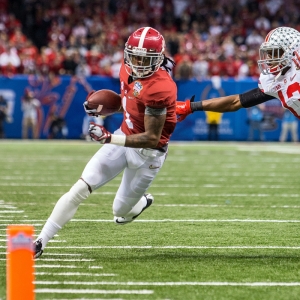 A. Alabama . Nick Saban went off on the media after winning. Just think what would have happened if the Crimson Tide had lost. Keep in mind, too, that they did not merely win; they went on the road last Saturday and destroyed Georgia 38-10, once leading 38-3 early in the third quarter. The Bulldogs are -3.5 favorites at Tennessee on Saturday, per Bovada Sportsbook.

B. Brendan Rodgers . You probably won't be able to find Mr. Rodgers around the Liverpool neighborhood these days. Rodgers got fired from his managerial position after the Reds drew with Everton 1-1 during English Premier League action last Sunday. The single point left Liverpool in 10th place on the EPL table with a 3-2-3 record.

C. Challenge . Maple Leafs' head coach Mike Babcock won the first coach's challenge in NHL history on Wednesday, when an apparent Montreal goal was overturned due to Toronto's goalie being interfered with. Babcock may have won the battle, but he lost the war-the Canadiens won 3-1.

D. Devonta Freeman . Who knows how many millionaires Freeman has made on FanDeul and DraftKings? The Falcons' running back has been a human ATM machine for daily fantasy players. In his last two games, the former Florida State Seminole has gained 342 yards from scrimmage and scored six touchdowns. Atlanta is +795 at BookMaker to win the NFC.

E. Estranged . Matt Barnes is estranged from his wife and apparently New York Knicks' head coach Derek Fisher is dating her. According to one source, Barnes drove 95 miles to Gloria Govan's home to "beat the shit out of" Fisher. The Grizzlies' veteran claimed he went there just to check on his kids. Yeah, right.

F. Fournette, Leonard . Fournette has 99 rushes for 864 yards (8.7 average) and 11 touchdowns. No, that's not for an entire season. That's for four games. Heisman Trophy maybe? LSU is +800 at GT Bets to win the National Championship.

G. Gone . That's what Joe Philbin is, becoming the first NFL head coach to be fired this season. The Dolphins spent plenty of money in the offseason, but they had just one win in four games to show for it. After winning its opener, Miami lost three in a row to Jacksonville, Buffalo (41-14), and the New York Jets. It's amazing Philbin survived the Richie Incognito-Jonathan Martin scandal. Now the Dolphins are wishing he hadn't.

H. Harvick, Kevin . Harvick pretty much had to win last weekend in Dover in order to advance to the next round of the Chase for the Sprint Cup following disastrous finishes at the first two chase events. And that's exactly what Harvick did.

I. Illegal bat . We hadn't seen this dramatic of an illegal bat since the George Brett pine tar incident. After Seattle's K.J. Wright tapped the ball out of the endzone following a fumble by Detroit's Calvin Johnson on Monday night, the Lions should have gotten the ball inside the Seahawks' 1-yard line. But not even the refs knew the rule; or at least not how to properly enforce it. Thus Seattle got a touchback and held on for a 13-10 victory. The Seahawks are +3 underdogs at Cincinnati on Sunday, according to BetOnline Sportsbook.

J. Jim Harbaugh . Two Harbaughs, one football game. With John's Ravens having already won last Thursday, he was on the Michigan sideline when Jim's Wolverines hammered Maryland 28-0. At 4-1, UM now heads into a surprisingly huge showdown against 5-0 Northwestern.

K. Kerr, Steve . The Warriors' head coach is out indefinitely following back surgery. Luke Walton will step in as interim in Kerr's absence. Walton's coaching will probably be something like this: "Steph, you shoot a three. Now Klay, you shoot a three. Now Steph…." MyBookie.ag has Golden State at +350 to repeat as NBA champion.

L. LeBron James . It wasn't quite the Bradley Cooper selfie at the Ellen DeGeneres-hosted Oscars, but LeBron's effort during Wednesday's preseason game against Atlanta was not a bad one. And it sure made a whole bunch of kids happy.

M. Murray, DeMarco . Fantasy owners probably shouldn't start Murray until the Eagles have a bye, when he has no chance of racking up negative yardage or losing fumbles. But Philadelphia does play this week-which means Murray will probably get, like, you know, three or four touches. Through three games with his new team, he has 29 carries for 47 yards. The Eagles are -5 home favorites over New Orleans, as indicated by 5Dimes Sportsbook.

N. No-hitter . In the biggest national crisis since Watergate, the heavily-favored Nationals stumbled to an 83-79 record and finished an absurd seven games behind the Mets in the NL East. Perhaps the lone bright spot was newcomer ace Max Scherzer. The 31-year-old compiled a 2.79 ERA while going 14-12 and he threw his second no-hitter last Saturday at the expense of the Mets.

O. Out . But not even Scherzer's heroics could save Matt Williams' job. Williams got fired as manager of Washington on Monday after just two seasons. At least he avoided another playoff collapse this time around, instead taking the easy way out and not even coming close to reaching the postseason.

P. Presidents Cup . This is the United States vs. the world minus Europe. In other words, it's the United States vs. Jason Day. Team USA got off a strong start on Thursday, leading 4-1, but the international side has pulled within 5.5-4.5 heading into the last two days. Dustin Johnson and Jordan Spieth are -130 favorites at SportsBettingOnline.ag to win their Saturday match against Day and Charl Schwartzel.

Q. Quenneville, Joel . "I feel we're going to be OK," the Blackhawks' head coach said of his defending Stanley Cup champions. "How good? I'm not sure." Quenneville actually does have reason to temper expectations, as the offseason was not a great one for Chicago. The 2015-16 campaign got off to an inauspicious start on Wednesday with a 3-2 home loss to the Rangers. WagerWeb has the Blackhawks as -110 favorites at the Islanders on Friday.

R. Rehab . They didn't make him go to rehab but he said yeah, yeah, yeah. Despite his team still being alive in the postseason at the time, C.C. Sabathia checked himself into an alcohol rehabilitation facility and ruled himself out for the playoffs. It was a gutsy and undoubtedly smart move by the bug guy. Get well, C.C.

S. Shelby Miller . He did it! Facing his last chance on the final day of the regular season to get his first win since May 17, the Braves' hard-luck starter blanked St. Louis over eight innings en route to a 6-0 victory. Miller ended a streak of 16 consecutive lost decisions and 24 starts without win. He finished the year 6-17 despite boasting a 3.02 ERA. Yep, that's just how miserable Atlanta's offense was.

T. Twitter . On its way to an embarrassing 50-7 loss to TCU last weekend, Texas trailed 37-0 at halftime. That's when freshman cornerback Kris Boyd retweeted a tweet made by a Texas A&M fan suggesting that he transfer to the Aggies-yes, during halftime. It's gone from bad to worse or Charlie Strong's Longhorns. Bovada Sportsbook has TCU as a -10 favorite at Kansas State on Saturday.

U. Usain Bolt . In the biggest kid-over-adult upset since "Home Alone" and "Home Alone 2," Bolt lost to an 8-year-old in a race on The Ellen DeGeneres Show on Tuesday. Jamaica native Demarjay Smith, a fitness enthusiast, vowed he could beat Bolt-at which point the gold medal-winning sprinter popped out from behind the curtain. Hopefully the 29-year-old will have recovered mentally by the time Rio rolls around.

V. Vladimir Putin . Not one. Not two. Not three. Note four. Not five…. No, this isn't LeBron we're talking about. This is Putin. The Russian president scored seven goals in his 63rd birthday celebration game featuring a whole bunch of Russian officials and former NHL players on Wednesday. Before you think the ex-NHLers were trying hard, consider what may have happened to them if they didn't let Putin score seven goals.

W. Wide . It's the word that may be giving kickers Josh Scobee and Jason Myers nightmares. Scobee had not one but two chances late in the fourth quarter to put the Steelers ahead of Baltimore by six points last Thursday, but he botched both field goals and his team ultimately lost in overtime. With his Jaguars poised to upset Indianapolis three days later, Myers missed at the end of regulation, got another try because the Colts had called timeout, and missed again. He failed again in overtime and Indy promptly won with a field goal of its own. BetOnline Sportsbook has the Jaguars as +2.5 underdogs at Tampa Bay in Week 5.

X. Denotes clinched division . After squandering a four-run lead over Anaheim in the ninth inning last Saturday with a chance to clinch the AL East, Texas recovered to get the job done in game No. 162 on Sunday and wrap up the division crown. The Rangers maintained their momentum on Thursday by winning Game 1 of the divisional series at Toronto 5-3.

Y. Young, Thaddeus . Young signed a four-year, $52 million contract extension with the Nets this summer and soon became the first player in franchise history to move to the borough of Brooklyn. We all know who won't be the second one: former Net and current Mavericks' guard Deron Williams.

Z. Zero . That's how many runs the Pirates were expected to score against Jake Arrieta and the Cubs in Wednesday's NL wild card game. And that's exactly how many they did score. Pittsburgh hit him good only once…and that was when Arrieta was up to bat-setting off a bench-clearing scuffle. Chicago won 4-0 and will face St. Louis in a divisional showdown. The Cubs (Lester) are even-money underdogs at the Cardinals (Lackey) in Game 1 on Friday, per BookMaker.
Read more articles by Ricky Dimon