All-Sports Expert Betting Tips to Help Win Cash this Week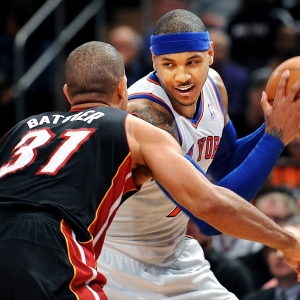 Beating the books on a consistent basis when it comes to betting on sports can be a tall task given the built-in edge they already have when the betting odds are set. That does not mean that you should not try to make every bet count by looking for ways to flip things in your favor with your own inside edge. Doc's Sports has been working with avid sports bettors just like yourself for close to 45 years, and over all that time it has always been about bringing you the big-unit plays that have the best chance to pay off.
Sometimes gaining an inside edge is just a matter digging a bit deeper than everyone else to come up with a few inside betting tips that actually swing the edge in your favor. The following are a few that I have uncovered for this week's betting events.
Knicks Cashing In as Favorites at the Garden
The New York Knicks have climbed their way back to respectability this season after winning just 17 games last season. Heading into Tuesday night's home game against Boston, they are 19-20 on the year and just a game and half out of eighth place in the Eastern Conference. Along the way, New York has put some money in bettor's pockets at 24-15 against the spread. Where it has really paid off this season is as a home favorite at Madison Square Garden.
Looking back at the Knicks last eight homes when closing as favorites, they are 7-1 ATS. BetOnline currently has them listed as one-point underdogs against the Celtics for Tuesday night's clash, although a few other books actually have them favored by a point.
New York's overall record at home ATS this season is 10-8, so you might want to hold off betting on this game. The golden opportunity to go big on this team as an expected healthy home favorite is its next time out at Madison Square Garden. Following Tuesday's game, the Knicks will go on the road to face Brooklyn on Wednesday and Memphis this upcoming Saturday night. The time to pounce would be next Monday when they play host to the 4-36 Philadelphia 76ers in a special matinee game for the Martin Luther King Holiday.
Bet on the Gamecocks Rolling Over the Tide
The Alabama Crimson Tide just won their fourth college football title in seven seasons to set the gold standard for excellence in the SEC and the nation. The Kentucky Wildcats have been the gold standard for men's college basketball in this conference. And despite the fact that they are 12-3 this season, they remain the highest-ranked team in the SEC at No. 15 in the AP's latest Top 25.
What may have gone a bit unnoticed with all the media attention surrounding both of these team's recent success is the South Carolina Gamecocks' sprint out of the gate to 15-0 SU in their first 15 basketball games this season. The fast start only has them ranked No. 19 in the latest polls, which may be a testament to a fairly soft nonconference schedule combined with early wins against Auburn on the road as seven-point favorites and Vanderbilt at home as three-point favorites in SEC play, but undefeated is still undefeated.
Bettors could care less about who the Gamecocks have played so far as long as they have been wagering on them to cover. In 12 games with a posted betting line, South Carolina has gone a highly-profitable 11-1 ATS. The only game it failed to cover in this season was an 81-63 romp against South Florida on Dec. 5 as a heavy 19-point home favorite.
Ironically enough, the Gamecocks will try and keep their winning streak alive this Wednesday night in a road game against Alabama. It is highly doubtful that too many fans in Tuscaloosa will be concerned if the Tide lose this game since they are still probably celebrating the football team's win on Monday night. Alabama's basketball team has already dropped its first two SEC games both SU and ATS in losses to Mississippi on the road and Kentucky at home.
Riding the Road Team in the NFL Divisional Round
The recent NFL betting trends for the Wild-Card Round of the playoffs leaned heavily towards the home team. Before last weekend, the home team went 11-5 both SU and ATS in the previous four Wild-Card Rounds, but that streak came to a halt with all four road teams winning SU while going 2-1-1 ATS.
Turning to this weekend's NFL Divisional Round of the playoffs, the road team comes in with a 6-1-1 edge ATS over the past two seasons. All four road teams were favored in last weekend's Wild-Card games, but this week they have been opened as underdogs. The largest spread is Arizona favored by seven points at home against Green Bay, and the tightest betting line is Carolina favored by three points at home against Seattle.
The top road dog to bet on could be the red-hot Kansas City Chiefs. They extended their current SU winning streak to 11 games by shutting out Houston 30-0 last Saturday as three-point road favorites. This Saturday, they will go back on the road against New England as five-point underdogs. Kansas City has gone 8-3 ATS during this 11-game run, while the Patriots bring a 4-9 record ATS in their last 13 home playoff games into this matchup.
Read more articles by Dave Schwab