Case of the Mondays: Jets Collapse at Finish Line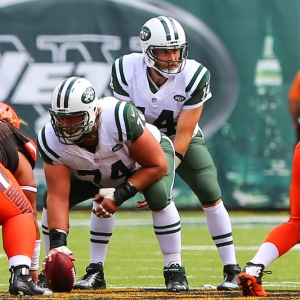 It was all right there for the Jets to make the playoffs for the first time since the 2010-11 campaign. They controlled their own destiny heading into Week 17 thanks to a five-game winning streak. But it all came crashing down for New York on Sunday. An upset loss at Buffalo combined with Pittsburgh's win at Cleveland means it's the Steelers who are postseason-bound as the AFC's No. 6 seed.

Odds provided by BetOnline Sportsbook unless otherwise indicated.
New York Jets . This was just about the Jets' worst nightmare: losing what should have been a relatively simple game with the playoffs on the line to their outspoken former head coach. Rex Ryan's Bills were already out of the running and could hardly field a team because of myriad injuries, but they got up for this AFC East rivalry showdown and upset New York 22-17. Jets' quarterback Ryan Fitzpatrick has now missed the playoffs in 10 off 11 NFL seasons, and wide receiver Brandon Marshall will be at home watching for a 10th consecutive year since he entered the league. The Steelers are -2.5 favorites at Cincinnati during this weekend's wild-card action.

New England Patriots . Speaking of the AFC East, New England endured a similarly rough day at the office. At least the Patriots, much unlike the Jets, are going to the playoffs. But they will not have home-field advantage throughout the conference festivities because their surprising 20-10 loss at Miami was followed by a 27-20 victory for Denver over San Diego. Thus, Peyton Manning and company stole the No. 1 seed in the AFC from Tom Brady's Patriots. As for New England's setback, it was even worse than the score suggested. The Dolphins dominated the yardage battle by a hard-to-believe 438-196. Nonetheless, the Pats are +450 co-favorites to win the Super Bowl.

Michigan State Spartans . The pre-championship bowl season was characterized by snooze-fest after painful snooze-fest. One such blowout involved the Spartans, whose Big Ten title earned them a spot in the College Football Playoff. They didn't last long. Michigan State got clobbered 38-0 by Alabama in the Cotton Bowl on New Year's Eve. It trailed by a somewhat respectable 10-0 at halftime only to find itself behind by an insurmountable 31-0 margin heading into the fourth. The Spartans turned in a laughable 29 rushing yards. Alabama is a -7 favorite over Clemson in next Monday's National Championship.

Derrick Rose . Rose missed a third consecutive game for the Bulls on Sunday because of hamstring soreness. That came as no surprise. But in a disappointing new development, the injury-plagued point guard revealed he is also dealing with knee soreness. For the latter problem Rose will undergo an MRI on Monday. The 2010-11 NBA MVP tore the ACL in his left knee in April of 2012, tore the medial meniscus in his right knee in November of 2013, and had a meniscectomy on his right knee in February of 2015. Further indicating that the Bulls are Jimmy Butler's team now, Butler broke Michael Jordan's franchise record for points in one half by scoring 40 in the second during Sunday's 115-113 victory at Toronto. Chicago is a +800 second choice to win the Eastern Conference.

Jonathan Drouin . Drouin, the No. 3 overall pick in the 2013 NHL Draft, has formally requested a trade from the Lightning. But he better not get his hopes up. General manager Steve Yzerman said he will continue to "act in the best interest of the Tampa Bay Lightning hockey club" and that he expects Drouin to report to AHL practice on Tuesday morning. The 20-year-old was a healthy scratch for much of Tampa Bay's 2014-15 run to the Stanley Cup Finals and things have not really improved for him this season. He was averaging barely more than 14 minutes of ice time in 19 games before getting assigned to the AHL's Syracuse Crunch this past Saturday. The Lightning are +2800 to win the Stanley Cup; Washington is a +600 favorite.

Phil Forte . Two plus two equals four, but it also likely equals Forte being out for the remainder of the college basketball season due to an elbow injury. "He's over six weeks since it happened and he hasn't been on the court yet," Oklahoma State head coach Travis Ford said of his star guard, who has been sidelined since going down against Towson on Nov. 19. "So I'm just trying to put two plus two together." Forte, a senior, was leading the Cowboys with 13.3 points per game at the time of the injury. Ford's team was 3-0 with Forte on the floor, but it has dropped four of its last 10 contests. Big 12 rival Kansas is a +650 second choice at MyBookie.ag to win the National Championship; Michigan State is a +600 favorite.

Leicester City . It was a rough weekend for English Premier League upstart Leicester City. The club has topped the EPL standings for much of the season, but a tie for first place became a solo second position following Saturday's action. Arsenal pulled ahead by two points with a victory over Newcastle United, while Leicester settled for a 0-0 draw with lowly AFC Bournemouth. Home-field advantage proved to be of no significance for the Foxes, who could not find the back of the net against a team in 16th place on the Premier League table. Adding insult to injury, fellow contender Manchester City stormed back from a 1-0 deficit with two goals in the final 10 minutes to stun host Watford 2-1. By stealing three points, the Sky Blues are now just one back of Leicester. Man City is a +130 favorite to capture the league title.
Read more articles by Ricky Dimon