Case of the Mondays: Arizona Turns Into Turnover Machine at Carolina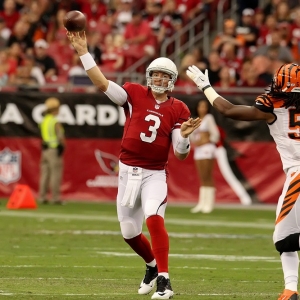 An aging quarterback endured an embarrassingly horrific championship game on Sunday…and it wasn't Peyton Manning. Whereas Manning and the Broncos pulled off an upset of visiting New England, Carson Palmer's Cardinals got clobbered at Carolina. The result is a Super Bowl 50 showdown between the the two No. 1 seeds, the Broncos and the Panthers.

All odds provided by BetOnline Sportsbook .


Arizona Cardinals . Not one. Not two. Not three. Not four. Not five…. Six! Six is the number of times Palmer turned the ball over against Carolina. The 36-year-old got picked off on four occasions and lost two fumbles in Arizona's humbling 49-15 loss. The visitors trailed 17-0 after one quarter and 34-7 heading into the fourth. They coughed it up a total of seven times and got outgained 476 to 287 in total yardage. The Panthers are -4.5 favorites over Denver in the Super Bowl.

Stephen Gostkowski . When Gostkowski erred on an extra point late in the first quarter, it was not unthinkable that the blunder would end up costing New England. And that is exactly what it did. When the Patriots engineered a touchdown drive in the closing minute, they had to go for a two-point conversion because they had trailed by eight instead of seven.The rest, of course, is history. Tom Brady got picked off on the two-pointer, and Denver held on for a thrilling 20-18 AFC Championship victory. "I feel terrible," Gostkowski said. "It's a nightmare scenario. I can't really explain how I feel right now. It's just kind of shock. I let a lot of people down. It's going to be a long few weeks." The over/under for Super Bowl 50 has opened at 45.

David Blatt . In his first season as head coach of the Cavaliers, Blatt led his team to the NBA Finals. After exactly half of year No. 2 in Cleveland, he had the Cavs at 31-10 and in first place in the Eastern Conference. For his efforts, Blatt got fired last Friday. LeBron James and company had lost two of their last five games-both coming at the hands of opponents they really needed to beat if a statement was going to be made. Cleveland lost at San Antonio on Jan. 14 then got blown out 132-98 at home by Golden State last Monday. Things did not get much better with Tyronn Lue at the helm on Saturday, as the Cavaliers lost by 13 points to visiting Chicago. The Cavs are -300 favorites to win the East and +275 to win it all.

Dallas Stars . Dallas was once dominating the Central Division, but the Blackhawks' rise has coincided with the Stars' slump, and Chicago suddenly owns a five-point lead. After starting the season 17-4, Dallas has compiled a 13-10-5 mark in its last 28 outings and is now 30-14-5. The Stars have lost five of their last six games and eight of their last 10 after falling 3-1 at home to Colorado this past Saturday. They have scored more than two regulation goals only once in their last eight contests. Dallas is a +148 home underdog against Calgary on Monday night.

Duquesne . It's not good to be Duke right now (the Blue Devils have dropped three of their last four games). But it was even worse to be the Dukes last weekend-and not because of what transpired on the basketball court. Duquesne actually won, 86-75, at George Mason on Friday. On the bus trip back to Pittsburgh, however, the team got caught in the snowstorm Jonas. According to the Dukes' Twitter handle, it took them exactly 30 hours and 24 minutes to get back to campus. At one point their bus did not move an inch in 22 hours on the Pennsylvania Turnpike. Duquesne finally made it back home early Sunday morning. It does not have much of a rest, as La Salle will be in town on Tuesday for an Atlantic 10 battle. As for the top of the college basketball world, North Carolina is a +650 favorite to win the National Championship.

Manchester United . The fans at Old Trafford serenaded their club with a chorus of boos both at the halftime whistle and after this past Saturday's match against Southampton. Man United generated almost no offense of any kind and got upset 1-0. "It was a poor game for the fans," manager Louis van Gaal admitted. "I can imagine [why the booed, because I have seen also a poor match. We didn't create any chances. You cannot say that they are not right. They are right and of course they are disappointed and they have the right to boo me." The Man U faithful (or not so faithful?) have to be disgruntled, too, with the Red Devils' position on the English Premier League table. They are 2-3-5 in their last 10 EPL outings and have dropped to fifth place in the standings, 10 points back of league-leading Leicester City. Leicester is +750 to win the title; Manchester City is a +125 favorite.

Ana Ivanovic . It was a tough Saturday for Ivanovic at the Australian Open.Her coach collapsed midway through her third-round match against Madison Keys and she eventually lost in three sets. With Ivanovic leading by a set and 2-1 in the second, Nigel Sears-who is also the father of Andy Murray's wife-was carried off on a stretcher and taken by ambulance to a local hospital. After almost an hour break, play resumed and the Serb could not maintain her advantage. Keys recovered from her early deficit to prevail 4-6, 6-4, 6-4. Sears was later reported to be doing well and likely to make a full and quick recovery. Serena Williams is a +120 title favorite; on the men's side, Novak Djokovic is a -180 favorite.
Read more articles by Ricky Dimon