Case of the Mondays: Rivalry Week Shakes Up CFP Picture and Heisman Race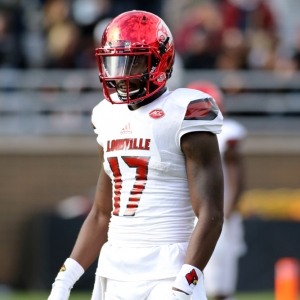 That is what rivalry week is all about. Alabama may have taken care of business in routine fashion against Auburn, but there was plenty of craziness to go around. Ohio State outlasted Michigan in a double-overtime thriller, Penn State earned a surprising trip to the Big Ten title game, Georgia Tech staged a borderline miracle comeback to stun Georgia, and Kentucky shook up the Heisman Trophy race by upsetting Lamar Jackson and in-state foe Louisville.

Odds provided by BetOnline Sportsbook unless otherwise indicated.

Jim Harbaugh . It was almost Harbaugh's greatest day as head coach at Michigan. It turned out to be his toughest. Leading at Ohio State 27-24 in the second extra frame, the Wolverines appeared to stop OSU quarterback J.T. Barrett short of a first down on a 4th-and-1 situation. That would have ended the game, but officials gave Barrett a first down and their call was upheld by a video review. On the very next play, running back Curtis Samuel scampered into the endzone from 15 yards out to give the Buckeyes a 30-27 victory. "That was not a first down," Harbaugh quipped. "I'm bitterly disappointed with the officiating today." Wisconsin is a -2.5 favorite over Penn State in the Big Ten Championship on Saturday.

Lamar Jackson . Tipping Leonard Fournette as the overwhelming favorite to win the Heisman Trophy in the early stages of last season should have been a cautionary tale. The race to the stiff-armed statue is a marathon, not a sprint. It always has been and it always will be. Off-the-charts statistics and a 9-1 record for Louisville made Jackson a clear leader through the first two weeks of November, but a lot has changed with the Cardinals' last two games. They have lost two in a row after getting upset at home 41-38 by Kentucky this past Saturday, when Jackson threw three interceptions. The super sophomore passed for 281 yards, rushed for 171 yards, and accounted for four touchdowns but also lost a fumble with the score tied and Louisville driving for a potential game-winning field goal or touchdown. ACC rival Clemson is a -9.5 favorite over Virginia Tech in the conference championship game.

Minnesota Vikings .The Vikings' Thanksgiving Day plate was full of opportunity, but it was completely clear of results. In a showdown with Detroit for first place in the NFC North, Minnesota lost 16-13 in a road game that it led for almost 11 minutes in the fourth quarter. The Lions, however, kicked a game-tying field goal with 1:45 remaining before a Darius Slay interception of Sam Bradford gave the ball back to the home team. Matt Prater promptly booted another field goal as time expired to win it for Detroit. Minnesota, which started the season 5-0, is now 6-5 having dropped five of its last six contests and is now one game behind the Lions. And things may get worse before they get better, because a certain 10-1 opponent looms large on the upcoming schedule. That's right; the Vikings have to face Dallas on Thursday night. The Cowboys are -3 road favorites.

Brooklyn Nets . Well, they are still better than the 76ers. But that is just about where the good news ends for Brooklyn, which is in the midst of a seven-game losing streak. The Nets should have had a decent chance of ending their skid on Sunday with a home date against Sacramento, but they succumbed 122-105. Thus continued an alarming trend of defensive futility for Brooklyn, which has given up the following point totals during the current streak: 127, 125, 124, 129, 111, 118, and 122. The Nets have allowed more than 100 points in 10 consecutive contests, a big reason why they are 4-12. Oh, and for whatever it's worth they are also better than the Western Conference cellar-dwelling Mavericks. At the other end of the spectrum, Golden State is a -120 favorite to win the NBA title.

Detroit Red Wings . The Red Wings have taken points in three straight games, but they have also lost five of their last seven. Adding insult to injury, or vice versa, goalie Jimmy Howard left Friday's contest at New Jersey with a groin injury. Howard, who is fourth in the NHL with a 1.76 goals-against average, is expected to miss at least a week. Detroit ended up beating the Devils 5-4 in overtime before losing at home to Montreal 2-1 in OT on Saturday with Petr Mrazek minding the net. The Wings are +2500 to win the Eastern Conference (Bovada Sportsbok).

Michigan State .You know things aren't going to well for a team when the head coach feels the need to apologize to his players for too hard of a schedule. That was the case for Tom Izzo, whose Spartans have losses so far to Arizona (in Hawaii), Kentucky, and Baylor. The good news, though, is that they bounced back from last Thursday's loss to the Bears by beating Wichita State 77-72 in the Battle 4 Atlantis third-place game two days later. Michigan State's December schedule is alarmingly easy, but Izzo and company have one more tough one this month. In fact, it could not get any tougher. MSU's ACC/Big Ten Challenge test is a date with No. 1 Duke at Cameron Indoor Stadium on Tuesday.

Jurgen Klinsmann . After five-plus years, Klinsmann is out as coach of the U.S. men's national team. U.S. Soccer announced the decision last Monday on the heels of disappointing play in World Cup qualifying-including a recent loss to Costa Rica. "The form and growth of the team up to this point left us convinced that we need to go in a different direction," U.S. Soccer president Sunil Gulati said in a statement. Gulati and the rest of the federation wasted no time hiring Bruce Arena to replace Klinsmann. Arena previously ran the USMNT ship from 1998 through 2006. Germany is a +500 favorite to win the 2018 World Cup.
Read more articles by Ricky Dimon