Case of the Mondays: Judgment Day for Curry, Warriors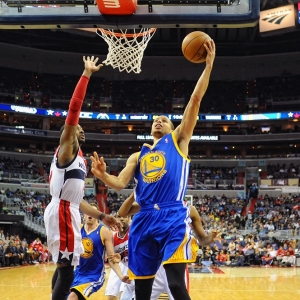 The Golden State Warriors own a 3-1 lead in their first-round series and are almost certain to finish off the Houston Rockets without too much trouble. But that is pretty much where the good news ends. Stephen Curry, who had just returned from a sprained ankle only to suffer a right knee injury when he slipped on a wet spot seconds prior to halftime of Game 4 on Sunday. An MRI on Monday will reveal that severity of Curry's injury, which is suspected to involve his MCL.

Odds provided by BetOnline Sportsbook unless otherwise indicated.


Stephen Curry .The reigning NBA MVP and sure-fire winner of the same award this season has been a non-factor in the playoffs. Of course, that is no fault of his own. Curry, who has played a total of two minutes in the second halves of games during this series, went down with an ankle problem during Game 1 and missed each of the next two contests against Houston. The Warriors wish he would have missed a third-because that means Sunday's incident would have never happened and Curry would be good to go for Game 5 on Wednesday. Alas, Golden State (and every other serious title contender) is awaiting MRI results with bated breath. The Warriors have dropped to +130 to win the NBA title.

Dallas Mavericks . At least the Mavericks are still alive. Well, technically they are still alive; hypothetically they are done. Detroit and Memphis, on the other hand, are officially out. Dallas is close to joining them on the sidelines after losing two in a row at home to the Oklahoma City Thunder. After stealing Game 2 on the road in a thriller, the Mavs saw all of their momentum evaporate by getting blown out 131-102 last Thursday and falling 119-108 two days later. How bad was the homestand? Let's just say Dallas let Enes Kanter score 21 points in Game 3 and 28 points in Game 4. The Mavericks are +14.5 road underdogs on Monday.

St. Louis Blues . Perhaps no first-round series in either of the two playoff sports has been more back-and-forth than the one involving the Blues and the Chicago Blackhawks. St. Louis won the first game, lost the second, trailed in the third period of Game 3 before prevailing, and seized a commanding 3-1 advantage by taking Game 4. The Blackhawks then staved off elimination by surviving Game 5 in overtime and storming back from a 3-1 deficit in Game 6 to win it 6-3. Thus the Blues, who were less than 40 minutes from advancing to the Western Conference semifinals, have to play a decisive Game 7 on Monday night. St. Louis is a slight -106 home favorite.

Detroit Tigers . The only team with a longer current losing streak than Detroit is the Atlanta Braves, who are so bad they might as well not even count (they are the worst team in Major League Baseball at 4-14). In their effort to bounce back from a last-place finish in the American League Central Division in 2015, the Tigers find themselves in fourth place with an 8-9 record after ending this past week with four consecutive losses. They dropped two of three on the road against the Kansas City Royals before getting swept at home by the Cleveland Indians. Detroit has scored a total of five runs in its last four outings. It is +1200 to win the AL Pennant.

Patrick Reed . Putting woes doomed Reed late in Sunday's final round of the Valero Texas Open. The San Antonio native had a golden chance to lift the trophy in front of his home fans, but he missed an eight-foot birdie putt on the 16th hole and a seven-footer on the 17. That meant Reed went into 18 trailing Charley Hoffman by one stroke. Reed birdied the par 5 to put himself in a brief tie, but Hoffman answered with a 10-foot birdie putt of his own to clinch victory. Hoffman is +1800 to win this week at the Zurich Classic of New Orleans; Jason Day is a +500 favorite (Bovada Sportsbook).

Arsenal . Arsenal is not going to win the English Premier League this season (Leicester City just about has the trophy on lockdown, and it will be Tottenham Hotspur if Leicester chokes in its last three games). The Gunners knew as much even before this past weekend's match against Sunderland. But they still had plenty for which to play, namely securing a spot in the 2016-17 Champions League. Arsenal slumped to a 0-0 draw, preventing it from passing Manchester City for sole possession of third place on the table (they are tied with 64 points). Manchester United is still five points out of the all-important fourth spot for a berth in next season's Champions League, but the Red Devils have played only 34 matches to the 35 of Arsenal and City. Leicester is -500 to win the EPL; Tottenham is +350.

Kyle Busch . Busch captured back-to-back titles earlier this month. His bid for three straight two weeks ago was derailed by tire problems, and he did not even finish that race at Bristol Motor Speedway. Busch certainly contended on Sunday at Richmond Motor Speedway. In fact, it almost looked like he had a third triumph in the span of four weeks all but secured. The No. 18 car led on the final lap only to get bumped out the way by Carl Edwards, who sped away for victory. Adding even more spice to the incident is the fact that Busch and Edwards are teammates in Joe Gibbs Racing. "We did everything right," Busch said afterward.He is +550 to win the Sprint Cup championship (MyBookie.ag).
Read more articles by Ricky Dimon