Case of the Mondays: Cardinals and Seahawks Fit to be Tied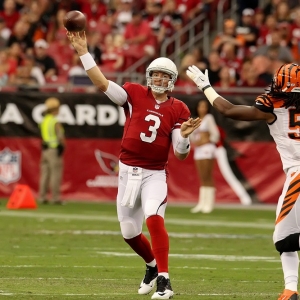 Seven weeks into the season, we have no undefeated teams in the NFL. We do, however, have a tie. Arizona and Seattle combined for a grand total of zero touchdowns on Sunday night before settling for a 6-6 tie, during which each team's kicker missed a potential game-winning field goal inside 30 yards. Whereas both the Cardinals and the Seahawks are surely ruing missed opportunities, the Browns would be just fine with any kind of tie these days.

Odds provided by BetOnline Sportsbook unless otherwise indicated.

Kickers . When field goals are the only points scored in an entire game, you would think kickers were the star of the show. Well, that wasn't exactly the case on Sunday night. After trading successful field goals on the first two possessions of overtime, Chandler Catanzaro of Arizona and Seattle's Steven Hauschka botched chances to win the game. Catanzaro knocked one off the left upright from just 24 yards away before Hauschka missed from a mere 28 yards out in the final seconds. Thus, the NFL had its first no-touchdown tie since 1972. "I make that kick 999,999 times out of a million," Catanzaro said. "I feel like I let my team down," Hauschka lamented. The Cardinals are +2.5 underdogs at Carolina in Week 8.

Browns' quarterbacks . Not one, not two, not three, not four, not five…. No, Cleveland has used a whopping six different players to throw passes this year. Robert Griffin III was the initial starter, backup Josh McCown also sustained a shoulder injury, Charlie Whitehurst made a brief appearance, Cody Kessler suffered a concussion on Sunday, and Kevin Hogan replaced Kessler in a 31-17 loss at Cincinnati. Receiver Terrelle Pryor has also taken snaps. The end result, at least so far, is an 0-7 record. The Browns are…wait for it…+500,000 to win the Super Bowl.

J.T. Barrett . Ohio State is undefeated no more, and its first loss came at the hands of quite an unlikely opponent. The Buckeyes were favored by more than 17 points at Penn State this past Saturday, but Happy Valley laughed in the face off those odds. A blocked field goal that was returned for a touchdown with less than five minutes remaining gave the Nittany Lions an improbable 24-21 victory. Barrett passed for a decent 245 yards and a touchdown, but he was held to his lowest rushing output of the season (26 yards). It marked just the third time in 2016 that Barrett went without a rushing score. The junior signal-caller, who was sacked twice on Ohio State's final drive, will take a hit in the Heisman Trophy race-just as the Buckeyes' College Football Playoff chances are less bright. The Buckeyes are -23 home favorites over Northwestern this week.

Los Angeles Kings . They may not be the Browns when it comes to cycling through players at the most important position, but the Kings are already on their third goalie of the season through just five games. Starter Jonathan Quick suffered a groin injury in the opener and is on injured reserve, potentially missing three months. Backup Jeff Zatkoff managed to get hurt (also groin) during a morning skate last Saturday and missed that night's 4-3 shootout win over Vancouver. The Kings, who started 34-year-old Peter Budaj in the net, are now 2-3-0 on the season. They are +900 to win the Western Conference (MyBookie.ag).

Los Angeles Dodgers . L.A. was never supposed to beat the Cubs, but Clayton Kershaw and company had to be feeling pretty good about themselves when back-to-back shutouts paved the way to a 2-1 lead in the NLCS. Instead, the Dodgers were victimized by an eruption of Chicago's bats to the tune of 23 runs scored in the last three games. Los Angeles, meanwhile, crossed the plate only six times during the same stretch and suffered consecutive losses by scores of 10-2, 8-4, and 5-0. The Cubs' Game 6 win at Wrigley Field last Saturday sent them to the World Series for the first time since 1945. They are -205 favorites to beat the Indians.

Anirban Lahiri . You thought the PGA Tour season was over? Well, technically it is. But the proverbial 2017 campaign has already begun. Lahiri probably wishes that wasn't the case. The Indian took a four-shot lead with him into Sunday's final round of the CIMB Classic in Kuala Lumpur only to see it evaporate in a hurry. He quadruple-bogeyed the third hole on the way to an even-par round of 72. Nobody else who finished in the top eight on the leaderboard carded anything worse than a 4-under 68 on Sunday. Justin Thomas stormed from behind with a 64 to successfully defend the title at 23-under, three strokes better than Hideki Matsuyama. Thomas is a +2000 sixth choice to top the 2017 PGA money list (Bovada Sportsbook).

Austin Dillon . Dillon could not have come any closer to booking a spot in the next round of the Chase for the Sprint Cup. At the end of Sunday's race in Talladega, Dillon found himself with the exact same number of points as Denny Hamlin in a battle for the all-important eighth spot in the Chase. Dillon needed to pass one more car before crossing the line but could not get around the No. 43 Ford driven by Aric Almirola. Hamlin advanced to the round of eight via a tiebreaker, as his best finish of the latest round (third on Sunday in Talladega) was better than Dillon's best (sixth last week in Kansas). "It's heartbreaking obviously," Dillon said. "You need a spot, and it comes down to three one-thousandths (of a second)…between us and the 43 car…. I'm just proud of this team. We made it another full round (in the Chase). I thought we were going to make it to another one, but it didn't work out for us."
Read more articles by Ricky Dimon