2016 Euro Cup Predictions: Group D Odds and Expert Picks
by Chris Vasile - 6/7/2016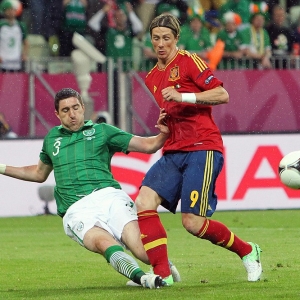 With the 2016 UEFA Euro Championship right around the corner, all eyes will be on France starting June 10, 2016, through July 10, 2016.
The only intriguing storyline taking place in Group D is the battle for second spot. Spain is the class of the group and should have no trouble securing top spot given the boatload of talent their entire squad features. Those left off the squad, like Isco and Diego Costa, could start for almost every major club in Europe. The remaining nations competing in Group D will all feel like they have a good chance to qualify for the knockout stage, which should make for some intense and cagey games.
Here are your four nations comprising Group D. Futures provided by Bovada.
Croatia
Croatia has never gone further then the QF of any major European tournament and brings to France a squad that is arguably their most talented squad in recent history. However, it will take more than a "good" effort to get out of this group, which is one of the hardest groups in the tournament. Croatia is +350 to win the group and +2800 to win their first major tournament. I see no value in either bet.
How they got here:
Croatia finished second to Italy in qualifying and had to leave it until the last day to secure automatic passage. They lost only once in the process while holding Italy to back-to-back 1-1 draws. They conceded only five goals and were deducted one point due to racist images drawn in their home turf (bizarre, I know).
Predicted Formation
The Croatians love to play a 4-3-3 formation that relies on their young but talented midfield trio of Luka Modric, Mateo Kovacic and Ivan Rakitic. They are a possession-based team that tries to lull you to sleep and then attack through the air by feeding their big striker Mario Mandzukic. Set pieces are a big part of their game, and teams should be on high alert from corners and free kicks.
Expectations:
I believe this is a good team that will be able to scare a lot of the others. Finishing second in the group should be their aim, which would set up a knockout showdown with Belgium, Italy or Sweden. Each of those teams would prefer to not play Croatia. Should Croatia perform to their capabilities in the first two matches, their last group-stage game against Spain could have them in a position to steal top spot away from the Spaniards. I expect a Round of 16 berth, while progressing to the QF would not surprise me.
Czech Republic +8000, +850
The Czech Republic comes into France as outsiders to make any noise, but their squad might just have enough to cause complete chaos in Group D. Despite being without any star players, the Czechs play well as a unit and have the ability to frustrate even the most potent attacks. Many people have already written the Czechs off, and with prices like +850 to win the group and +8000 to win the tournament, it's easy to see why.
How they got here
It may come as a shock to most people, but the Czechs topped their qualifying group, which had the likes of Turkey, Iceland and Holland. They gave up 14 goals in qualifying and were unable to hold a clean sheet in many of their games, which leads me to believe they are susceptible to giving up leads should they have one.

Predicted Formation
It's likely to be a 4-4-2 formation, which signifies a simplistic approach for a team that is without a star. A 4-4-2 allows you to cover the entire pitch and work as a unit to move the ball around, attack with numbers, and prepare to defend should you lose possession. The key man to this team is between the pipes. Petr Cech enjoyed a revitalising of sorts during his first season with Arsenal and will need to be at his very best should the Czechs hope to get a result.
Expectations
Expectations? That's a good question. On their day, they can create problems for even the best of teams. On their off days, they can be beat handily and made to look amateur. I wouldn't expect them to finish second, but progressing as one of the four best third-place teams isn't out of the question. Their big game will be against Turkey on match day three, which could prove massive should they secure all three points in that match. However, they won't win a knockout game if they progress.
Spain +550, -200
Spain is the two-time defending Euro Champion and comes into this tournament on the heels of a "decline in performance" since bowing out in the group stage of the World Cup in 2014. Head coach Vicente Del Bosque has a problem on his hands that every coach would kill for. With so many talented superstars to choose from and only 11 starting spots, he must get the lineup just right or fear being questioned massively if things don't go right. Spain should win this group easily, as noted by the -200 tag, but the real value lies at +550 to win the tournament. I would hate to see it happen, but the talented squad is too much to ignore.
How they got here:
Spain finished first in their qualifying group ahead of second-place Slovakia. That's all you need to know about that. It was essentially as easy a group as you could partake in, and the results should be taken with a grain of salt. They had nine wins from 10 games and conceded only one goal. Their performances were far from amazing, only exhorting enough energy to secure the points needed to qualify.
Predicted Formation
Pick your poison. Do they want to play a 4-3-3, a 4-2-3-1, or even a 4-2-4 with four strikers on the pitch? It really is up to Del Bosque and how he feels on match days. They have enough firepower to arm a small nation for war and a world-class keeper protecting their net. I would list their key players, but the entire team is just a who's-who of world football elite and so it would be silly to point out one specific person. I will say this, though: I hope Alvaro Morata shines bright and wins the golden boot just because he plays his club football at my favourite club, Juventus.

Expectations
I would assume the Spaniards expectations would be to win a third consecutive European Championship, which make more for some unprecedented history. They are on a collision course with either Portugal or England in the semi-finals and getting there should be a non-issue. I would love to see them stopped at that point, to give someone new a chance and capturing glory.
Turkey +8000, +900
It seems to me that every single tournament that Turkey qualifies for that they get billed as the "darkhorse" of the tournament. I can recall only one tournament where they were able to make any noise, and that was eight years ago at Euro 2008. Expectations for this year's squad are not the greatest and they offer up no real value on the futures board. (+900 to win Group D, +8800 to win the tournament)
How they got here
Turkey finished their qualifying campaign with 18 points, which was good enough for third in their group. They gained automatic passage thanks to beating up on the likes of Kazakhstan, Latvia and Holland. They were only able to net 14 goals in 10 games while giving up nine. That is not a good enough scoring record to do damage in a tournament like this.
Predicted Formation
It will likely be a 4-2-3-1 formation, which relies on their skilled players like Arda Turan and Hakan Calhanoglu to take charge and create chances. As I mentioned, they were only able to net 14 goals in 10 games during qualifying and managed only singles against Latvia and Kazakhstan. Their main striker, Burak Yilmaz, has played only two games of competitive football since joining his new club in February.
Expectations
Turkey has some talented players on their squad, but ultimately it will end up being not enough to make advancing a reality. They will likely require at least five points to make it through as one of the best third-place teams, and I don't see how they can accumulate five points in their three matches. It should be a quick two weeks for this dark-horse selection, and I urge people to find another team to cheer for.
Want free sports betting picks? Doc's Sports has you covered - get $60 worth of picks free from any of Doc's Sports expert handicappers. Click here for free picks (new clients only).