Free Euro Cup Soccer Picks with Odds for Thursday Matches
by Chris Vasile - 6/15/2016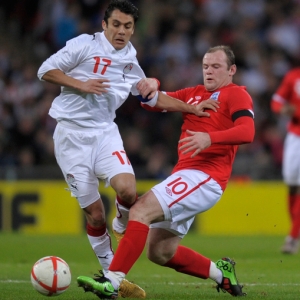 For those of you out there who bash soccer and beak about how easy it is to score a goal on those massive nets, I demand you watch the Portugal game over and over again to see how unlucky you can be when getting shots on target. Portugal should have been up at least three goals if they took their chances well and if their shots didn't come off directly at the goalie.
However, I give full credit to Iceland for making the most of their shots and hitting the target with all five of their attempts. It's amazing to see a minnow, a team making their tournament debut, come away with a historic point against a good team.
Over in the other game, many folks backed Austria as this tournament's dark horse, and boy were they wrong. Austria looked lost and couldn't muster much against a very defensive-minded Hungary team. Kudos to the Hungarians for battling for a full 90-minutes and making their few chances count.
It was a complete backwards day for me in terms of betting the board, and I wasn't able to get in the win column, going 0-2 with my free picks. Fortunately, I can take solace in the fact that there probably weren't many people able to profit off of these results, either. There is only one way I can go from here, and that is up.
Looking forward to Thursday, we have a couple of massive games that could go a long way in deciding the winners of Groups B and C. In Group B Wales take on England, while in Group C Poland faces off with Germany.
As always, odds are courtesy of our friends at Bovada.
Wales vs. England
This Group B clash goes at 9 a.m. EST and was already one of the most anticipated matchups of the group stage. After some surprise results on the first day of group play, with England claiming one point and Wales claiming all three, this matchup has even more importance behind it. Wales currently sits atop of the group with three points from one match. Slovakia sits second with three points from two matches, with England in third with one point and Russia in last with one point.
England comes into this matchup as -200 favorites, which might I remind you is absurd for any English team. The heartbreak that surrounds this team is like a rain cloud that just pours on players and fans alike just when they think things are looking up. Roy Hodgson needs to figure things out and actually find some guts in order to field the best possible lineup. While Wayne Rooney didn't play poorly in the opening match against Russia, he should be only brought off the bench if needed. England has too many quick, young, hungry players that should be replacing Rooney now and for future tournaments. Hodgson also needs to start Jamie Vardy because Harry Kane was rendered useless all alone up top. Oh, and for the love of all things holy, don't let him take any more corner kicks.
Wales, on the other hand, comes into this matchup as group leaders and +600 underdogs. Gareth Bale led the way against Slovakia with a splendid free-kick goal before Hal Robson-Kanu came off the bench and scored the winner in the 81st minute. It was a memorable win, and now things look even better for Wales seeing as how Slovakia showed earlier today that they are a good team capable of good things. If I were the Welsh, I would feel very confident going into this "Derby" type matchup knowing that a tie wouldn't be the worst result in the world for them. You can get the tie option at a juicy +325.
I know there have only been a few games that have gone "over" the 2.5 goal mark, but I feel like England can't afford to squander their opportunities and I do believe they will get a few against Wales. England essentially needs to win this game in order to keep qualification hopes alive. Wales should be able to use their pace to get behind England's suspect fullbacks and create chances of their own. I expect an open, free-flowing game that will be very entertaining to watch.
Pick: Total Goals "Over" 2.5 (+110)
Ukraine vs. Northern Ireland
Group B was always supposed to be straight forward and simple for Poland and Germany to navigate. After one game, both teams sit atop the group with three points while Ukraine and Northern Ireland will face off in what is essentially an elimination type game.
While the Germany-Poland game might garner more attention, I believe this is the game where the betting value lies. This matchup kicks off at noon EST in Lyon and features the two winless teams of the group. Ukraine is a -160 favorite, and I feel that the line is a bit high. While Ukraine played well against Germany and were unlucky not to go up 1-0, the line feels like it is based on name recognition. Northern Ireland played well against Poland and should have at least gotten a draw. They are +500 to win this game. And while I think they might need all the luck of the Irish to accomplish that, they shouldn't be overmatched.
With that said, I will be playing Northern Ireland on the spread, and you can grab them right now at +1 for a small tag of (-135).
Northern Ireland's coach has come under fire during post match interviews by Irish press for not including Will Grigg in his squad at any point in the match. The forward, who many Irish fans pinned their hopes on, was relegated to spectator as his fellow strikers couldn't make any of their chances count. I expect him to take part in this game, and with his inclusion should come the spark that the Irish need in order to get over the hump and win a game at these Euros.
The reason I am taking the spread is for two reasons. Northern Ireland can't possibly be as careless with their chances as they were in the first game, and Ukraine couldn't possibly play as well as they did against Germany. I expect a close game, and should, by the fluke chance, Ukraine pull off the victory, it will not be by more than a goal.
Pick: Northern Ireland +1 (-135)