Handicapping Michael Phelps at the Rio Olympics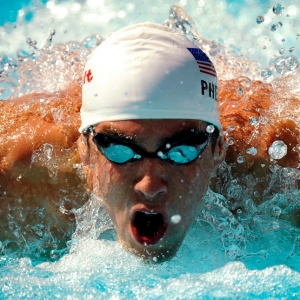 Heading into the Rio Olympics it's an absolute certainty that Michael Phelps will be one of the biggest stories of the event. It's obvious - the guy has won 18 gold medals, has raced in four prior Olympics, and after coming out of retirement has a shot at as many as six more medals. This Olympics was supposed to be his swansong - just like London - but in a press conference before the games he left the possibility of continued competition at least a little bit open.
We've been watching Phelps for a long, long time, but he is different now than ever before. His attitude and effort level hasn't always been the best, and in London it really seemed like he was looking to get by on his natural talent alone. He retired after a successful games - four golds and two silvers - and seemed to lose direction. He was arrested for his second DUI and subsequently headed to rehab. That doesn't always go well - especially the first time - but for Phelps it marked the turning of a corner. After getting out he got engaged and started swimming again. He openly owned the fact that he had never tried hard enough because he didn't have to, and he looked to change that. Everyone who is around him, including coach Bob Bowman, who has been working with since he was 11, says he happier, more focused and looser than ever before. He's in his 30s now, and he's a father since the spring, so while he's the same guy he's bringing something new to the table.
What makes handicapping Phelps' return so interesting to handicap is that we don't really know what we can expect from him yet - not at the highest levels. Because of the DUI charge he was unable to compete in the world championships last year. Instead, he competed in the U.S. nationals at the same time, swimming the best times of the year - times that would have won gold medals in all three of his events at the world championships. Since then he has only raced in the Winter Nationals and the Olympic Trials. He hasn't raced against his biggest international rivals since London. We can only speculate how he'll measure up.
Phelps has narrowed his focus to just three individual events - the 100m and 200m butterfly, and the 200m individual medley. He also could swim in up to three relays - the 4x100m and 4x200m freestyle relays, and the 4x100m medley relay. Those are the same six events he swam in London. His silver medals came in the 200m butterfly and 4x100m freestyle relay. Here's how the events break down ( odds are from Bovada):
100m butterfly: Phelps is favored at even money, with Chad le Clos of South Africa at +200 and Laszlo Cseh of Hungary at +350. Cseh is an old rival, while le Clos is the new guy on the block. Le Clos won the world title, but in a slower time than Phelps swam the same week. This is, as the odds suggest, a race that Phelps should be able to win if he is indeed as ready as he appears.
200m butterfly: The cast of characters is the same, but the odds are different. Cseh is actually favored at +120, just a hair ahead of Phelps at +125, and le Clos is at +325. Cseh won the world title by a narrow margin over le Clos, and again Phelps swam faster stateside. Cseh is in very good form, and this is going to be the toughest event for Phelps to win - though he certainly is capable.
200m individual medley: This is Phelps' best shot at gold on the individual side - he's the -115 favorite here. Teammate - and roommate in Rio - Ryan Lochte, the defending world champion, is second at +215, with Kosuke Hagino of Japan the other legitimate contender at +270. If he is ready for these games then he will win this one.
4x100m medley relay: The Americans are major favorites at -335, with the Australians second at +260. The Americans won at worlds, and now they can potentially upgrade their butterfly leg with Phelps. The U.S. has such remarkable depth that they are very tough to beat here. If Phelps does compete here it will be a likely gold for him.
4x100m freestyle relay: For the last two games this has been a showdown between the U.S. and France - the Americans won in 2008, and the French returned the tables in 2012. Now Australia has joined the party, and they are actually favored at +115. France is close by at +140, and the Americans are a distant third at +370. In shocking developments, neither the U.S. nor Australia made the finals at the 2015 Worlds, so they will be seeking redemption. Phelps didn't swim this event at the Olympic trials, so it would not be at all surprising if he didn't swim it here, either. This is the least likely of his gold medal shots.
4x200m freestyle relay: The Americans had won this event at every major international event between 2004 and the Worlds last year, but the absence of Phelps and other factors cost them there. Now they want to climb back to the top of the mountain. Oddsmakers love their chances - they are the heavy -250 favorites, with Australia at +340 and the Brits at +355. Phelps seems nearly certain to be part of this squad as long as he is healthy and happy, and he should win gold here.
The bottom line: I expect Phelps to swim five events in the end - skipping the 4x100m because it's not his strength anymore and the fact that there are better options for the Americans. He should win two golds in the relays. Individually, I expect him to win the medley, and I don't expect him to win the 200m butterfly. The 100m butterfly should be his in a close race, though. If he is indeed ready and has a great week, then, he could leave here with five medals, with four being gold.
Get free picks from any Doc's Sports handicapper - there is no obligation for this offer and no credit card required. Just sign up for an account, and you can use the $60 in free picks for any Doc's Sports Advisory Board handicapper and any sport. Click here to get started now.
Read more articles by Trevor Whenham