Olympic Men's Basketball Odds with Predictions and Expert Betting Picks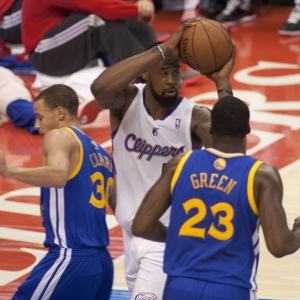 Let's dispense with the drama up front. The American men are going to win the gold medal. It's not going to be close. Bovada has them at -1600 to win it. I know you know what that means, but just stop and think about it for a second - to make $100 betting on the Americans to win gold you would have to bet $1600. That's insane. But you can't argue that it's not accurate.
So, we're going to preview the men's basketball tournament conceding that we already know how it ends. Ready? (Odds are from Bovada)
U.S.A. (-1600): LeBron James and Steph Curry aren't playing, yet the team is still as dominant as they are. That's how deep the Americans are right now. Kevin Durant leads the way here along with new teammates Draymond Green and Klay Thompson. Seeing Carmelo Anthony in the role of elder statesman on this squad has taken some getting used to, but he seems to be embracing it - a nice contrast from his often ridiculous behavior on the mess of a team that is the Knicks. They can shoot like crazy but can punish you if you sacrifice the inside to try to slow that shooting. They can play big or small, and they defend very well, too. With DeMarcus Cousins and DeAndre Jordan as big men they aren't going to get pushed around.
There are just matchup nightmares everywhere you turn, and they have one of the best coaches on the planet leading the way. Yes, they are going to win - not just the tournament, but every game they play.
Spain (+1000): Spain is fighting, likely with France, for the right to lose to the Americans in the gold medal game. Spain gets the edge in the odds probably because they have won the last silver medals. I don't see it, though - this is a team that seems like they were built to compete in 2012, not 2016. The biggest star on the team is Pau Gasol, and as good as he has been he is a shadow of what he once was. Neither Pau's brother Marc nor Serge Ibaka are on the team this time around, and those are big holes. Ball movement will be the job of Jose Calderon, who is past his prime, and Ricky Rubio, who has never found his prime. Guys like Nikola Mirotic and former NBA player Rudy Fernandez round out the roster. The only guy who feels more like the future than the past is Willy Hernangomez, who will be joining Anthony with the Knicks next year.
Add it all up and they obviously aren't good enough to threaten the Americans, and they seem like they should be vulnerable to France, too.
France (+1400): As far as a starting five, the French are clearly better right now than anyone other than the Americans. Tony Parker has lost a step or three, but he's still a savvy master at running an offense. Along with him will be Nicolas Batum and Boris Diaw, Rudy Gobert, who might be the best defensive big in the tournament, and Euroleague MVP Nando de Colo. That's a very strong group.
The issue with the team, though, is depth. They just don't have enough talent to draw on to compete consistently like they will when the starters are playing. Some of that is their own doing, too, as they made a stand of principle which hurts them on the court. Evan Fournier skipped the qualifying tournament to get his contract situation sorted out, so the team didn't select him for the Olympics. His shooting off the bench would have been a big help.
So, depth is a big concern, but that starting five will be able to do some damage. They seem like the most likely silver medal winner.
Lithuania (+2800): If you want to go beyond the top three teams to find a potential surprise, this is where I wind up. Argentina (+3300) was once a powerhouse internationally, but Manu Ginobli and Luis Scola are still leading the way and they are too old to be doing that effectively. Brazil (+2800) will have home-court advantage, but they just don't have the talent here - and it didn't help that Anderson Varejao was lost to injury. Serbia (+2200) has just one NBA player - Nikola Jokic was a rookie with the Nuggets this year. Lithuania lacks NBA experience, too, but they have a frontcourt that warrants attention - Jonas Valanciunas and Domantas Sabonis have the capacity to do some damage. The Lithuanians also have the advantage of playing in Group B, which is not where the Americans are. If they can finish first or third in that Group then they can avoid the Americans until the gold medal game. I don't see them getting to that game no matter what group they are in, but if we are pretending that this tournament is at all competitive then they are more interesting than most.
Read more articles by Trevor Whenham