Sports Betting Futures Odds: Are You Ready for Some Football?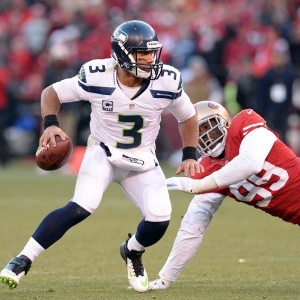 It's here. The 2016 NFL season begins on Thursday night with a rematch of Super Bowl 50 between the Carolina Panthers and Denver Broncos. Although Denver triumphed last season, it is Carolina that is one of the favorites to win at all this time around while also boasting one of the favorites to reign-again-as NFL MVP.

Odds provided by Bovada Sportsbook unless otherwise indicated .

Super Bowl

New England Patriots (+600) - Tom Brady is out for the first four games, but that's certainly better than the last four games. Even as Brady and others get older, the Patriots just keep dominating. They have won seven straight AFC East titles and 12 of the last 13.

Seattle Seahawks (+650) - Will a rematch of Super Bowl XLIX soon be on our hands? It came somewhat close to happening against last season as Seattle lost 31-24 at Carolina in the divisional round and New England fell 20-18 at Denver in the AFC Championship.

Carolina Panthers (+750) - MVP quarterback Cam Newton carried Carolina to within one win of the Lombardi Trophy last season before being upended by Peyton Manning (well, upended by Denver's defense would be more accurate). There is no reason to think the Panthers will take a step backward.

Green Bay Packers (+750) - Whereas Seattle subtracted with the retirement of Marshawn Lynch, both Green Bay (Jordy Nelson) and Carolina (Kelvin Benjamin) are getting back previously-injured receivers. The 10-6 Packers got edged out by Minnesota for the 2015 NFC North crown.

NFL MVP

Aaron Rodgers, Packers (+300) - Having Nelson back at his disposal should be a great boon for Rodgers, who still passed for 3,821 yards to go along with 31 touchdowns and eight touchdowns in 2015 even without his favorite target. He is already a two-time MVP (2011, 2014).

Cam Newton, Panthers (+450) - What's not to like about Newton heading into this season? Even without Benjamin during the 2015 campaign, the former Heisman Trophy winner accounted for 45 total touchdowns (35 passing, 25 rushing). At 27 years old, the reigning MVP is squarely in his prime.

Ben Roethlisberger, Steelers (+450) - With Manning gone, Roethlisberger is one Brady retirement away from becoming the elder statesman of the AFC. His illustrious career includes two Super Bowl wins, four Pro Bowls, and an Offensive Rookie of the Year honor. Is NFL MVP next?

Tom Brady (+750) - Missing four games is not ideal, but those four games may prove that Brady is the "most valuable" in the truest sense. What if Brady turns the Pats around from something like 2-2 to 12-4? Andrew Luck, Carson Palmer, and Russell Wilson are also tied as +750 fourth choices.

National Championship

Alabama (+250) - The Crimson Tide won the College Football Playoff last season, and early returns suggest they may be in line for a repeat. Last Saturday night's opener saw 'Bama bash USC 52-6, erupting for 52 of the game's last 55 points after trailing 3-0 heading into the second quarter.

Florida State (+450) - One and done, in terms of the loss column, is no longer the era in which college football lives. So FSU probably wouldn't have been crippled by a setback against Ole Miss, but the 'Noles stormed back from a 28-6 deficit to prevail 45-34 on Monday night.

Ohio State (+550) - The Buckeyes hammered Bowling Green 77-10 in their opener last weekend. What does that mean? Who knows? We won't get a true read on Urban Meyer's crew until it goes up against Oklahoma on Sept. 17. J.T. Barrett helped lead the offense to 776 total yards at the Falcons' expense.

Clemson (+650) - Like Ohio State with Barrett, Clemson has a real Heisman Trophy contender on its hands with DeShaun Watson. The Gainesville, Ga. native took the Tigers to the Championship Game last season before losing a shootout to Alabama. Clemson escaped Auburn 19-13 last Saturday.


Heisman Trophy

Christian McCaffrey, Stanford (+400) - In a relatively close vote (the 20th closest, to be exact, out of 81), McCaffrey finished runner-up to Alabama's Derrick Henry in 2015. Henry is now in the NFL, making McCaffrey (2,019 rushing yards, 645 receiving yards last season) a sensible favorite.

Deshaun Watson, Clemson (+450) - But to say Stanford's star running back will have some competition would be an understatement. It was an absolute three-horse race in 2015, and Watson was involved, finishing not too far behind Henry and McCaffrey. He was held in check, however, against Auburn.

Leonard Fournette, LSU (+600) - Fournette was the early Heisman favorite 2015, but his campaign went up in smoke when he rushed 19 times for 31 yards in a setback against the Crimson Tide. The junior was decent in racking up 138 yards on 23 attempts last weekend, but a loss to Wisconsin doesn't help.

J.T. Barrett (+600) - Barrett, now the undisputed man under center in Columbus, abused Bowling Green to the tune of seven total touchdowns (six passing, one rushing) in addition to 349 yards through the air. Dakota Prokup of Oregon is also +600; Georgia's Nick Chubb is a +650 sixth choice.


Read more articles by Ricky Dimon