Sports Betting Futures Odds: And Then There Were Four; Cubs, Dodgers, Indians, and Blue Jays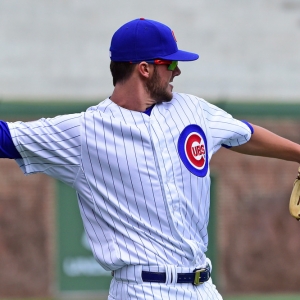 Now only three other teams stand in the way of the Chicago Cubs from making a whole bunch of history. Los Angeles joined the Cubs in the NLCS with a Game 5 win at Washington on Thursday, while the ALCS pits Cleveland against Toronto. As for every other club, they are already looking ahead to 2017-kind of like Tiger Woods on the golf course.

All odds provided by MyBookie.ag.

World Series

Chicago Cubs (+105) -The Cubs won 103 games in the regular season-at least eight more than any other team. Another playoff letdown seemed to be coming when they blew Game 3 at San Francisco and then trailed 5-2 in Game 4, but an epic ninth-inning comeback has the lovable losers still on track.

Toronto Blue Jays (+175) -How often do we see a ballclub scrape into the postseason as a wild card and then catch fire? Well, whatever the answer, we may be seeing it again with the Blue Jays. They took care of Baltimore in the wild-card game then swept Texas in three straight.

Cleveland Indians (+300) -Hell might freeze over before anyone witnesses a World Series between the Cubs and Indians. But each one has home-field advantage in its respective league championship series, so there definitely is a chance. Cleveland won 94 games and then swept Boston.

Los Angeles Dodgers (+400) - Clayton Kershaw had been criticized for not getting the job done in the playoffs, but all of that talk has to be a thing of the past now. In the NLDS against Washington he picked up two wins and then a save in Game 5. With Kershaw, L.A. always has a shot.

Stanley Cup

Chicago Blackhawks (+400) - The Blackhawks have lifted the Stanley Cup three times in the last seven seasons, and their core featuring Jonathan Toews and Patrick Kane is still intact. They are looking to make amends for a first-round exit in 2015-16 at the hands of St. Louis.

Tampa Bay Lightning (+600) -Is this finally the year for the Lightning? They finished runner-up to Chicago in 2014-15 before losing in seven games to eventual champion Pittsburgh in last season's Eastern Conference Finals. Ben Bishop is still minding the net in Tampa Bay.

Pittsburgh Penguins (+700) - The Penguins are the defending champions after rolling through the Rangers, Capitals, Lightning, and Sharks en route to the cup while needing only seven games against Tampa Bay. Although the roster is once again loaded, Sidney Crosby has concussion concerns.

Washington Capitals (+700) - Not unlike the Major League Baseball team that shares the same city, the Capitals have simply been unable to get the job done in the playoffs. Washington, which compiled a league-best 120 points in 2015-16 only to lose in the second round, has won two playoff series in the past four seasons.


Hollywood Casino 400

Martin Truex Jr. (+400) - Truex stumbled to a 13th-place performance last weekend in Charlotte, ending a stretch in which he finished no worse than seventh in five consecutive races (including three victories). Looking for his first win at this week's event in Kansas, Truex came in 15th last year.

Kevin Harvick (+400) -Of the three races in the first playoff round in the Chase for the Sprint Cup, Truex won once and Harvick took the other checkered flag (in New Hampshire) to automatically advance. Since that triumph, however, the No. 4 Chevrolet has placed 37th and 38th. Harvick won at the Kansas event in 2013.

Jimmie Johnson (+500) -Only one driver has qualified for the next round of the Chase and it is none other than Johnson, a six-time Sprint Cup champion. The 41-year-old got the job done this past week in Charlotte, and he has not finished worse than 12th in any of four playoff races. Johnson has won this Kansas race twice.

Kyle Busch (+500) - Busch crossed the line in fifth at the 2015 Kansas race and there is reason to think he will fare at least that well once again. The No. 18 car has turned in five consecutive top-10 performances, including a third-place showing and a runner-up finish during the Chase. Busch hasn't finished worse than 11th since August.

Tiger Woods in 2017

To play exactly one major (+120) -Tiger was supposed to play at this week's Safeway Open but withdrew, meaning he still hasn't taken the course since the Wyndham Championship in August of 2015. Playing two majors is a +145 second choice and playing zero majors is a +350 third choice.

To make the cut at zero majors (-120) -Will he even play in one of the big four? Not playing any majors is +350, which would obviously allow this no cuts made bet to also pay out. Tiger finished T17 at the 2015 Masters and then missed the next three cuts. Making the cut at exactly one major is a +130 second choice.

To make the cut at all four majors (+1500) - A return-specifically an encouraging one-at the Safeway Open and some other scheduled events overseas would have set Tiger up nicely for 2017. But now he will head into next year rusty, if he heads in at all. Tiger last made all four major cuts in 2013 and has made only two since.

Finishing in the top 10 at zero majors (-250) - The 14-time major champion hasn't turned in a top-10 performance at a slam since finishing T6 at the British Open. Dating back to the start of 2014, Tiger has six DNPs and four cuts missed in the span of 12 majors. Finishing in the top 10 at exactly one major is a +165 second choice.



Read more articles by Ricky Dimon