This Week in Sports Betting, A-Z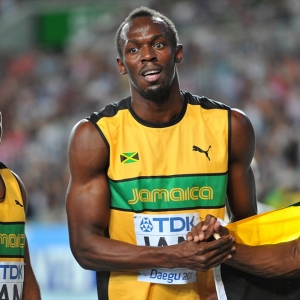 A. Allenby, Robert . A PGA Tour event went largely unnoticed while taking place simultaneously with the Rio Olympics, but it did happen. Allenby surely wished it hadn't. Not only did the 45-year-old Australian miss the cut by three shots, but he also got arrested at a casino outside of Rock Island, Ill. on Saturday morning and was charged with disorderly conduct and criminal trespassing. It's safe to say Justin Rose, Henrik Stenson, and Matt Kuchar had a better week.

B. Bolt, Usain . Bolt made things interesting for a while on Sunday night when he trailed Justin Gatlin early in the 100-meter final. But why bother getting off to a good start when your name is Usain Bolt? The Jamaican speedster surged past Gatlin and won in 9.81 seconds for a third consecutive gold medal in sprinting's most prestigious event. Bolt is -2000 at Bovada Sportsbook to win the 200 gold, as well.

C. Colon, Bartolo . This wasn't quite the home run heard 'round the world, which is what Colon delivered earlier in the season. In fact, this wasn't even close. But for the first time in 282 career plate appearances, the Mets' 43-year-old pitcher drew a walk on Monday against Arizona. It had been the longest such streak in the history of Major League Baseball. New York (Niese) is a +110 underdog at Arizona (Godley) on Wednesday, per MyBookie.ag.

D. Douglas, Gabby . It's hard to go home from the Olympics with a gold medal and still be disappointed. But that may be the kind of standard Douglas set for herself at the 2012 London Games, where she was the individual all-around gymnastics winner. Douglas and the "Final Five" easily captured gold in Rio, but she failed to qualify for the all-around and did not come close to medaling on the uneven bars. Douglas was also criticized for not putting her hand over her heart during the "National Anthem" at the team's medal ceremony.

E. Eddie George . The former Tennessee Titan has some advice for Deon Long, the wide receiver who was recently cut by the L.A. Rams after being caught with a female in his dorm room at training camp. George delivered some common knowledge, saying to take her to a hotel instead. He also added that if you're a former Heisman Trophy winner, it doesn't matter what you do.

F. Fournette, Leonard . LSU's star running back suffered a sprained ankle during practice on Tuesday and is currently in a boot. It is not yet know how much time-if any-Fournette will miss.

G. Giancarlo Stanton . Stanton (25 home runs, 70 RBIs) is expected to miss the rest of the season with a left-groin injury. After the Marlins' slugger got hurt last Saturday while trying to extend a single into a double, an MRI revealed that the issue was more serious than initially thought. Will Miami reach out to former Yankee Alex Rodriguez?

H.Honor . You thought winning the Heisman Trophy was big? Not so fast. Former University of Texas running back Ricky Williams, honored as college football's best player in 1998, now has another distinction. His statue on campus is a Pokestop. "Apparently I'm a pokestop," Williams posted on Twitter. "What is a pokestop?"

I. Instagram . Justin Bieber is off Instagram. That's right, girls; Justin Bieber is off Instagram. He followed through on his threat to do so after seeing too many disparaging comments on his recent photos that showed him hanging out with Sofia Richie, the 17-year-old daughter of Lionel Richie.

J. Justin Rose . Golf was a part of the Olympics for the first time since 1904. For those counting, that's 112 years since players last hit the links in the Olympic Games. So when Rose began his professional career almost 20 years ago, he probably didn't think he'd ever win a gold medal. But that is exactly what the Englishman did in Rio, becoming the most obvious beneficiary of golf's reinstatement to the Olympics. Rose beat Stenson by two strokes and Kuchar by three. Europe is a +120 underdog at GT Bets to win the Ryder Cup later this year.

K. Kris Humphries . Once being married to Kim Kardashian may be Humphries claim to fame, but get this-he once smoked Michael Phelps and Ryan Lochte in swimming. In 1995, the current Atlanta Hawks' forward held the fastest time in the U.S. in six different events for his age group. Humphries was faster than Phelps by four-tenths of a second in the 50 butterfly and by almost four full seconds in the 100 freestyle.

L. Leicester City . It will apparently take more than one match for the Foxes to recapture the magic that was on display throughout the 2015-16 English Premier League schedule. That's when they went on an amazing run to the title, blowing away the rest of the field by at least 10 points. But Leicester lost its opener 2-1 at recently-promoted Hull City.

M. Murray, Andy . Murray became the first tennis player to win back-to-back Olympic golds in singles when he triumphed in Rio on Sunday. The second-ranked Scot, who also won in London in 2012, ended the epic run of Juan Martin Del Potro in a four-set gold-medal match.

N. Nick Saban . So much for Saban's attempt to block Maurice Smith from transferring to Georgia. Alabama's head coach told his former cornerback in June that he would not let him transfer to another SEC school, but that plan went up in smoke last Friday when the conference intervened. Smith can join the Bulldogs as a graduate transfer and is eligible immediately. Alabama is a +570 favorite at BookMaker to win the College Football Playoff.

O. Ogita, Hiroki . The Japanese pole-vaulter almost cleared a qualifying jump during competition in Rio earlier this week. And he would have-if a certain body part had not gotten in the way. Let's just say, ouch.

P. Puig, Monica . Puerto Rico has its first gold medal ever at the Olympics, and it has come from one of the most unlikely of heroes. Puig is No. 35 in the WTA rankings and had won just a single title in her career prior to arriving in Rio. But the 22-year-old upset a whole host of top players can took home the gold on Saturday with a three-set win over world No. 2 Angelique Kerber. Serena Williams is a +120 favorite at BetOnline Sportsbook to win the upcoming U.S. Open.

Q. Quentin Lake . Lake, a cornerback from Santa Ana Mater Dei High School near Los Angeles, committed to UCLA on Tuesday. He is the son of former UCLA and Pittsburgh Steelers' star Carnell Lake.

R. Rodriguez, Alex . A-Rod played his final game with the Yankees last Friday. He went 1-for-4 in New York's 6-3 home victory over Tampa Bay.

S. Suspended . Recently-acquired Paul Pogba was suspended for Manchester United's first 2016-17 Premier League match because he got two yellow cards in last season's Coppa Italia. But it hardly mattered in the outcome, because Man U took care of AFC Bournemouth 3-1 on Sunday.

T. Tennessee Titans . The Titans shipped 2015 second-round draft pick Dorial Green-Beckham to Philadelphia on Tuesday in exchange for offensive lineman Dennis Kelly. Green-Beckham made 32 catches for 549 yards and four touchdowns last season. 5Dimes Sportsbook has the Tennessee-Carolina line at even on Saturday.

U. USA . Team USA has been flirting with disaster on the hardwood in Rio. Although the heavily-favored Americans went through group play with a perfect 5-0 record, they struggled in each of their last three contests. They trailed Australia by five points at halftime before winning 98-88, edged Serbia 94-91, and then held off France 97-94 on Sunday. That's not exactly domination. MyBookie.ag has the USA as a -22.5 favorite over Argentine in Wednesday's quarterfinals.

V. van Niekerk, Wayde . Down goes Michael Johnson's 400-meter record! Van Niekerk won gold on Sunday night and did so in amazing fashion, burning the field from Lane 8 in a world-record time of 43.03. Oh, and the South African's coach is epic (a 74-year-old great grandmother from Namibia).

W. Wentz, Carson . The No. 2 overall pick sustained a hairline fracture in his ribs during Philadelphia's 17-9 preseason victory over the Bucs last Thursday night. Wentz could miss the remainder of preseason action, and there is a chance this will convince the Eagles to become even more serious about their idea to let the rookie redshirt, so to speak, behind Sam Bradford and Chase Daniel in 2016. Philly is a +3.5 underdog at Pittsburgh on Thursday, according to Bovada Sportsbook.

X. Xavi Hernandez . The former FC Barcelona star donated his yacht earlier this month to NGO Proactiva Open Arms in an effort to help refugees cross the Mediterranean Sea to Greece. The NGO has reportedly saved more than 3,000 people off the coast of Libya. It must be nice to own a yacht.
Y. Young, Nick . The Lakers' small forward says he is mending fences with D'Angelo Russell, who famously made public a video in which the two teammates talked about picking up girls. It led directly to Young's breakup with singer and former fiancee Iggy Azalea. "I can't stay mad forever," Young said. Well, you can….

Z. Zac Efron . When is winning a gold medal not the highlight of your day? When you're a 19-year-old girl and you meet Efron. That's what happened for Simone Biles after she captured another gold with her floor routine on Tuesday. And the same goes for teammate Aly Raisman, who got the silver.
Read more articles by Ricky Dimon